Earlier, we ran through our Top 10 players who have taken the 2014 World Cup by storm.
However, many of those players are already thought of as world-class or otherwise well-known throughout the sport of soccer.
There are plenty of players throughout the group stage that have taken advantage of the global stage to send their stock skyrocketing, many of whom were already playing well for clubs but didn't have the exposure they deserved.
1. Daley Blind, Netherlands

Ajax winger and son of Dutch great Danny Blind, 24-year-old Daley has been a force in the Netherlands attack. In the demolition of Spain, he burst onto the scene, assisting goals twice with brilliant crosses into the box and completed 36/41 passes (88%).
As many thought he'd played the game of his life, he followed that up with a 42-of-44 passing performance, picking up another assist and two chances created,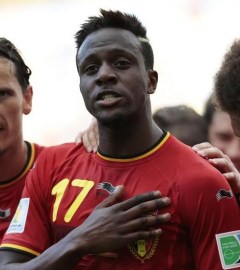 He's a solid defender as well, completing 16 of his 19 attempted tackles in this tournament.  He can play at either left-back or in the midfield, Blind has been the Dutch's best option on their deadly counter-attack, and is sure to get interest from clubs in bigger leagues.
2. Divock Origi, Belgium

With Romelu Lukaku struggling to prove his worth at the head of Belgium's attack, a young kid has filled the void.
19-year-old Divock Origi – only in the squad because of the injury to Christian Benteke – bagged the winner against Russia as the Belgians looked otherwise listless in front of goal.
All three matches, Marc Wilmots has brought Origi in soon after halftime (15 minutes at most), twice for Lukaku, and all three he's had an impact.  He's won take-ons in the box, completed plenty of attacking-third passes, and oh yea, a winning goal.
Thanks to his performance so far, the English papers are already ablaze with rumors linking him with a move to Liverpool.
[ MORE: World Cup news, analysis from Soccerly.com]
3. Matt Besler, United States

The USMNT central defender has been one of the best and most unheralded at the 2014 World Cup. His man-marking has been near-perfect, all more important as those around him such as Geoff Cameron fail to impress in that department.
Besler has also been a clearance machine, including a 12-for-12 performance against Portugal when nobody on the US had more than five.  He threw his body on the line in that match as well, making a last-gasp interception that nearly knocked him out with yet another hamstring injury, but he fought on instead.
Word now has it that the Sporting KC defender's performances against some quality World Cup teams have put him on the map for a job in Europe.
https://twitter.com/BrianSciaretta/status/482137408625180672/
4. Serge Aurier, Ivory Coast

The old guard of Ivory Coast is headed home after they couldn't put themselves past Greece in its final group stage match. But just because a team is eliminated doesn't mean everyone played poorly.
21-year-old Toulouse wing-back Serge Aurier stood out for Côte d'Ivoire, producing a beautiful combination of solid defense, creative passing, and pinpoint crossing.  He was especially bright in their opening 2-1 win over Japan, bombing down the right all match, assisting both Ivory Coast goals as well as intercepting a game-high six Japanese pass attempts.
If there's any knock on his play in Brazil, it's that he could do with some decaf, occasionally letting adrenaline get the best of him after a bright attack and blasting a cross well over the head of its intended target.  But it's safe to say Aurier has put himself on the map, and rumor has it Arsene Wenger was impressed by the young defender.
Also interesting, Aurier is fast. Like, really, really fast. As in, fastest player at the World Cup fast.
5. Jose Gimenez, Uruguay

When captain Diego Lugano went down, some lamented his loss, but 19-year-old Jose Maria Gimenez has made people forget the injury and remember the kid's name.  He's the latest to excel in a three-at-the-back system, which has burst onto the scene in Brazil.
His passing numbers are less than impressive, which is a red flag for many central defenders, but his defensive tallies have been superb.  He was outstanding in the clean sheet against Italy, and he will be absolutely necessary if Uruguay is to advance now without the presence of Luis Suarez in its attack.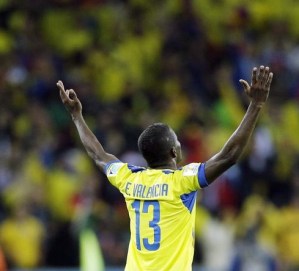 6. Enner Valencia, Ecuador

Few outside the Americas knew who Enner Valencia was or what he could bring to the table.  After scoring bags of goals for Pachuca in Liga MX, Valencia has translated his form straight to Brazil and while his country is going home without a knockout stage berth, Valencia will be sure to have a busy summer.
Three World Cup goals in three games is a great number for a relative unknown, and while links to Arsenal might be quite a stretch, there's no doubt the bright and energetic 25-year-old will get looks going forward.
7. Ahmed Musa, Nigeria

Nigeria surprised many as they progressed into the knockout stage over favorites Bosnia & Herzegovina and a bright Iran side.  At the heart of their advancement was 21-year-old winger Ahmed Musa.
After looking listless against the United States in their final warmup before the World Cup, Musa has turned on the jets, outplaying Victor Moses so much that coach Stephen Keshi benched the Liverpool winger for their group stage finale against Argentina – Musa responded by scoring twice and nearly securing a shock result against the South American favorites.
In an attack that relies on multiple players taking turns finding openings in the attacking third, Musa has been Nigeria's most consistent performer up front and will likely find himself in more dangerous openings come the knockout round.  He may be 21, but he's got 40 caps already, a staggering amount of experience for someone so young.
8. Memphis Depay, Netherlands

We first got a glimpse of Depay as a halftime substitute in the Netherlands' second match against Australia. Defender Bruno Martins Indi went down under a challenge from Tim Cahill, and on came the 20-year-old PSV midfielder.  All he did was assist a goal and score another – the winner.
Depay was dangerous both centrally and out wide, and when he also got 20 minutes at the end of the Dutch victory over Chile, he found time to complete a trio of take-ons that led to a pair of chances on net, and he scored again.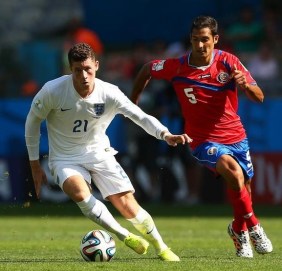 For having only logged 65 minutes across two matches so far, he is a valuable asset off the bench for the Dutch and will be a key part of their team going forward.  He may even find himself on the right end of a phone call or two from a coach in a top-four league.
9. Celso Borges, Costa Rica

"Why would anyone in the world of football consider playing the best teams on the planet to be a bad thing?" Those were the words of Borges after Costa Rica shocked the world and not just escaped but won arguably the most difficult group in the World Cup.
The 26-year-old midfielder has been a steady yet important presence in the midfield of Los Ticos.  In their statement 1-0 win over Italy, it's arguable that Borges out-Pirlo'd Andrea Pirlo himself.  A maestro in the midfield, Borges was 45-of-50 passing, leading Costa Rica's build from the back.
It was the same story five days earlier against Uruguay, as Borges completed 41-of-49 passes in the midfield and created a pair of chances for Costa Rica.  He's also a force in the air, as any good holding midfielder is.
Joel Campbell might get much of the praise for Costa Rica as they look to take the 2014 World Cup by storm, but Borges is the man pulling the strings, and many more are sure to take note.
10. Mathew Leckie, Australia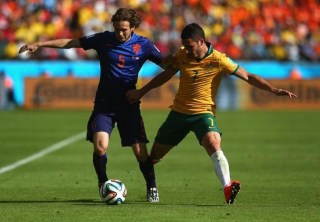 Australia impressed in their very difficult Group B draw. Although they failed to secure a single point, they put the pressure on all three of their opponents, and the 23-year-old winger Mathew Leckie was at the heart of that pressure.
Having risen meteorically onto the Australian international scene thanks to the appointment of new coach Ange Postecoglou, Leckie was a hard-worker all over the pitch not afraid to take opponents on when he had the ball.
He failed with just three of 26 passes and created a pair of chances as the Socceroos nearly shocked the Netherlands, and was equally as effective a few days earlier against Chile.  He finished in the top two in take-ons in both those matches.
Currently playing in the 2. Bundesliga (Germany's second division), Leckie will surely get some hard looks from teams above thanks to his performance in the World Cup.