16 teams have gone home and now the last 16 remain to battle it out on Brazil.
On Saturday the Round of 16 kicks off as eight matches will take place to usher in the knockout stages. We have some absolute beauties coming your way as three CONCACAF, five South American, two African and six European teams continue their quests to win it all.
[ RELATED: Full schedule for last 16 matches ]
As Jurgen Klinsmann said after the USA sealed their qualification to the knockout round "this is now the start of a whole new tournament."
Lets take a quick gander at all eight mouth-watering ties and see what we can expect. The full-size bracket can be seen at the bottom of the post.
[ RELATED: Complete bracket for Round of 16, more ]
Round of 16 matches
Brazil vs. Chile – Saturday, 28 June, 12 p.m. ET, Belo Horizonte
The hosts take on one of South America's most likeable sides in a real humdinger. Brazil's attacking flair will be made to work extremely hard by a Chilean side that love to pressure high. There will be thousands of Chileans in the crowd to create a superb atmosphere and this is where the hosts could come unstuck. Can Neymar be the hero or will Arturo Vidal's Chile provide a not so huge shock?
Key men
Brazil: Neymar
Chile: Arturo Vidal
Colombia vs. Uruguay – Saturday, 28 June, 4 p.m. ET, Rio de Janerio
Another all-South American clash awaits on Saturday as Colombia and Uruguay clash at the Maracana. Colombia have been one of the stories of the tournament so far as they banged home nine goals in the group stage and won all three games to set up this tie. Their young attacking duo of James Rodriguez and Jackson Martinez have torn teams apart. As for Uruguay, they narrowly beat Italy and England to advance but are now without star man Luis Suarez for the rest of the tournament after he bit Giorgio Chiellini. These two are familiar foes, with Uruguay winning 18 of the 38 games they've played.
Key men
Colombia: James Rodriguez
Uruguay: Diego Godin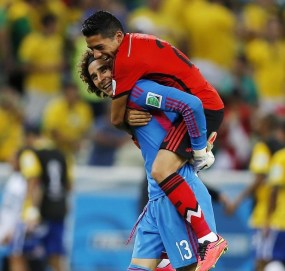 Netherlands vs. Mexico – Sunday, 29 June, 12 p.m. ET, Fortaleza
This one is a really intriguing match up as free-flowing Holland have swept aside Spain, Chile and Australia thus far. Mexico's stubborn defense led by inspired goalkeeper Guillermo Ochoa will provide a really tough test for RVP, Arjen Robben and co. Can the attack-minded Dutch break down the stubborn Mexican resistance?
Key men
Netherlands: Robin van Persie
Mexico: Guillermo Ochoa
Costa Rica vs. Greece – Sunday, 29 June, 4 p.m. ET, Recife
This is not a match many had lined up for the last 16, as both teams qualified for the knockout stages as huge shocks. Costa Rica were phenomenal in qualifying as they beat Italy and Uruguay on their way to winning Group D. As for Greece, a last minute PK vs. the Ivory Coast saw them advance in dramatic fashion but it's hardly been vintage stuff from the Europeans. Both teams will be relying on their defenses to guide them through.
Key men
Costa Rica: Joel Campbell
Greece: Giorgios Samaras
France vs. Nigeria – Monday, 30 June, 12 p.m. ET, Brasilia
The French have looked imperious thus far, banging in goals for fun and looking incredibly solid under Didier Dechamps. The last two teams to win both of their opening group games by three goal margins have gone on to win the trophy. A good omen? as for Nigeria, they are just happy to be in the last 16 after narrowly beating Bosnia. They gave Argentina a run for their money and if star 'keeper Vincent Enyeama is on form, France could struggle.
Key men
France: Karem Benzema
Nigeria: Vincent Enyeama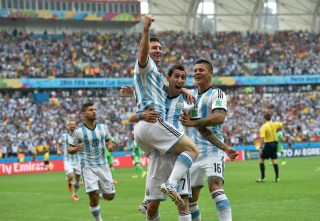 Germany vs. Algeria – Monday, 30 June, 4 p.m. ET, Porto Alegre
The Germans are looking like the same old ruthless machine at this World Cup as they coasted out of the Group of Death. Thomas Muller is on fire with four goals so far and the Bayern Munich man now has nine goals in nine World Cup games. Algeria have beaten Germany on both of their previous World Cup meetings, but the African side will be up against it as Die Mannschaft aim to go deep in Brazil.
Key men
Germany: Thomas Muller
Algeria: Islam Slimani
Argentina vs. Switzerland – Tuesday, 1 July, 12 p.m. ET, Sa0 Paulo
The Argentine's will fancy their chances here, as Messi is the tournament's leading scorer with four and it finally seems like he's going to lead them all the way to a World Cup title. That said, Switzerland blow so hot and cold that you don't know what you're going to get. They demolished Honduras 3-0 in their final group game but were hammered 5-2 by France in a topsy-turvy game. This game is all about one man and if the Swiss can stop him. I think not. Messi will win this for Argentina.
Key men
Argentina: Lionel Messi
Switzerland: Xherdan Shaqiri
Belgium vs. USA – Tuesday, 1 July, 4 p.m. ET, Salvador
Belgium won all three group games. 2-1. 1-0. 1-0. They are tight at the back and clinical going forward but fail to create many chances… Sound familiar? The U.S. and the Belgians are extremely similar, have played twice recently in friendlies which reuslted in Belgian victories but this could go all the way to penalty kicks. Jurgen Klinsmann's side will likely have to sit back and defend for most of this one, as the form of 'keeper Tim Howard is key. Can the stubborn American defense stop the mercurial talents of Eden Hazard and co.?
Key men
Belgium: Eden Hazard
USA: Tim Howard