It's quite a task selecting the best 10 performances from 32 teams playing three games each, but in the hard world of being employed to rank world footballers, I stand ready.
It's especially hard not to just latch onto incredible moments and insert a player on the list. Robin van Persie's headed goal against Spain still amazes me, but was he the driving force behind the Netherlands' surprising group stage? Certain teams got by on defending, so does that mean one defender can rise above the rest?
[ RELATED: Complete bracket for Round of 16, more ]
Oh, shoot. Let's just do this thing. The Top Ten players from the 2014 group stage were:
10. Gervinho, Ivory Coast – No, Les Elephants were not able to charge out of their group stage funk, but that was no fault of the electric Gervinho, who challenged back lines and midfields alike.
9. Arjen Robben, Netherlands – He's a menace, and his motor never stops going (even during his full-energy dives). Robben drove the Dutch into the knockout rounds.
8. Enner Valencia, Ecuador – The bright spot in a disappointing tournament for La Tri, the 'other' Valencia has been linked with a number of Premier League sides including Newcastle United.
7. Guillermo Ochoa, Mexico – You watched the Brazil/Mexico match, right? Can you believe El Tri had coaches who didn't suit this guy up?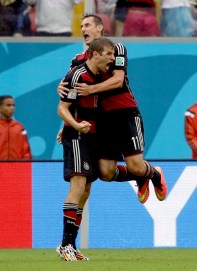 6. James Rodriguez, Colombia – Absurdly-gifted and just as productive, James is one of the main reasons Colombia could emerge from the loaded CONMEBOL quadrant and into the semifinals.
5. Karim Benzema, France – If this guy played in England, he would be one of the most popular players for American audiences. He's big, talented and hard-charging.
4. David Luiz, Brazil – So PSG is going to team Luiz up with Thiago Silva? Champions League, beware.
3. Neymar, Brazil – If there's been more stress placed on a younger player by a host nation, we've yet to find him. Coming into his own during this tournament.
2. Thomas Muller, Germany – All he does is score goals, and that bullet against the United States was bordering on impossibly well-placed.
1. Lionel Messi, Argentina – Any more questions about the Atomic Ant on the international stage? He was Argentina in the group stage.
Honorable mention: Wayne Rooney, England; Yeltsin Tejeda and Bryan Ruiz, Costa Rica; Clint Dempsey, Jermaine Jones and Tim Howard, United States; Daley Blind, Robin van Persie and Memphis Depay, Netherlands; Blaise Matuidi, France; Xherdan Shaqiri and Diego Benaglio, Switzerland; Andre Ayew, Ghana; Juan Cuadrado, Colombia; Merhdad Pooladi, Iran; Serey Die, Ivory Coast; David Ospina and Jackson Martinez, Colombia; Vincent Kompany and Eden Hazard, Belgium; Ivan Perisic, Croatia; Claudio Bravo and Alexis Sanchez, Chile; Vincent Enyeama, Nigeria; Oribe Peralta, Mexico; Diego Godin and Luis Suarez, Uruguay; Islam Slimani, Algeria; Keisuke Honda, Japan; Mesut Ozil and Mats Hummels, Germany.