WORLD CUP TODAY: SUNDAY, JUNE 29
Today, we must not be afraid to ask the question: is there any way Sunday's matches can match the thrill of those played on Saturday? In the first match of the knockout rounds, Brazil and Chile played out a 1-1 draw, ultimately taking the game to penalties. Brazil scored three, Chile two, and the hosts advanced amidst Chile's tears.
It looked as though there was no possible way Colombia and Uruguay could top that game. And perhaps in terms of drama, they couldn't. But the beautiful goals scored were enough to compensate: James Rodríguez turning, volleying in off the crossbar, then scoring the second through a sidefooted shot after a wonderfully worked team move. Que bonita!
***
MATCH 51: NETHERLANDS VS. MEXICO
Location: Estádio Castelão, Fortaleza
Time: Noon ET
SOCCERLY PREVIEW | SOCCERLY MATCHCENTER
Cheater's Guide
Netherlands announced their intent to dominate at this tournament with a 5-1 thumping of Spain, followed by a fun back and forth with Australia, which eventually resulted in a 3-2 win for Holland. Knowing that they could top the group with just a draw, the Dutch sat back in their final game, but still managed to run out 2-0 winners over Chile.
Mexico struggled in their first match, sort of: they had two goals (incorrectly) ruled out as offside in the first half. But eventually the flag stayed down, and they came away with a 1-0 win over Cameroon. El Tri were then able to hold Brazil to a goalless draw, before ending the group stages with a convincing 3-1 victory over Croatia.
What they're saying
Andres Guardado explains why Mexico have conceded just one goal thus far: "To be honest, the key to our defending has been the fact we're all doing our bit – it's not just down to the keeper and the defender. [Forwards] Oribe [Peralta] and Giovani [dos Santos] really help out and if the ball gets past them, us midfielders are ready to step in and, after that, there's our back five. And finally you haveMemo Ochoa, who's playing really well, as the last line of defence."
History
The two sides have met six times, with Holland taking the slight edge: three wins to Mexico's two. Both sides have scored eleven goals, though, so there's that.
Premier League Players
Netherlands: Ron Vlaar (Aston Villa); Robin van Persie (Manchester United); Tim Krul (Newcastle); Jonathan de Guzmán, Michel Vorm (Swansea)
Mexico: Javier Hernández (Manchester United)
RELATED: World Cup news, analysis from Soccerly
***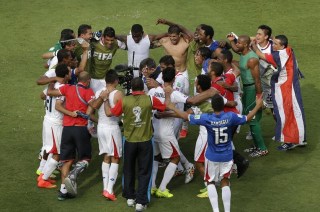 MATCH 52: COSTA RICA VS. GREECE
Location: Arena Pernambuco, Recife
Time: 4pm ET
SOCCERLY PREVIEW | SOCCERLY MATCHCENTER
Cheater's guide
Costa Rica have been quite the surprise this World Cup, absolutely thrilling CONCACAF supporters. First they beat Uruguay, and not just by one goal: la celeste fell 3-1. Next up, a 1-0 win over Italy, then a goalless draw with England. Costa Rica may not be the most thrilling team to watch in the tournament, but they're certainly much more solid than most had been willing to give them credit for.
Speaking of the inability to thrill, the ticos' opponents are Greece, who managed to defy the odds and advance, despite not scoring until the 42nd minute of their third game. The Pirate Ship first lost 3-0 to Colombia, putting to shame the idea of their fantastic defensive abilities. Greece then sat back to earn a goalless draw against Japan, before coming from behind to beat Ivory Coast 2-1, with the help of a last-minute penalty.
What they're saying
Los Ticos technical assistant Luis Marin says it's vital Costa Rica score first: "It's crucial for us to score early in the game, especially as Greece are known to tighten up at the back once they score. But we know it's going to be a tough game all round. Although they lost to Colombia 3-0, the goals they conceded were down to simple mistakes. Greece are also potent on the counter-attack."
History
They're about to write it.
Premier League players
Costa Rica: Joel Cambell (Arsenal)
Fulham fans will be paying attention to Greece for Giorgos Karagounis and Kostas Mitroglou, and Costa Rica for Bryan Ruiz, but alas, Fulham are not really in the Premier League anymore, are they? Sorry guys.
MLS players
Costa Rica: Giancarlo González, Waylon Francis (Columbus Crew); Roy Miller (New York Red Bulls)