"Lionel Messi is impossible" reads the headline from advanced statistics site Fivethirtyeight.com, and it's immediately impossible not to dive into the piece.
What will the numbers tell us that we don't already know? Messi is a wizard who is erasing the doubts of a nation — his own — with four goals in three games heading into their role as heavy favorites against Switzerland today in the World Cup's Round of 16.
Well, let's put it this way: there's been a lot of talk about the identity of the best player in the world given Messi's relative struggles this season at Barcelona and strong campaigns from presumed Nos. 2 and 3 Cristiano Ronaldo and Luis Suarez.
And there just may not be a comparison, even conceding that Messi has not been as prolific for his nation as his club. As the study says, "if Barca-Messi and Argentina-Messi were two different people, even based solely on the stats recorded since 2010, there's a good chance they'd be the two best players in the world."
It's not possible to shoot more efficiently from outside the penalty area than many players shoot inside it. It's not possible to lead the world in weak-kick goals and long-range goals. It's not possible to score on unassisted plays as well as the best players in the world score on assisted ones. It's not possible to lead the world's forwards both in taking on defenders and in dishing the ball to others. And it's certainly not possible to do most of these things by insanely wide margins.

But Messi does all of this and more.
Check out the absurd charts for proof: Messi is as close to unstoppable as it gets in this day and age. He's one of the best shooters, passers, creators, runners and even, relatively speaking, defending forwards in the world. But we knew that.
Here's my favorite chart, calculating value added on shots and passes: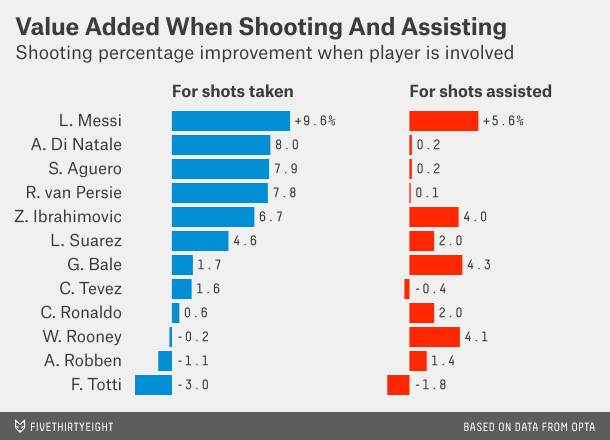 Yeah… he's good.