The United States has a semifinal appearance on its World Cup résumé, but there's a reason why that doesn't come up very often. That result came all the way back in 1930, when the shallow nature of the inaugural tournament meant winning your group earned a place in the semifinals. Having beaten Belgium and Paraguay in group play, the U.S. lost to Argentina in the semifinals, 6-1, bowing out in front of over 72,000 at the legendary Centenario in Montevideo.
The true gold standard of U.S. World Cup performance remains2002 – the year the team claimed its only knockout round victory. Having tarnished Portugal's Golden Generation in the group stage, Bruce Arena's team got goals from the best number nine in team history (Brian McBride) and a 20-year-old Landon Donovan to cruise past rival Mexico and into the quarterfinals. A controversial loss to Germany later (thanks, Torsten Frings), and the squad that went to Japan-South Korea had both legacy and martyrdom.
Twelve years later, that win in Jeonju, South Korea, remains the only bright light in the U.S.'s knockout round history. Be it 1994, when a tournament on home soil saw the team bow out 1-0 to a 10-man Brazil, or 2010, when a second straight do-or-die loss to the Black Stars handed the team a new nemesis, close calls in must-win matches only affirmed the legend of 2002.
They're the types of loses that fuel fan nightmares. Though the team was second-best each time, each game was close enough for one break to matter. What if Frings' hand ball gets called in `02? Or Claudio Reyna doesn't lock knees with __ against Ghana in `06? What if Rico Clark doesn't gift Kevin-Prince Boateng the opener in 2010, or … what if Leonardo doesn't break Tab Ramos's skull in `94? Even that year, the U.S. only lost by one goal.
Each result allows fans to dream, to think "We're so close. If we're better four years from now, we can get over the hump."
[ MORE: How will US line up vs. Belgium in Round of 16 clash? ]
[ MORE: Jozy Altidore hands US huge boost, fit to face Belgium ]
[ MORE : Three key battles that could decide US vs. Belgium showdown ]
Tuesday may as well be four years from now. After seeing the U.S. advance out of one of the most difficult groups its ever been given, fans have every reason to believe Jurgen Klinsmann's team is better than the team that went to South Africa. The win over Ghana and the team's performance against Portugal proved as much. Having made strides since 2010, this year's team may be the U.S.'s best since the standard-setter that sent El Tri home from Jeonju.
Unfortunately for the U.S., the competition is tougher this year, too. Whereas the Americans won a weak group in 2010 and played Ghana in the second round, this year's second place finish means they're slotted against one of the most talented teams in the tournament – a team whose talent could, in time, be seen to rival those Brazil and Germany teams that sentthe U.S. out of previous World Cups.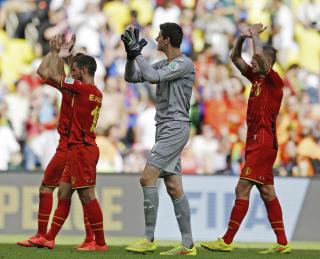 Belgium, the seeded team in Group H, is one of four teams to reach the knockout round with a 3-0-0 record. They have one of the best goalkeepers in the world (Thibaut Courtois), one of the game's elite central defenders (Vincent Kompany, if healthy), and a 22-year-old attacking midfielder that helped lead his clubteam to Europe's Champions League semifinals (Eden Hazard). Though they haven't been to a major tournament in 12 years, Belgium has the talent to compete with any team still alive in this tournament.
Their entire starting XI will be made up of talents playing at major clubs in Europe's biggest leagues. Over half of their team will see time in next season's Champions League, and aside from central defender Daniel Van Buyten, none of the Red Devils' major contributors are over 28 years old. As much people expect the Belgians to make an impact now, Brazil 2014 will be the first salvo from a Golden Generation that could redefine their country's soccer. Belgium has only made it past the second round at one World Cup.
[ MORE: Chasing the narrative: What the numbers tell us (if anything) about Michael Bradley's World Cup ]
[ MORE: The case for Geoff Cameron: should US defender start vs. Belgium? ]
[ MORE: So, how much of an upset would it be if the USMNT beat Belgium? ]

That, remarkably, may be where the U.S. has an edge. We don't think of the Americans as an experienced group, but unlike the Belgians, many of them have been here before. The leadership of this U.S. team — the Clint Dempseys, DaMarcus Beasleys, Michael Bradleys, and Tim Howards of this squad — know what this pressure is like. They've not only played in a knockout round, but they know what it's like to expected victory and come up short. Add in Jurgen Klinsmann, a coach that's taken a team to the World Cup semifinals (as well as won a world title as a coach), and the U.S. may have enough "know-how" to defy expectations.
Those expectations say talent will win out on Tuesday in Salvador; that the U.S. will meet their Germany (2002) or Brazil (1994). But those expectations overlook Belgium, for all their talent, aren't Germany or Brazil, yet. The Red Devils' three, one-goal wins in a weak group hints they may be a tournament away from greatness. Meanwhile, the U.S.'s adaptability in the face of one of the competition's toughest draws hints at a ability to transcend its talent.
Against Ghana, Portugal, and Germany, the U.S. showed it can play at a knockout round level. Against Algeria, Russia, and South Korea, Belgium never had to reach those heights to get out of their group.
[ MORE: Jurgen Klinsmann questions choice of Algerian referee for match against Belgium ]
[ MORE: Belgium injury update: Thomas Vermaelen out; Vincent Kompany still doubtful ]
[ MORE: You can probably stop referencing Belgium's win vs US last year, okay? ]
[ MORE: Belgium reveal respect for US 'keeper Tim Howard, Clint Dempsey ]
That doesn't make the U.S. favorites. The world's right to see the Americans as underdogs, though the quarterfinals are within reach. If the U.S. wins on Tuesday, the world won't be shocked, nor will they need a series of breaks to pull it off. The result wouldn't even be the biggest surprise of this competition. If Klinsmann's team plays to its potential — like it already has in stretches during this tournament — it can beat Belgium.
With one minor upset, this U.S. team can create a legacy of its own. If they can show the Belgians are still one tournament away, the United States will return to the quarterfinals.