Over the last four days, eight more teams have seen out of this year's World Cup. Now, with 56 of the tournament's 64 games played, Brazil 2014 is down to its final eight teams, all of whom finished atop their group.
Just like the last round, we're here to run you through the match-ups. Here are the four games that will decide who reaches this year's semifinals (the full knockout round bracket is below).
Schedule
Friday, July 4
France vs. Germany, 12:00 p.m. Eastern, Rio de Janeiro – Two of the more impressive teams coming out of the group stage faced unexpected problems in the last round, with two African nations (Nigeria, Algeria) forcing Les Bleus and die Nationalmannschaft to find late goals to reach the quarterfinals. Though Germany came into the competition as one of its favorites, France is seen as a threat to knock off the three-time champions, with a midfield of Yohan Cabaye, Blaise Matuidi, and Paul Pogba capable of slowing down the possession-hungry Germans.
– Round of 16: France scores twice late | Schürrle's extra time winners lifts Germans
– More: France, Germany, and one of the ugliest incidents in World Cup history
Brazil vs. Colombia, 4:00 p.m. Eastern, Fortaleza – Like Germany, the host nation came into the World Cup as one of the tournament favorites, but after showing flaws in group play and being taken to penalty kicks against Chile, you won't have to look long to find somebody who's picking the still perfect Cafeteros to reach the final. In James Rodríguez (pictured, five goals in four games), the Colombians have the tournament's standout player, and with speculation about a weak defense yet to come to fruition, José Pékerman's team looks like the strongest side in the competition, so far.
– Round of 16: Brazil through on penalty kicks | James carrying Colombia
– More: Neymar, Rodríguez: South America's future shines before the knockout round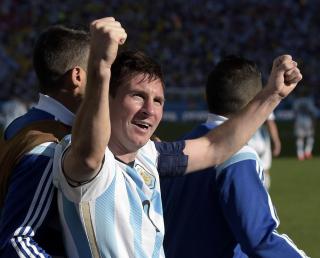 Schedule
Saturday, July 5
Argentina vs. Belgium, 12:00 p.m. Eastern, Brasília – James may be the player of the tournament thus far, but Brazil 2014 may yet turn into Lionel Messi's World Cup. As we were reminded on Tuesday's winning goal, there's little the Albiceleste can do right now that doesn't involve their best player, and while that would be a recipe of disaster for most quarterfinals-bound teams, this is Lionel Messi we're talking about. As for Belgium, their 2-1 win over the U.S. understates how well they played. They may not have Messi, but they performed better in the last round.
– Round of 16: Messi, Di María snatch it late | Belgium finally break down U.S.
Netherlands vs. Costa Rica, 4:00 p.m. Eastern, Salvador – Playing with 10 men over the final hour, Costa Rica survived to eliminate Greece on penalty kicks. They're the only non-European, non-South American team left in the tournament. While the Dutch finished one of the tournament's toughest groups with a perfect record, they were second best to Mexico for large parts of their Round of 16 match. With a late comeback, the Oranje are through, favored to reach the semifinals at the expense of the tournament's last Cinderella.
– Round of 16: Robben draws late penalty, Dutch move on | 10-man Ticos stay alive
– More: Arjen Robben apologizes for early-match diving, but agrees with penalty call