Doing our best to not simply toss out "Requiem for a Team" posts in the wake of the United States 2-1 extra time loss to Belgium in the World Cup's Round of 16, let's look forward to the 2018 World Cup for a few hundred words.
Assuming the States continue to qualify through CONCACAF, how many of the 23 players to make the trip to Brazil will have plane tickets to Russia? Let's take a look.
[ MORE: Analyzing Jurgen Klinsmann's first World Cup with U.S. ]
[ MORE: Three things we learned in U.S. loss to Belgium ]
This is assuming form stays relatively-strong and bodies are relatively-healthy. Would you have thought Stu Holden, Benny Feilhaber, Jonathan Bornstein and Jonathan Spector would all be on the outside looking-in come Brazil? Maybe, maybe not.
Goalkeepers (age at time of 2018 World Cup):
Tim Howard (39)
Brad Guzan (33)
Nick Rimando (39)
Analysis: Rimando will likely cede the third spot to someone, while Guzan will be back in some role. Howard's return will be based largely on whether he wants to continue playing internationally. Many keepers switch to 'club-only' status by the age of 39; Kasey Keller played for the US until he was nearly 38, while Brad Friedel stopped at age 34.
Pipeline (club, age at time of 2018 World Cup): Cody Cropper (Southampton, 25), Bill Hamid (DC United, 27), Sean Johnson (Chicago Fire, 29), Tally Hall (Houston Dynamo, 33), Ethan Horvath (Molde, 23)
Defenders:
DaMarcus Beasley (36)
Matt Besler (31)
John Brooks (25)
Geoff Cameron (32)
Timothy Chandler (28)
Omar Gonzalez (29)
Fabian Johnson (30)
DeAndre Yedlin (right, 24)
Analysis: It's very difficult to believe Yedlin, Gonzalez and Brooks won't all be on the scene in 2018, while the only name that seems a long shot for Russia duty, based on age, is Beasley. It's reasonable to expect Cameron, Besler and Johnson will be in camp at the very least.
Pipeline (club, age at time of 2018 World Cup): Erik Palmer-Brown (Sporting KC, 21), Will Packwood (Birmingham City, 25), Shane O'Neill (Colorado Rapids, 24), Kellyn Acosta (FC Dallas, 23), Eric Miller (Montreal Impact, 25), Miguel Palafox (Leon, 23).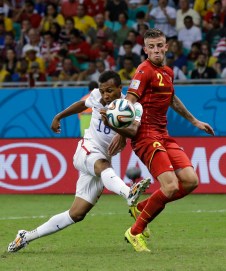 Midfielders:
Kyle Beckerman (36)
Ale Bedoya (31)
Michael Bradley (30)
Brad Davis (36)
Mix Diskerud (27)
Julian Green (23)
Jermaine Jones (36)
Graham Zusi (31)
Analysis: A tricky group to diagnose, but certain names seem gone by 2018 (Beckerman and Davis for sure, with Jones having a chance considering Klinsmann's love for the midfielder). Bradley and Green seem certain, and you'd say the same for Diskerud if not for the lack of playing time this tournament. Bedoya and Zusi are X-factors, but Klinsmann is likely hoping others make his decision easier.
Pipeline (club, age at time of 2018 World Cup): Luis Gil (Real Salt Lake, 24), Joe Corona (Tijuana, 27), Joshua Gatt (Molde, 26), Duane Holmes (Huddersfield Town, 23), Gedion Zelalem* (Arsenal, 21), Jordan Allen (Real Salt Lake, 23).
Forwards:
Jozy Altidore (28)
Clint Dempsey (35)
Aron Johannsson (27)
Chris Wondolowski (35)
Analysis: Wondolowski's wondrous run is likely done. It feels counter-intuitive to rule Dempsey out of anything, but 35 is a real obstacle for someone who gets abused as much as the Texan. Altidore should still be fine, while Johannsson has a really good look at coming back, too.
Pipeline (club, age at time of 2018 World Cup): Juan Agudelo (unattached, 25), Terrence Boyd (Red Bull Leipzig, 27), Shawn Parker* (FC Augsburg, 25), Jerome Kiesewetter (Stuttgart, 25), Boxi Yomba (Atletico Madrid, 21), Jack McInerney (Montreal Impact, 25), Bobby Wood (1860 Munich, 25), Will Bruin (Houston Dynamo, 28)
*Not yet committed to United States.