Major League Soccer isn't mentioned in Jurgen Klinsmann's latest Facebook update, but the quality and culture around the United States' domestic competition is the subtext of his post. Citing the U.S.'s finish in Brazil 2014 as a benchmark, the U.S. Men's National Team head coach said the team needs to "add the work load," going on to imply the current level of competition his players face needs to improve. The "tempo" and "rhythm" of the national team can't move forward unless those qualities can be matched at club level.
Klinsmann also alluded to "off the field" factors, like understanding how to utilize recovery time, but his underlying point is a familiar one, one which strikes a more relevant note in light of Matt Besler's potential move. While Major League Soccer is an improving league, it still doesn't match the standard of Europe's top competitions, something Klinsmann sees as an obstacle as the national team tries to move forward.
From Klinsmann's Facebook post, dated July 3:
We get benchmarked at the World Cup and there is definitely stuff we have to improve and get better in. It's many things off the field and many things on the field. Playing at that kind of a tempo, at that kind of a rhythm every four days – this has to become the norm. So our job as coaches is how can we make it clear that in order to get further and further we need to add the work load, we need to add the competition level, we need to make them understand what recovery time means, what their life off the field plays a role in many things you can achieve in your career.
It's a common theme with Klinsmann: A soccer career is a lifestyle. It isn't just defined by matches and the time you give your club in training. It extends to your off field preparation, your choices of how to rest and eat, or even the personal sacrifices you have to make to play against better competition. Being a professional athlete is a huge and well-compensated sacrifice, but if that's what it takes in the soccer world to track down the world's best, it's a sacrifice players have to make.
At least, it's one some players have to make right now. Players like Clint Dempsey and Tim Howard? Years of regular play in the English Premier League have built a foundation of experience. They're capable of raising their level to match their opponents. As we also saw with Jermaine Jones, Bundesliga and Champions League experience meant the awe-factor of the World Cup was more muted. If those types of players move to MLS, there's enough experience to draw on at the international level.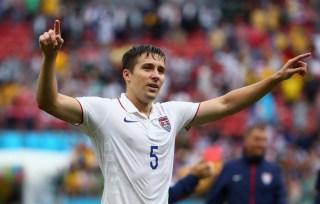 But what about a player like Matt Besler (right), who hasn't put in that time at the higher levels? Or Omar Gonzalez, Graham Zusi, or perhaps more importantly, DeAndre Yedlin? Even Michael Bradley, who for all his European experience, never played regularly for a Champions or Europa League qualifier during his stops in Germany or Italy. If Klinsmann's hypothesis is correct, perhaps Bradley's return to MLS from Roma was a little premature at 26 years old?
Or maybe he's an exception that shouldn't obscure the rule: Major League Soccer may be a building ground, but it's not a finishing school. While the likes to Yedlin, Luis Gil, Diego Fagundez, and Darlington Nagbe have had this platform to flash their potentials, MLS's ceiling may prevent them from helping their national team improve. Staying at home, they may develop into the talented but limited products that have led the U.S. to where it is now.
More from Klinsmann:
We have to continue to communicate that, to show them and especially start to implement that with our Under-17, Under-18, Under-20, Under-21, which will be the future Olympic team because that's the next Generation that's going to break in. The more we get that message to those kids, the more we will benefit a couple of years from now. When you go out in the Round of 16, clearly it gives you the message you have a lot of work still ahead of you.
Telling people to get to Europe isn't the only solution, though. Eventually, you want Major League Soccer to be able to rival that experience. Maybe players capable of playing for the truly elite clubs will always leave (MLS may never have a Real Madrid), but unless that's the choice, you'd like to think players can achieve a higher potential at home.
Obviously, progress is being made. Players like Brad Davis, Chris Wondolowski, and Kyle Beckerman are limited, but thanks to MLS's drastic improvement, they've turned into players who can serve a purpose at the highest level. Talents like Eddie Johnson, Brad Evans, and Clarence Goodson played valuable roles in qualifying. The improvement in Major League Soccer is having a huge impact for the U.S. national team.
But 2014 wasn't the tournament where MLS broke through. With Besler standing out next to Beckerman and Zusi's contributions, it was the tournament where it helped. As Klinsmann implies, the domestic league has some steps to take if it's going to define its national team. The break through hasn't happened, yet.