When Neymar emerged in the Brazilian national team, he was a wide attacker that served as more of an outlet than a focal point.  Over time, that outlet's slowly developed into a playmaker, one that Brazil head coach Luiz Felipe Scolari moved to the middle of the attack before the World Cup. A text book number 10, he's not, but by the time the team kicked off its tournament against Croatia, Neymar certainly had become the focal point of his country's attack.
Without him, Scolari needs to re-think how his team generates chances, and while we shouldn't expect a huge shift in formation or style, a deep attack will have be creative with its options to replace the Neymar's impact.
Here's what might change in Brazil's Neymar-less world:
1. Willian will likely come into Scolari's team – There's also a chance Ramires, who started for Hulk in the team's second group stage match, could move into Scolari's starting lineup. Bernard, a slight but quick 21-year-old winger is an option, too, but given the type of player Brazil has lost, Willian's the more likely choice.
An attacking midfielder who moved to Chelsea last summer, Willian can play anywhere across the three in Scolari's 4-2-3-1, though he'll likely be deployed wide. Highly skilled, intelligent in possession, and a great striker of the ball, the 25-year-old also offers a high work rate, something that could prove especially valuable if he's played opposite Phillip Lahm. If that happens, Hulk will be allowed to move back to his preferred right side, with a centrally deployed Oscar allowing the team to more-easily shift between a three- and two-man midfield. Against possession-hogging Germany, that could prove especially valuable.
A former standout at Shakhtar Donetsk, William offers a different type of creativity to Brazil's attack, albeit at the expense of Neymar's goal scoring. His familiarity with club teammate Oscar will help as the 22-year-old becomes more of a focal point in the team's attack, while his crossing could get more out of Fred in the middle. In the space in front of the defense, he'll provide a second player able to play a final ball, putting more pressure on Sami Khedira and Bastian Schweinsteiger to pick him up when he comes off the wing.
With both Willian and Oscar capable of attacking across the width of the field, Brazil can target specific weaknesses in the German defense. Scolari may not need to return Dani Alves to the team to outnumber left back Benedikt Höwedes.
Downgrading from Neymar to Willian certainly hurts, but the true impact of that swap will likely be felt elsewhere. Few nations are lucky enough to have a player like Willian in reserve.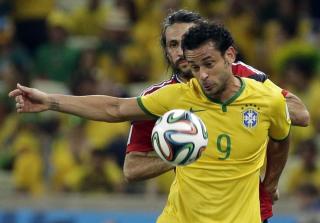 2. Fred's role may change – Brazil's heat maps showed something that's confusing, if you think of Neymar as his team's central playmaker. Often over the course of 90 minutes, his average position rivaled Fred's, Brazil's forward. While Scolari moving Neymar to the middle allowed his best player to play a bigger part in Brazil's attack, it allow allowed him to push forward and play along the line when Fred dropped back to win and hold up the ball.
That dynamic changes if Willian comes in. For all his talents, he's not someone plays along the defense. Neither is Oscar. Fred can continue to drop back to help Brazil get out of their own half, but there's no Neymar to burst forward to fill that space.
Ideally, instead of playing as much with his back to goal, Fred would stay higher, trying to push central defenders Mats Hummels and Jerome Boateng. Regardless, is movement will become much more important. As Germany's fullbacks have to deal with Hulk, fullback Marcelo, or possibly Alves, his ability to exploit the channels could be the difference between merely having Oscar and Willian's skills and truly leveraging them. If he can't, we may see Jô come on earlier than usual.
3. Hulk's movement will matter more – In that same vein, Hulk's ability to play higher and provide an option for Oscar and Willian's creativity could be more important. Whereas with Neymar it was more important to read defenses as they reacted to Brazil's focal point, creating options for the team's playmakers may prove more important against Germany. Instead of waiting for Oscar and Willian to generate space, Hulk and Fred will need to read the defense and adjust. As the German's adjust to Brazil's two creators, Hulk could have space to exploit.
There's also the chance Hulk can see more opportunities isolated against defenders if his team becomes less worried about maintaining space for Neymar. If Oscar and Willian team up toward the left or middle, Hulk may have room to take on Höwedes and cut onto his favored left foot. Clearing their right side for Hulk may also give Scolari reason keep Maicon at right back, knowing Alves will only be blocked fi he tries to get forward.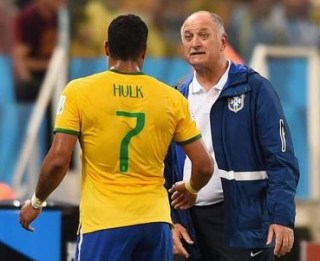 The undercurrent here, though, is the importance of replacing Neymar's scoring. With four goals in five games, Neymar was responsible for 40 percent of his team's production. Hulk, who has failed to score thus far, is one of the few players who can replicate that threat.
He needs to be put in positions to succeed. Against a team of Germany's caliber, he may also need to deliver.
4. Will Scolari be tempted to use Paulinho – If Scolari's looking for other way to replace Neymar's goal scoring, restoring Paulinho to the starting XI could work. The Spurs midfielder was back in the team that faced Colombia, but only because Luiz Gustavo was suspended due to a second yellow card. With the Wolfsburg midfielder available, it's expected he'll partner Fernandinho in the middle.
Paulinho, however, provides more of a threat going forward, with his ability to read a defense from deep and exploit available space, particularly valuable if Oscar and Willian can play well. Whereas Gustavo is a pure destroyer and Fernandinho's more comfortable in a deeper role, Paulinho's main value is his ability to be that extra man in the box.
Unfortunately, he hasn't played very well this tournament. Though his showing against Colombia was an improvement on what we saw in group stage, he still wasn't as good as Fernandinho, who took his spot in the starting lineup before the knockout round. On performance alone, there's almost not augment for choosing Paulinho over one of Scolari's two other options.
But with Oscar potentially augmenting that two-man midfield, Brazil may be able to sacrifice one of Gustavo or Fernandinho. If, however, he feels Scolari thinks his team is capable of generating chances with just his attackers, Paulinho should be on the bench when the teams kick off on Tuesday.