Failure, while not a four-letter word, sure feels that way. The United States bowed out to Belgium in the World Cup's Round of 16, and certainly each player on that team has wondered how he could've done better.
For Chris Wondolowski, the USMNT's "Cinderella Man", the case is pretty simple to solve. The striker got himself in position to push the States to the quarterfinals and, after being closed down by Red Devils keeper Thibaut Courtois, sent the potential match-winner over the net.
[ MORE: English writer wants Klinsmann | Boca backs Klinsmann's work ]
Not surprisingly, the moment has stayed with him. And to his credit, the man is playing the role of good example for athletes after adversity. There's no "we all missed chances" coming from the striker, nor is there a "I'll move past it."
It's his to own, and it will make him better.
From MLSSoccer.com, courtesy Pete Ratajczak:
"I'll always think about it. I think about every miss. I think about misses I had against Real Salt Lake three years ago," Wondolowski said. "It was such a big moment on a big stage."

…

"I really do wish I had it back. I play it over and over. But it is what it is," Wondolowski continued. "That miss is going to help me. It's one of those things that will be a driving force and help motivate me. In offseasons, and during hard times, I'll go back to that and really push through it, because I don't want that feeling again. It's one of those things where you want to work hard enough where it doesn't happen again."

"Being a striker, it will happen again," Wondolowski said. "I will miss another goal. I'll also score another one."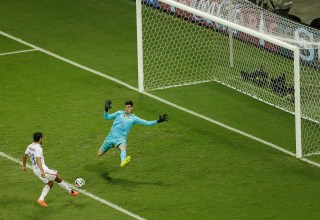 Wondolowski's World Cup story is a case study in the build-up and take-down of heroes. There were equal whirs of "give him a chance" and "he can't do it" as the roster was being pared to 30 and then 23 men.
The 31-year-old needed two chances to make a dent at San Jose and didn't find his way into even MLS-fan consciousness, let alone national team consideration, until 2010. 'Wondo' became a prolific MLS scorer and worked his way into deserved consideration for Brazil.
But, as Wondolowski admits in the article, a lot of harsh criticism and personal attacks came his way after his miss, one that had him tossing these sentiments out on Twitter:
I'm gutted to have let down everyone but especially my teammates. It's been an incredible ride but I know this will make me stronger.

— Chris Wondolowski (@ChrisWondo) July 2, 2014
Thank you to all the great fans that has supported this wonderful team. This is a special group made up of great teammates

— Chris Wondolowski (@ChrisWondo) July 2, 2014
There's a special class involved in taking the fall and absorbing the shock for his teammates. Though, Wondolowski admits there were more positive comments than negative following his miss, you feel for a guy who knows he missed a major chance and has to relive it via public vitriol.
But 'Wondo' is throwing plenty of locker room quote-worthy material out there for every player or person who's failed at something, or blew an opportunity.
"Being a striker, it will happen again," Wondolowski said. "I will miss another goal. I'll also score another one."
And given his career, the odds are he'll make more than he misses.