Brazil or Germany will move into the 2014 World Cup final after tomorrow's match in Belo Horizonte, but if you remember both teams' expectations, you know: There'll be no winners tomorrow at Estádio Mineirão. One team will go home, failing to meet its pre-tournament goal. The other will move 90 minutes closer to the only standard they carried into Brazil 2014: Another World Cup title.
That's the world of a five-time champion, with Brazil's success in previous finals hinting no matter the team, no matter the competition, the Selecao are expected to find a way. But that's also the world of Germany, who've reached this stage more than any other team in the tournament's history (13 times). For die Nationalmannschaft, the semifinals aren't an achievement. They're an expectation.
In that sense, expectations sure can be brats. Both Brazil and Germany have had good tournaments, fighting through tough groups and overcoming second game draws to reach the final four undefeated. Both survived tough Round of 16 match-ups to post strong quarterfinal wins, context that will be forgotten if either team falls tomorrow. With a loss, Tuesday's semifinal could turn into a cross-armed five-year-old, whose pouty-lipped punum reminds the team "We're always to win."
Title-minded
Only eight teams have claimed soccer's biggest prize, but with five titles of their own, only Brazil can claim to be the winningest nation in World Cup history:
| Nation | Titles |
| --- | --- |
| Brazil | 5 |
| Italy | 4 |
| Germany | 3 |
| Argentina | 2 |
| Uruguay | 2 |
| France | 1 |
| England | 1 |
| Spain | 1 |
Given the nature of World Cup, it's insane to think any team is supposed to win. That implies somebody had better than a 50-50 chance before Game 1. That's wishful thinking. Even Brazil, most people's favorites at the tournament's onset, will have to win four near-tossup games to fight through the knockout round. Granted, three weeks ago, most thought they'd be stronger, but there's no supposed to about those odds.
And what about Germany? In group stage, they had to face a Ghana team that proved slightly better than expected. Same for the United States and Algeria. Their other two match-ups, to date? Against France and Portugal. Perhaps that road hasn't proven as difficult as Brazil's, but there was still nothing certain about Germany's run to the semifinals.
[MORE: Remembering 2002′s Final: Brazil vs. Germany ]
[MORE: Proof that not everything goes Brazil's way: Silva suspension upheld ]
Yet here we are, with four teams left in the tournament, and two teams that have combined for 24 semifinal appearances making up one half of the bracket. That number alone tells you there's something more than the player-for-player match-ups involved. The likes of Colombia, Chile, and France look just as capable on paper, but these two titans face capable every four years. Yet more often than not, those potentials become inert. Where no other nation has made more than eight semifinals, there's clearly something about Brazil and Germany that pushes them to this level.
Life without Neymar, Thiago Silva
That creates a rock-and-a-hard place feel to Tuesday's meeting, one in which the little things would typically prove decisive, but in the wake of Friday's match in Fortaleza, it's a big thing that threatens to be decisive at the Mineirão. Thanks to one misplaced knee by Colombian fullback Juan Camilo Zuñiga, Brazil's best player is out, with Neymar set to watch from home while he recovers from a broken vertebra. Responsible for four of the Selecao's 10 goals this tournament, the Barcelona star gives way to whomever's audacious enough to fill his boots.
Path to Belo Horizonte: Brazil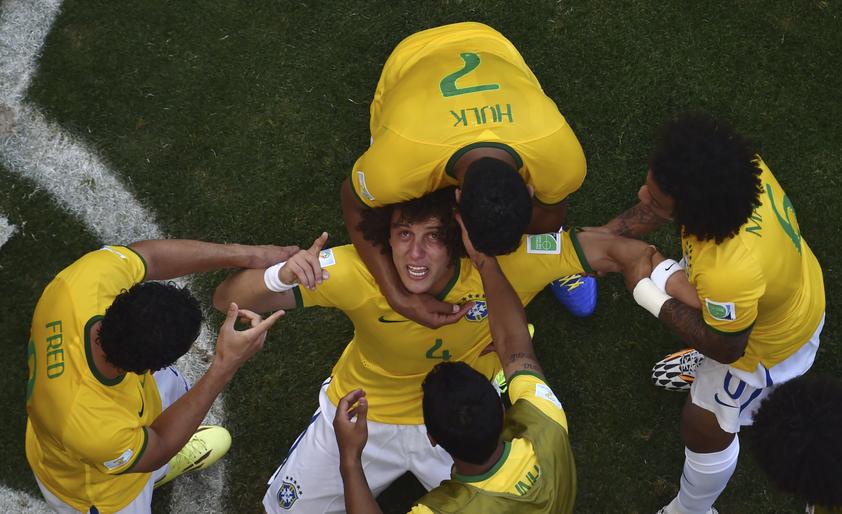 Brazil has faced three scares on their way to the final four, with Mexico, Chile, and Colombia each pushing the host nation:
| Round | Opponent | Result |
| --- | --- | --- |
| Group A | Croatia | W, 3-1 |
| Group A | Mexico | D, 0-0 |
| Group A | Cameroon | W, 4-1 |
| Round of 16 | Chile | D, 1-1 (pk: 3-2) |
| Quarterfinals | Colombia | W, 2-1 |
That could be Oscar – another 22-year-old attacker, one who should become the focal point of Brazil's team in the absence of Neymar. It could be Willian, an attacking midfielder likely to move into the starting lineup, or it could be Hulk, whose left foot is capable of unleashing a lightning bolt that could shock the Germans.
Maybe defender David Luiz, who scored one of the competition's most memorable goals last round, could step up, though with captain Thiago Silva suspended, the Chelsea defender's attentions will be focused at the back. Regardless, Brazil will need a new hero if they're to reach an eighth final.
[MORE: Memory lane: Looking back at best World Cup semifinals in history ]
[MORE: How will Brazil and Germany line up in World Cup semifinal? ]
Style over stars (while lacking neither)
Germany, as if playing to its stereotype, won't need a hero. Though the team features stars like Phillip Lahm, Thömas Müller, and Mesut Özil, they're built around a style more than any one player. Possession-dominant in a 4-3-3 formation that"s become an homage to Spain (and Barcelona), Germany's shown the strength of its collective, changing their forward, midfield, and defensive starters over the course of the tournament. Fifteen different players have started for Germany since the tournament kicked off three weeks ago.
The underlying results have been as expected. Average possession: 60.1 percent. Passes per game: A tournament-leading 634 (per Opta). Though they suffered a scare against Ghana and were taken to extra-time by Algeria, Germany's only allowed three goals in five games. They haven't conceded in regulation time since Asamoah Gyan put the Black Stars up 2-1 in the 63rd minute of game number two.
With Germany focused on short passing, using possession as its main defense, Oscar could prove decisive, if a more central position allows him to spark Brazil in transition. Perhaps Willian can exploit the space behind an onrushing Lahm to give the Selecao numbers going the other direction. Maybe Hulk will finally break through with his first World Cup goal.
Path to Belo Horizonte: Germany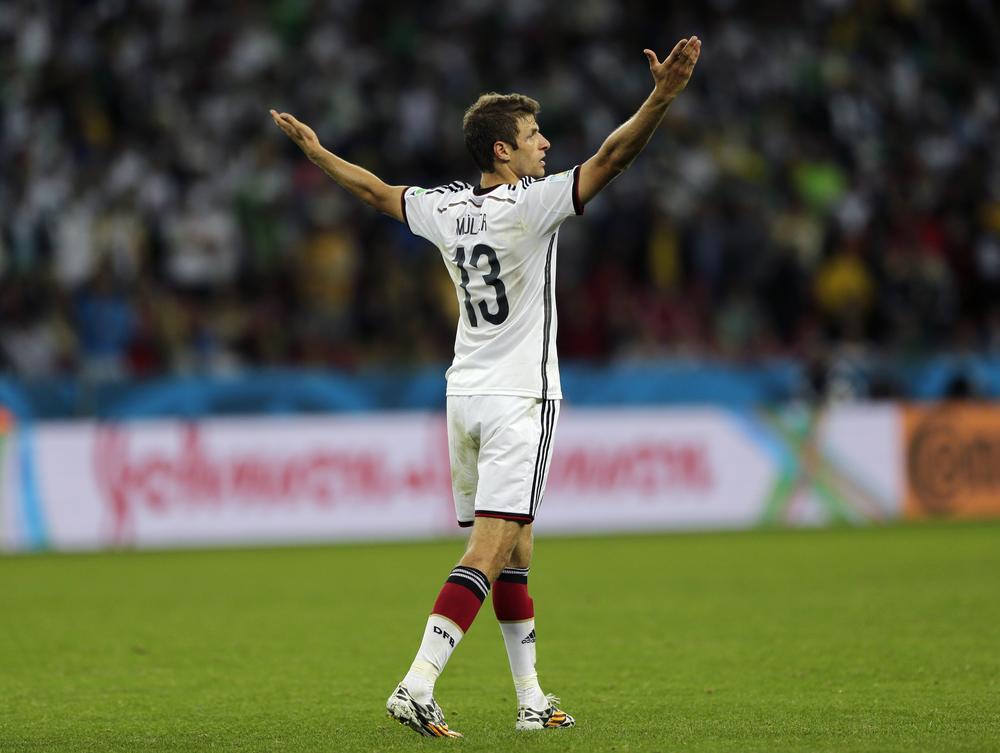 Thömas Müller has four goals in five games, but it's Germany's goal-prevention that's helped the team survive the knockout round:
| Round | Opponent | Result |
| --- | --- | --- |
| Group G | Portugal | W, 4-0 |
| Group G | Ghana | D, 2-2 |
| Group G | United States | W, 1-0 |
| Round of 16 | Algeria | W, 2-1 (aet) |
| Quarterfinals | France | W, 1-0 |
There's also a chance defensive midfielder Luiz Gustavo will have to be huge game against a collection of players he regularly faces at Wolfsburg. Luiz, wearing the captain's armband, may have to maintain his all-tournament form, while the heroics Júlio César summoned during the shootout against Chile may be called on before full-time in the semifinals. If Neymar's absence looms large, Brazil's defense is as likely to be pushed center stage as its attack.
[MORE: Joachim Low ahead of World Cup semifinal: Brazil lack flair ]
[MORE: Willian to replace Neymar against Germany? Scolari has options ]
And if that absence does loom large, Brazil will have something that mitigates the expectations around them, yet for those inclined to see the host nation as something that transcends one squad's talent, losing on home soil will never be acceptable, particularly with Uruguay's win at Brazil 1950 still playing such a big part in Selecao lore. It won't be Neymar or Thiago Silva, but somebody needs to join the likes of Didi, Pele, Garrincha, Romario, and Ronaldo. Somebody needs to be the hero.
Likewise, for a German soccer nation that sees Brazil 2014 as the payoff for a fundamental shift that began 10 years ago, the semifinals aren't good enough. Against a wounded team, one that's been fallible throughout the tournament, the depth of talent Joachim Löw has at his disposal is expected to win out. Home field can only mean so much.
Though it's impossible to have two favorites, both teams will be treated as such; at least, but their fans. It's just another nasty byproduct of expectations. Both Brazil and Germany have had strong tournaments, but after 90, potentially 120 minutes on Tuesday, one will go home a failure. The other will advance to Sunday's World Cup final.