For the host nation, it was one of the most demoralizing games in World Cup history – a semifinal embarrassment that saw one the world's most renown soccer nation humbled in historic fashion. But for the victors, it was a coming-of-age conquest – a result that validated years of promise that'd gone unfulfilled.
Perhaps Germany still needs to win on Sunday to fulfill its goals, but with a 7-1 win over Brazil in Belo Horizonte, the three-time champions gave us a memory that transcends any single game, tournament, or result. This was truly unforgettable – a onslaught that will define this group of players from now until their replacements come through. No matter what happens on this weekend's final, nobody will forget the heights Germany reached in today's demolition of Brazil.
Consider that one talking point from today's semifinal, though the conclusions we can draw from such a strange, lopsided game are less clear. That's our next stop as we start to dissect today's shock result:
[MORE: Germany hammer hosts Brazil 7-1, yes 7-1, to make eighth World Cup final ]
1. Germany makes its claim to greatness
As Brazil 2014's progressed, some begun to bemoan the lack of a truly great team, apparently seeing that as a requirement for anybody who lifts the World Cup Trophy. Never mind that fact that the last six World Cups have only produced three clearly great teams (Spain 2010, Brazil 2002, France 1998). This year's tournament just fizzling out great without a transcendent squad, the thinking implied.
After today's performance, that qualm should morph into a question: Is Germany this tournament's great one? Considering what we saw in the first half, it's a fair question. When you put-up five goals in 19 minutes against the tournament favorites, performances against Algeria and Ghana become understandably overlooked.
The Germans will need another dominant stretch on Sunday for history embrace their greatness, but don't expect anything approaching today's result. Argentina or the Netherlands will be far better than Brazil, while Germany's larger body of work suggests this is an exception, not a rule.
But what an exception it was. Brazil was disgustingly bad, but how many teams are capable of a scoring seven in the semifinal against anybody, let alone a team as talented as the Selecao? What other squad in the world would have been able to exploit those errors with such ruthless efficiency? How many teams are capable of bringing it all together to the extent we saw from Germany?
Maybe the Spain that was? Perhaps a team with Lionel Messi could produce this result, but given what we've seen from Argentina, that's purely hypothetical. Beyond those two teams, we have to look back consult history in lieu of the present. Maybe Cruyff's Dutch teams, on their best day, could have replicated this result.
Perhaps Sunday will prove Germany's more fallible, less apt to satisfy people's need for greatness, but for one day in Belo Horizonte, Joachim Löw gave the critics what they wanted. Germany gave us Brazil 2014's first flashes of greatness, carving out a historic result in the process.
[MORE: Germany vs. Brazil: Looking back at 19 minutes of carnage in Belo Horizonte ]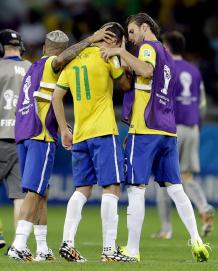 2. The post-mortem on Brazil will be long, excruciating
The most reasonable explanation for today's result will likely be "Brazil just played poorly." Over the last two years, we've seen enough to know they're just not this bad. In fact, they're usually pretty good. Today was clearly an outlying performance, one that becomes more explicable when you remember Brazil was without Neymar and Thiago Silva. This as just one of those days.
Tactics will be analyzed, individual performances will be vilified, but you don't end up with such a decisive scoreline without a psychological element. At some point, Brazil snapped mentally, either realizing they were out of their league or psychologically panicking amid the German onslaught. Perhaps it was the pressure and expectations. Maybe it was knowing Neymar and Silva were out. Regardless Brazil turned off.
But the same dangers we face in evaluating Germany — the tendency to give too much weight to a small, outlying period of time — we'll  also encounter with Brazil. The team was clearly flawed, but they were only flawed relative to the other tournament favorites. Today's performance was unpredictably out-of-character.
At its most important time, Brazil gave its most disappointing performance. Hopefully, after the autopsy, hopefully fans will see a strong, talented team that fell unforeseeably short.
3. Die nationalmannschaft's quiet stardom
If you judged by publicity, advertising, and pre-tournament buzz, Mario Götze was probably Germany's biggest star. Philipp Lahm was most respected, and perhaps Thomas Müller was his side's most productive, but Götze was the brightest of the Mannschaft's stars. A starter at the beginning of the tournament, the Bayern Munich attacker is still seen as the future of his national team.
On Tuesday, however, the 22-year-old didn't get on the field. Instead, it was a slew of slightly less publicized talents. Not that Müller, Toni Kroos, or Sami Khedira lack in renown, but they're rarely discussed amongst the game's elites. And among players that are considered as their generation's defining players, you rarely hear the names Miroslav Klose, Bastian Schweinsteiger, or Lahm, even though all three garner tremendous respect.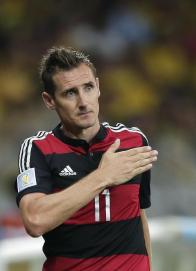 In a tournament where finding the next Diego Maradona is an obsession, where the performances of Lionel Messi and Cristiano Ronaldo are judged in terms of their ability to carry countries on their shoulders, Germany has nobody in that conversation. In the soccer world, the team's entire lineup draws acclaim. As far as transcendent stars, though, there isn't a Zlatan Ibrahimovic in the bunch.
Yet here we are, trying to put a 7-1 win over the host nation, the pre-tournament favorite, in perspective. Klose now holds the all-time record for World Cup goals, while Müller, only 24 years old, is already up to 10 career tallies. Manuel Neuer has been among the best goalkeepers at the tournament, while the acclaim of head coach Joachim Löw will only grow after this dismantling. As the spotlight on German grows, they'll be plenty of fame to go around.
But make a list of the most famous players in the world, and you'll probably go 10, 12 deep before writing a German name. As their accomplishments start to match their promise, though, the quality of their stars will be undeniable.
Perhaps there's no Messi, Ronaldo, or Ibrahimovic in their ranks, but a more quiet stardom may prove more successful. Whether we consider the Müllers, Krooses, or Khediras amongst the games best, they just produced one of the game's more impressive results. Perhaps limiting them to mere stars does them a disservice.