One game, 100 words (or less): Up 3-1 in with 15 minutes to go, the Union are undone when an Michael Lahoud's attempted bicycle kick catches Jared Watts in the face, turning a potential clearance into a straight red and a penalty kick. Seven minutes after Dillon Powers' conversion, Deshorn Brown burns Sheanon Williams ahead of his sixth goal of the season, one that costs Philadelphia its second home win of the season.
Goals 
Philadelphia: Casey 16′, Williams 31′, Wenger 74′
Colorado: Serna 18′, Powers 79′ (p.k.), Brown 86′
Three moments that mattered:
16′-18′ – Bang-bang – A promising start for Colorado appears to go for naught when former Rapids star Conor Casey gets the ball back after his long switch to Raymon Gaddis. The right back's eventual cross finds Casey just outside the six-yard box, moving across a flat-footed Shane O'Neill for the game's first goal.
Two minutes later, the visitors' strong start pays off, producing a quick equalizer. Powers, in possession, draws attention to the middle of the park, giving Dillon Serna room to cut onto his left foot after being found in the right of the box. Beating Zac MacMath near post, Serna's left-footed finish makes it 1-1.
Just past the half-hour, another O'Neill miscue allows Sheanon Williams to restore the hosts' lead. The Union would take a 2-1 advantage into intermission.
74′ – The Philly high point – Amobi Okugo, midfielder, pays off. Taking the ball off rookie Watts 28 yards from goal, the midfielder-cum-defender-dum-midfielder races toward the byline. Cutting the ball back with his left foot, Okugo gets some help from a deflection while finding Andrew Wenger, whose first touch finds the back of the net, giving Philly a 3-1 lead.
When Lahoud gives away a penalty minutes later, the goal looks crucial. After Powers' conversion, Philadelphia's lead is reduced to one (3-2), leaving the 10-man hosts 11 minutes from full points.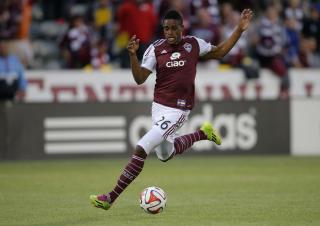 87′ – And, the low – Lahoud's mistake has cost Philadelphia their second home win of the season. With a brilliant turn around Williams, Brown beats MacMath from just outside the box, his sixth goal of the season bringing the Rapids even, 3-3.
Lineups
Philadelphia: MacMath; Gaddis, White, Williams, Fabinho; Lahoud, Okugo; Maidana (Wheeler 82′), Le Toux, Cruz (Wenger 69′); Casey (Carroll 80′)
Colorado: Irwin; Wynne, O'Neill, Moor, Burch; Watts (Hairston 78′), LaBrocca; Serna (Torres 83′), Powers, Hill (Alvarez 65′); Brown
Three lessons going forward:
1. Philadelphia keeps finding feet to shoot: Central defense has been a problem all season, even if the culprits have changed. Whereas the beginning of the year it was Okugo, Aaron Wheeler, and Austin Berry, now it's Williams, who was joined in the middle by Ethan White today. Given the plague striking the position, it may only be a matter of time before Maurice Edu, suspended for today's match, is symptomatic, too.
Give credit to Deshorn Brown for his sublime touch, above, but Williams just can't let that happen. He can't take that risk, a man down, at the point in the game, knowing there's nobody behind him. He has to keep the play in front of him.
Perhaps this is where it should be mentioned: Williams is not a center back, normally. He's there because Philadelphia has three good fullbacks and zero, maybe one (Edu) good central defender.
That number would be higher if Okugo was still in the picture, but as Jim Curtin's selection showed, that picture has changed. Perhaps permanently so.
2. The resilience of Colorado's attack: The Rapids came into the day with 24 goals in 17 games – a fine number, but one that was helped by a league-leading six penalty kicks (a number that moved to seven today). With players like Brown, Powers, Vicente Sánchez, and Gabriel Torres, you might expect more.
Pablo Mastroeni, however, has shaded toward the conservative side, something you can after to do with such a diverse group of attackers. Add Edson Buddle to the mix, and Colorado has the ability to rekindle's last year's width or go with the more centered approach they've shown this season. They can play through Powers as well as rely on players like Sánchez to get them into attack. They have options.
Those options create variety which, late in matches, becomes resilience. With a number of ways to beat you, Mastroeni can adjust to the game's circumstances, perhaps explaining why the team is 7-5-5 despite a relatively modest +5 goal difference.
As for all those penalty kicks, the team is also third in the league in open play goals. Considering nobody on the team has scored more than six times, the Rapids have a lot of ways to beat you.
3. Momentum blunted for Philadelphia: The Union were unbeaten in three ahead of last week's meeting with Dallas – a match that looked like theirs to lose, given Fabián Castillo's suspension. Lose, they did. With the 2-1 loss, Philadelphia dropped its first game under Curtin, a defeat that threatens to become a streak with today's result.
By itself, the loss would be heartbreaking, but the fact that it displayed all the problems the Union had under Hackworth will be especially demoralizing. If Philadelphia management are really trying to turn a page this summer — changing leadership ahead of a signings that are supposed to address the team's ills — today's result was a reminder: Merely changing the coach is not going to change this team.
Where that leaves them:
The draw keeps Philadelphia in seventh place, though New York's win leaves the Union five back of fifth.
Colorado gains ground on second place Real Salt Lake, sitting one point behind their Rocky Mountain rivals ahead of RSL's visit to the LA Galaxy (tonight).