One explanation that's emerged in the wake of LeBron James' return to the Cavaliers focuses on his former Heat teammates. Not that Cleveland offers much more, right now, but after Miami fell flat against San Antonio in last month's NBA Finals, the question that defined James' offseason became clear: If I have a choice between two flawed teams, why not pick the one closer to home?
Lionel Messi doesn't get those choices, and the extent to which Argentina is flawed depends on your point of reference, but compare his Albiceleste to Germany, and the James comparison looks even more apt. On Sunday in Rio de Janeiro, Messi — the best player in his sport — will try to raise the level of his supporting cast to that of Germany – the deepest, most talented team at the 2014 World Cup.
Win, and Messi not only produces his country's third world title, but he also cements a legend that will justify a place beside Pelé and Diego Maradona. Having already dispelled the notion that he can't perform in World Cups, the four-time world player of the year can start to address the more justifiable claim: That he's yet to earn a place along side history's big two. Winning a world title on Brazilian soil may end the discussion.
Title-minded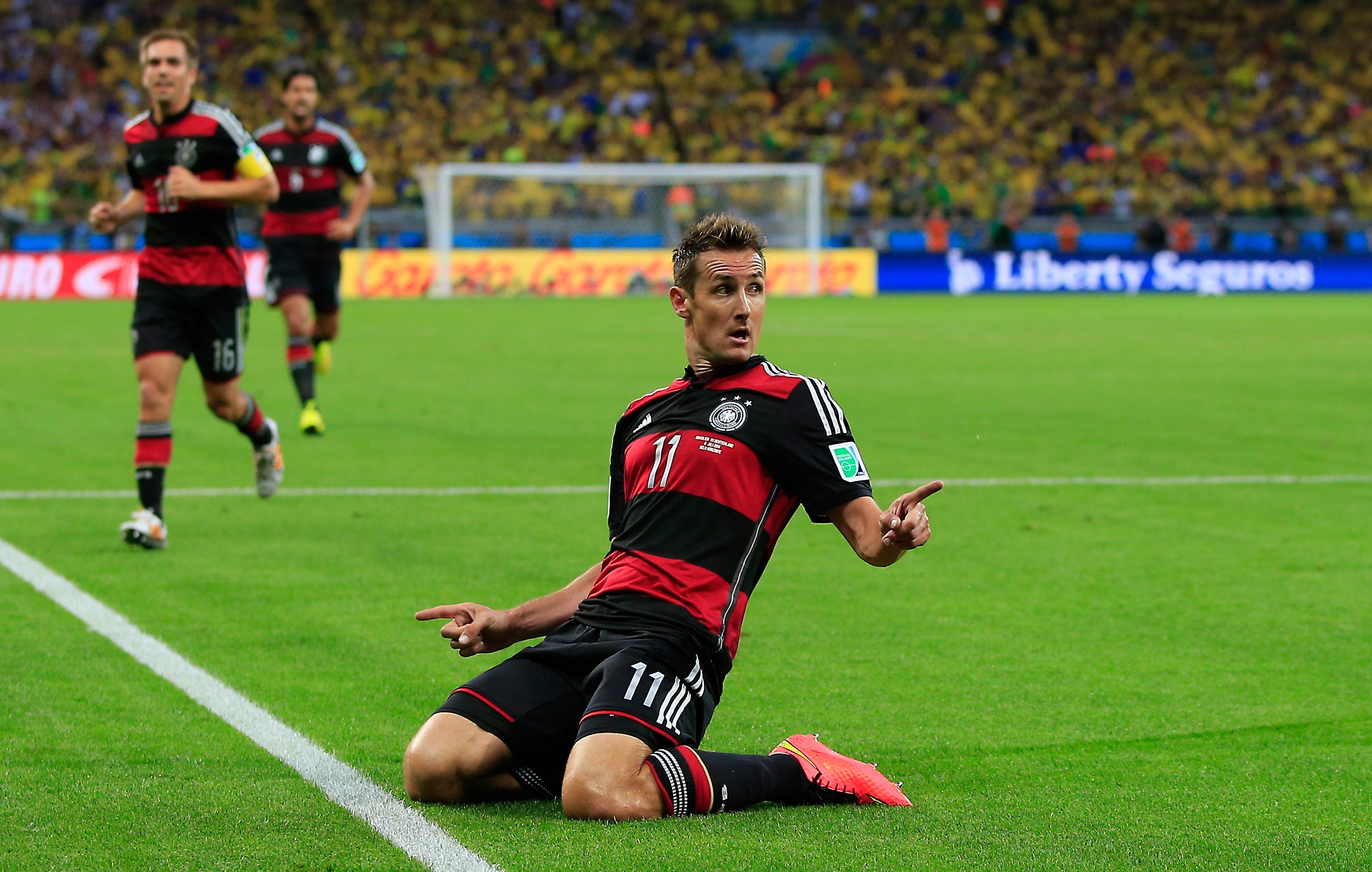 A Germany win moves the nation within one of Brazil's all-time record. With an Argentina victory, the country becomes the fourth to win at least three world titles:
| Nation | Titles |
| --- | --- |
| Brazil | 5 |
| Italy | 4 |
| Germany | 3 |
| Argentina | 2 |
| Uruguay | 2 |
| France | 1 |
| England | 1 |
| Spain | 1 |
Lose, and Messi will be left in the same position as James: Reminded of an individual's limits in a team sport. For the mastery he shows with every touch, the vision he showed while setting up Ángel Di María's game-winning goal against Switzerland (as well as his near-goal against Belgium), Messi has been contained in the knockout rounds. Amid rumors of fatigue, his movement has waned. After scoring four goals in group stage, Messi saw three teams willing to sit behind the ball limit his influence, taking the chance his teammates could beat them.
The Messi conundrum
But how likely is Germany, with its wealth of attacking talent, to employ similar approach? At first blush, it seems 'not very', but German champions Bayern Munich, for all the skill and danger they offered going forward, were content to wait for their opportunities against Messi's Barcelona two years ago. The route saw the German titans into the Champions League final, providing a performance Germany head coach Joachim Löw is sure to consider in the buildup to Sunday's final. Whereas the frailties in that Barça defense left the Spanish giants weak in transition, a German team build on Bayern talent could find similar success against Argentina.
It's all part of the Messi conundrum. For opponents, the dilemma's about how much you alter your approach. For Messi's team, the question is whether to commit more players forward, hoping to capitalize on opponents' conservative approach. In doing so, however, poor defenders get less help in transition, leaving you apt to be exploited by your own pursuit.
To this point, Argentina's been unwilling to do take up that chase. In the early rounds, it didn't matter. No matter how defensive opponents played, they weren't able to contain Messi for 90 minutes. In the second round, Switzerland's late-match fatigue allowed the game to open up, while the quarterfinals saw an early goal allow the Albiceleste to keep the Belgians at arms length. Only in the semifinals, when Argentina was unwilling to take chances against the Netherlands, did Alejandro Sabella's approach nearly cost them. Penalty kicks saw them through.
Path to the final: Argentina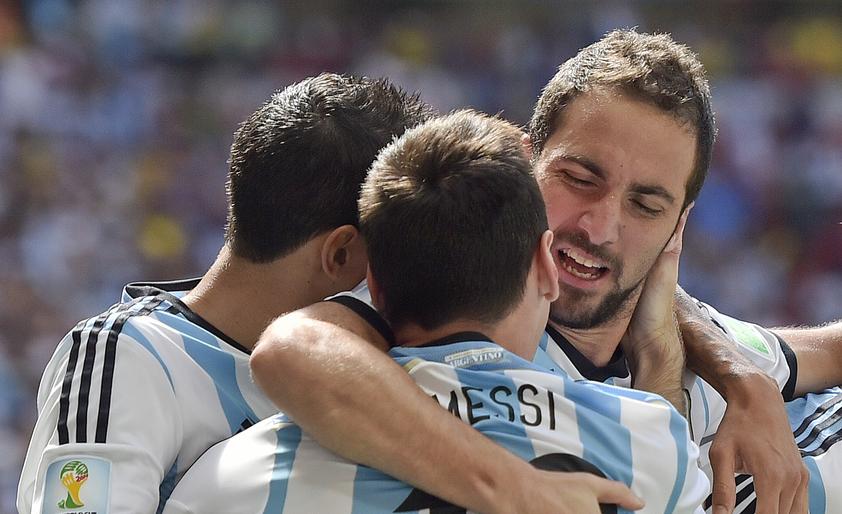 Argentina needed penalty kicks to reach the final. Before facing the Netherlands, however, it was smooth sailing for the
Albiceleste
:
| Round | Opponent | Result |
| --- | --- | --- |
| Group F | Bosnia-Herzegovina | W, 2-1 |
| Group F | Iran | W, 1-0 |
| Group F | Nigeria | W, 3-2 |
| Round of 16 | Switzerland | W, 1-0 (aet) |
| Quarterfinals | Belgium | W, 1-0 |
| Semifinals | Netherlands | D, 0-0 (pk: 4-2) |
It's a reminder of the limits of Messi's control. You don't have to go too far to hear somebody note that Pelé or Maradona would take over games, but there were plenty of others matches that were beyond those legends' reach. Not every game is there for a superstar's taking, and between the talent around him, the tactics, and the power at Germany's disposal, there may be relatively little Messi can control. If Germany's going to make it all about him, another Argentine will have to step up.
The person most likely to do that is Gonzalo Higuaín, who has averaged more than 20 goals per season over the last six years in Europe. Ezequiel Lavezzi, a skilled attacker capable of taking advantage of left back Benedickt Howedes or the space behind right back Philipp Lahm, gives Argentina another hope, while Manchester City star Sergio Agüero and Inter Milan attacker Rodrigo Palacio will allow Sabella to change his team's look. As much as any team in the tournament, Argentina has the attacking depth to exploit an occasionally generous German defense.
A test of German faith
That threat gives Löw enough reason to stay the course. Rather than worry too much about Messi, employing a plan that would force his team to change approach, the Germans can rely on their best defense: Possession. Although Argentina have maintained 58.6 percent of the ball during the tournament, Germany's had 59.4 percent, doing so against better competition. When you have a midfield of Bastian Schweinsteiger, Sami Khedira, and Toni Kroos, with Mesut Özil, Thömas Müller, and Lahm providing support, the best plan may be whatever keeps the ball at their feet.
Path to the final: Germany
Scares against Ghana and Algeria have not stopped Germany from posting the most impressive record in the tournament, winning five of six games with a +13 goal difference:
| Round | Opponent | Result |
| --- | --- | --- |
| Group G | Portugal | W, 4-0 |
| Group G | Ghana | D, 2-2 |
| Group G | United States | W, 1-0 |
| Round of 16 | Algeria | W, 2-1 (aet) |
| Quarterfinals | France | W, 1-0 |
| Semifinals | Brazil | W, 7-1 |
If that happens, Müller is likely to build on his second straight five-goal World Cup. Miroslav Klose could add to his tournament record for career goals (16). Kroos can be as influential on Sunday as he was against Brazil, while Özil's influence may finally translate to the scoresheet.
All of which brings us back to the Messi conundrum. If Löw maintains faith in his team's approach, relies on his talents to replicate performances we saw against France and Brazil, Germany could be the great team so many have longed for throughout this tournament. They may also open themselves up to Messi's defining performance.
And if they do adjust for Messi, playing more compact through the middle, aggressively marking him whenever they're without the ball? They could improve on the Netherlands' performance, using that talented midfield to create the counterattacks the Oranje could never launch. But they also give Higuaín, Lavezzi, and Agüero more time to take advantage of that approach.
No matter how you look at it, Messi's likely to play a decisive role. Whether plays well. Whether his teammates step up. Whether Germany adjusts. When a player's this great, everything's defined by his threat.
And come Sunday night, regardless of how he plays, Messi will either ascend to the next level of soccer stardom or leave his critics one last area of recourse. Unlike other great athletes, he has no choice but to be defined by this challenge.