LeBron James, fair or not, will always be compared to Michael Jordan, and the first point of comparison is championships.
Lionel Messi, fair or not, will always be compared to fellow Argentinian Diego Maradona, and the first point of comparison is World Cup titles.
Maradona has one, and Messi has none.
At age 27, having helped his team to the World Cup final, Messi was powerless to prevent Germany from snatching the victory in extra time, while Argentina had nothing in front of goal.
But the biggest difference isn't necessarily the win or loss of the trophy, but the performances involved. The "Cosmic Kite" won the World Cup in what seemed like a one-man show. "La Pluga" couldn't.
And that's the difference.
There's no doubting Messi is one of the greatest players to have graced this beautiful game.  He has 243 goals in 277 La Liga matches. He has 43 international goals. He has untold amounts of trophies for both individual and team performances, including an unprecedented four Ballon d'Or awards.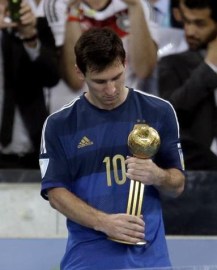 His national team manager Alejandro Sabella acknowledged that Messi had already secured himself into the category of greats before this team had started, which is entirely true.
"I believe he is already in the pantheon of greats," Sabella told reporters after the match. "He was there before the tournament and he's been there for a while."
Messi's electricity and dribbling beauty is once-in-a-generation type stuff, and that is not debatable.
But with a gaping hole on his resume, it's hard to establish Messi as among the best ever, even in his own country.
In this day of communication, technology, and social media, club performances in individual countries mean much more than they used to, but World Cups still define players and careers.
Look at Pele.  He played his entire career in the Brazilian league, which doesn't have the exposure as some of the larger European leagues (although it had much more pedigree at that time).  But with three World Cup victories, he is unmatched in that category and is indisputably known as the best soccer player who ever lived.
For Messi to stake a claim for the "best ever" designation – or even come close – he needed a World Cup, and it eluded him.
There's still time for the moment. If he can keep up this level of play another four years, there's no telling what can happen given another tournament. But he'll be 31 at that time, and there was no better chance than while in the prime of his career.
Argentina was a good team, but with few individual stars and a couple of key injuries, there's no question he has a better team at the club level.  It's difficult – nearly impossible, in fact – for a player to win a World Cup mostly on his own, and that should never be expected of someone.
But Maradona did it, and therein lies the problem.
No credit should be taken away from Messi this tournament, legacy wise.  The world already knows what he's capable of. He's still, as Sabella said, in the "pantheon of greats."
But he did nothing to further his legacy this past month either, and without improvement, he still remains just "one of the greats." Just ask Johan Cruyff.
And that likely doesn't sit well with the "Little Flea."