10. Luis Suarez bite
Why not start here? It can only go up from this embarrassing moment. He tried to deny it, but ultimately the video doesn't lie. Luis Suarez bit Italy's Giorgio Chiellini, earning him a 4-month ban from all competition.
It was memorable only in the sense that it rocked the soccer world (along with the internet), as it's inconceivable he would do this a third time in his career, after the first two caused such a splash.
Suarez has since transferred to Barcelona, but will not be eligible to play until around November. The ban is full and total, meaning he cannot even be unvelied at the Camp Nou to Barcelona fans. Nonetheless, the Catalans decided to make him around the fourth-most expensive transfer in history.
9. The death of Spain
I said it could only go up from the Suarez bite, right? Well, it's a slow climb.  Spain was a serious contender to win the entire World Cup…or so we thought. Instead, they bowed out of the World Cup almost immediately, with a pair of losses to open their campaign enough to send them packing.
The capitulation marked a moment of transition for Spain, a team that was not only the defending World Cup champion but also had put together a string of impressive title runs across multiple recent competitions.  For such a decorated coach as Vicente del Bosque and players like Xavi, Iker Casillas, and Andres Iniesta, it was a humbling moment compared to other career highs.
The team should be fine moving forward, and this will be just a bump in the road, but it still shocked the world to see such big names fail so miserably. Especially Casillas. Yikes.
8. Chile…and their fans
Chilean fans were praised for their passion during matches, and their team was praised for positive performances.  They took down Spain, battled the Netherlands, and stretched Brazil to penalty kicks. Players like Alexis Sanchez and Gary Medel were standouts in the tournament and earned widespread praise for their electricity on the pitch.
Their fans were also memorable for something else…toppling over a barrier and storming the Maracana press room in an attempt to gain access without tickets.  The stampede stunned much of the media and gave us quite a laugh, but Chile's performance on the field was just as memorable.
7. Louis van Gaal subs in Tim Krul for penalty shootout and he comes up big
Call it genius, call it lucky, or call it stupidity that came through, but Louis van Gaal produced a memorable moment when he switched goalkeepers just before the Netherlands penalty shootout against Costa Rica.
Then, after watching the Costa Ricans look so clinical in their penalty shootout the previous round, Krul made two beastly saves and made his manager look really, really good.  The Netherlands had one more amazingly memorable moment in their semifinal run, but we'll get to that in a bit.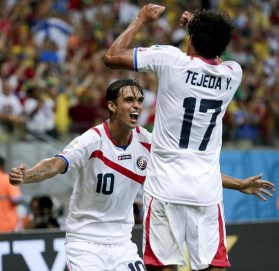 6. Speaking of Costa Rica, they were pretty awesome
May I present to you the jewels of CONCACAF, Costa Rica! Wait, what? Yep, Costa Rica not only made it out of a group with three previous World Cup champions, they won it. With room to spare.
The Costa Ricans, led by the stellar Bryan Ruiz (Wait…WHAT?!), took down both Italy and Uruguay before playing to a draw with England in a mostly meaningless game.  They then passed by the Greeks on penalties and took the Netherlands that far as well to complete an entertaining World Cup that gave CONCACAF a bit more clout.
5. Miroslav Klose breaks the all-time World Cup scoring record
It was slightly (ok, heavily) overshadowed by the drubbing that Brazil took in the match, but it's hard to forget that Miroslav Klose passed Ronaldo as the all-time leading goalscorer in the World Cup.
The 36-year-old has had a stellar international career, scoring 71 goals for Die Mannschaft, but one of the biggest came with the game already at 1-0 against Brazil, the 16th in his World Cup career.  Germany eventually won 7-1, shoving Klose's goal to the back shelf, but it didn't diminish what he'd done.  Oh, and he went on to win the World Cup, so that's pretty cool too.
4. Mario Götze wins Germany the World Cup in extra time
Yea, if you remember, Germany won the World Cup some time ago. And it's hard to imagine a moment bigger than winning the World Cup on a goal in extra time. That's what Mario Götze did in the 113th minute of a 0-0 game.  It was an absolutely brilliant goal, with a wondrous setup from Andre Schurrle and an even better finish from the 22-year-old that saw him chest down the ball coming hard at him and blast a precise and powerful volley past Sergio Romero.
The goal will no doubt write the young star into German history, and there's not much more to be said for this one. His goal won the freakin World Cup. That's about as good as it gets.
3. Germany annihilates Brazil 7-1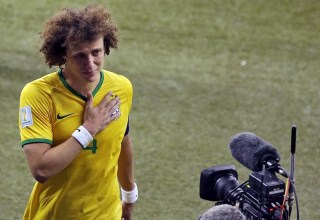 A game that reverberated around not only the soccer world but an entire nation, Brazil had hoped to win the World Cup on their home soil, but they were sent packing with a disastrous performance that crushed the entire country.
Germany, with four goals in a 27-minute span and five in the first half, torched the hosts and threw the country into sudden soccer turmoil. The effects of the match could be seen in the third-place game, when Brazil had absolutely nothing to give their fans against a dangerous Netherlands team who made it look all too easy.
For a team who hadn't lost a competitive home match in a really, really long time, this was a disaster of epic proportions. For a team that would go on to win the World Cup, it would give us a taste of how dangerous Germany really is.
2. Robin van Persie's spearhead diving header
A moment that jumpstarted the World Cup, it remains one of the most memorable. It cemented the 2014 World Cup (especially the group stage) as one of the most unpredictable in history, and alerted the world what it was in for.
With the Netherlands down 1-0 to Spain on just the second day of the event, Robin van Persie flew through the air gracefully and deposited the ball into the back of the net past Iker Casillas. The goal signaled the demise of Spain in the tournament (see earlier) and would announce the Netherlands as a force. Also, it was just a really awesome goal.
1. James Rodriguez is amazing

The world fell in love with James Rodriguez in the 2014 World Cup, and for good reason. He ended up winning the Golden Boot, and because every moment was just as fun as the last, and for that, we're just going to lump them all into one.
The Colombian international scored six goals, including at least one in every single match he played in the tournament. He braved the host country and massive bugs, and passed every test he faced.
He gave us a ridiculous volley against Uruguay, insane footwork against Japan, and tears after losing to Brazil, all which made us fall that much more in love with him.  With a move to Real Madrid likely in his future, Rodriguez won the hearts of the world.
Other moments we can't forget: Tim Howard's record 16 saves, Miguel Herrera's sideline antics, German national team's pants ridiculousness during training.