Earlier today, PST went through its collection of winners from this year's World Cup. Now we look at the other side of the coin. Here's the negatives, the losers, from Brazil 2014:
The Teams
Asia's representatives – The ACF's four representatives played 12 games, lost nine, and failed to win a match, posting a -16 goal difference along the way – a surprisingly weak performance from a confederation that put two teams into South Africa's knockout stage. While the current World Cup allocation seems pretty balanced, there are always those that want to shake things up based on one tournament's results. Particularly in this part of the world, Asia's performance will have CONCACAF honks arguing for their half-spots at Russia 2018.
Brazil – In 2010, South Africa, became the first host nation to miss the knockout round, a disappointment that pales in comparison to what happened to Brazil. Though the Selecao reached this year's semifinals, their ensuing collapse created the country's second major soccer nightmare – a failure that will rival 1950's Maracanzo. With 7-1 and 3-0 losses to close their tournament, Brazil has sparked a national soccer identity crisis, one that has the world's most successful nation questioning whether it can keep up.
Honduras –  The Catrachos only played three matches, two of which were among the worst performances in the tournament. A overly physical approach in the team's opener against France saw Wilson Palacios sent off during a 3-0 loss, a result that was replicated against Switzerland at the end of group stage. While experts predicted Honduras would be one of the (euphemism warning) least sophisticated teams in Brazil, an undue level of cynicism cast Luis Fernando Suárez's team apart from the rest of CONCACAF. While Costa Rica, Mexico and the United States were pushing their way into the knockout round, Honduras looked out-of-place.
Spain – Call it a crash or flop, or maybe pick something more onomatopoeic, like whiz or whimper. There's no shortage of ways to describe Spain's collapse, one that saw the defending champions fail to making it out of a tough Group B. Somewhere between South Africa and Brazil, la Roja's zeppelin turned into a lead balloon, and while the autopsy has reminded us of a number of preconditions, it was still shocking to see the crash on June 13 in Salvador.
[ MORE from our 2014 World Cup review ]
The Players
Rafa Márquez – Márquez's vilification in the U.S. has achieved full distortion since he left the New York Red Bulls two years ago, a bias that stood in stark contrast to the 35-year-old's strong group stage. In the knockout round, however, Márquez fulfilled his heel's destiny, taking down Arjen Robben in the penalty area to give the Netherlands a stoppage time, game-winning penalty kick. It may be unfair that one moment overshadows the previous 360 minutes, but when you make a mistake to send your team out of the tournament, you get branded. You also get ridiculed by the fans you scorned.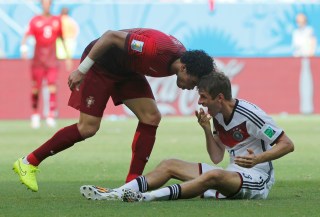 Pepe – With the possible exception of the next name on this list, no player's misadventures stunted his team as much as Pepe's. Earning a red card against Germany after head butting Thomas Müller, the Real Madrid defender was a major part of his team's 4-0, opening match loss, with the effects of that goal difference leaving the Seleccao virtually eliminated after their draw with the United States. Suspended for that match, Pepe was helpless as his team gave up two goals to the States, turning a must-win match into one of the lasting memories of a failed World Cup campaign.
Luis Suárez – This goes without saying.
Juan Camilo Zuñiga – Zuñiga is a quality if imperfect fullback, one who's capable of playing for teams at near top of most of the world's best leagues. From here forward, however, he's going to be the guy who broke Neymar's back. After leaping knee-first into the Brazilian's back, Zuñiga saw Neymar's stretchered off in agony with a broken third vertebra. Only 28, Zuñiga may have another World Cup in him, but he'll always be known as the guy who ended the young superstar's tournament.
The Coaches
Fabio Capello – Blame Igor Akinfeev if you want (and you'd be right to do so), but none of Russia's games were so far beyond reach that a more aggressive approach, particularly against Algeria and South Korea, couldn't have produced a better result. But Capello, despite being the world's most expensive coach, had only one approach, one that favored a conservative, reactive style above taking the game to his opponents. Now, between 2010 and 2014, Capello has won once in seven World Cup games. Congratulations for getting England past Slovenia, Fabio.
Luiz Felipe Scolari – Felipao is the last coach to win a World Cup for Brazil, taking the Ronaldo, Rivaldo, Ronaldinho team to glory in 2002. After this year's performance, critics will be less forgiving about that easy run to that title. As bad as Brazil was, the team doesn't lack for talent, as evidenced by its players' performance at club level. Lacking in cohesion, preparation, proper selection and execution, the hosts' performance reflects terribly on their coach.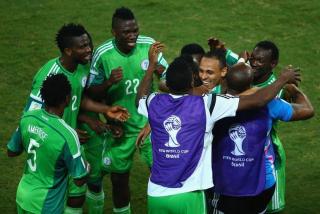 The Supporting Cast
African FAs – Cameroon's players almost didn't go. Ghana's had to hold out to make sure they got their money. Nigeria's been banned by FIFA in the wake of the World Cup. The reasons behind all of these aren't simple (for example, FIFA's dabbling in Nigeria's FA), but it's easy to imagine these soap operas influencing the results on the field.
Concussion protocol – All of Uruguay's Álvaro Pereira, Argentina's Javier Mascherano, and Germany's Christoph Kramer had high-profile, on-field concussion incidents, and while we've gotten bit reactionary about assuming every clash of heads produces a concussion, there's a reason why people err on that side of the equation. Teams have proven unable to manage the conflict of assessing their own players, and until FIFA recognizes some objective assessment is needed, players will continue to assume too much risk in the face of potential concussions.
Yuichi Nishimura, Carlos Carballo – While the tournament's officiating got off to a terrible start, the quality of refereeing was mostly fine (particularly considering the role Howard Webb's leniency had in the final four years ago). There were, however, two noticeable exceptions. If Nishimura doesn't reward Fred's dive with a penalty kick in game one, perhaps Brazil gets found out in group stage? And if Carballo doesn't allow such  a rough game in the quarterfinals, maybe James Rodríguez is able to pick apart the Selecao? In the spotlight of the host nation's games, both poor performances stood out.
World Cup alarmists – The lead up to the last two World Cups has featured a slew of English-language media moaning and hyper-ventilating about the  tournaments' impending failures, yet just as South Africa 2010 was fine, Brazil 2014 came off with only minor hitches. The weather was managed, the stadiums stayed up, and the matches were played as planned. While there were social and logistical issues, too, this year's World Cup betrayed the alarmists.
Remember this in the lead up to Russia 2018. With the tournament going to a first-time host, there'll be stories about whether the nation can pull off the event. There'll be concern about infrastructure. Maybe Vladimir Putin's politics will come into play. Regardless, no opportunity to worry will elude those who've cultivated this beat.
As you're clicking on those stories, just remember 2010. Remember 2014. Remember that there are always people worrying about whether a World Cup will come off.
Also remember: Brazil just gave us one of the best World Cups in history, and while there were plenty of social issues around the games to worry about, whether the games would actually happen was never a real concern.