A photograph giveth, and a photograph taketh away.
The Belgian girl who saw her World Cup candid become an internet sensation has had it all come crashing down.
17-year-old Axelle Despiegelaere was photographed at the Maracana during Belgium's Group H match against Russia, and social media exploded. Her beauty earned her a modeling contract with French cosmetics company L'Oreal.
However, the company has since cancelled the contract since a photograph from Despiegelaere's Facebook page became public. The photograph shows her posing with a gun behind an oryx gazelle she had recently killed on a hunting trip to Africa.
The photograph, posted just a day before Belgium's knockout round match with the United States, had a caption that read, "Hunting is not a matter of life or death. It's much more important than that…this was about 1 year ago…ready to hunt Americans today haha."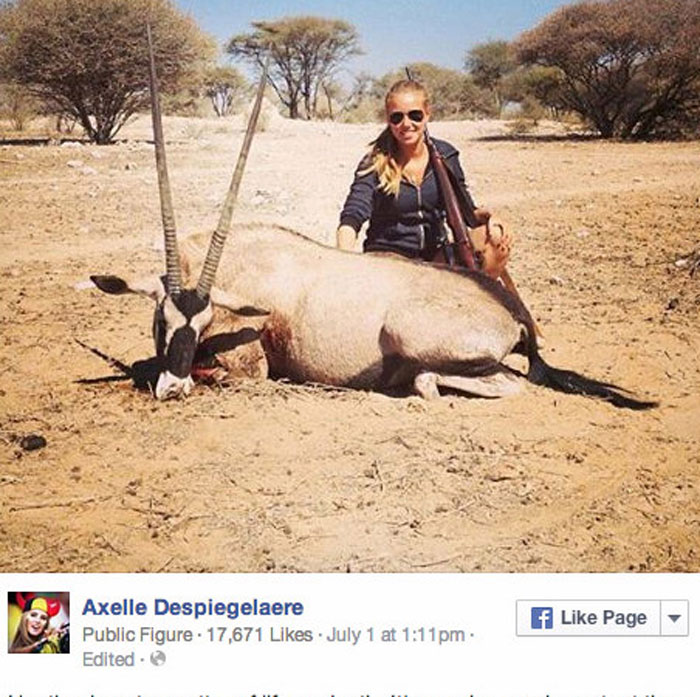 After the picture became public and backlash began, she removed it and posted, "Hi, I didn't mean to offend anyone…it was a joke. Thanks for understanding."
L'Oreal responded, saying, "L'Oreal Professionnel Belgium collaborated with [Despiegelaere] on an ad hoc basis to produce a video for social media use in Belgium. The contract has now been completed."
The company said they were aware of the photograph before giving her the contract.
Despiegelaere completed a promotional video for L'Oreal, but that video has now been removed from the company's Facebook page. It is still on YouTube, and can be seen here: