According to MLSsoccer.com's Greg Seltzer, USMNT central defender Matt Besler is a very, very wanted man and could make his decision on his next club by Monday, if not sooner.
Seltzer reports that Besler has an offer on the table from recently-relegated Fulham, and is also being looked at by Sunderland, although the Premier League club has not yet extended an official offer.
In total, there are 10 clubs that Seltzer says are at "various levels of monitoring/interest/offer talks" with Besler, although he would only reveal a certain number of interested parties.
Seltzer's report said that one of the clubs is in the Bundesliga but would not reveal the club, however the report states the club is unlikely to pay the price tag. He did report a few days ago that the club is not Freiburg, as was reported in German paper Kicker. Besler's name is no longer mentioned in that report, but his name remains in the URL for the story, indicating that Kicker may have gone back on their report, which would support Seltzer's claim.
It's hinted that the other nine are in England, with "a clear majority" of them in the Premier League.  US teammate Jozy Altidore is currently on the books at Sunderland, who staged a late comeback last season to avoid relegation.
Sporting KC has been resigned to losing Besler for a while, especially after his stellar performance in the World Cup for the United States.
As far as price tag goes, Sporting Kansas City s reportedly looking for a club record transfer out fee, in the range of the $5 or $6 million that Eddie Johnson fetched when he transferred to Fulham in 2008.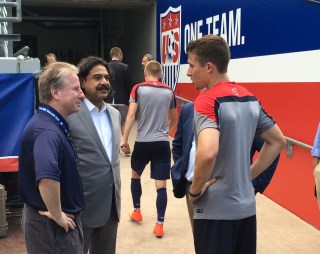 While Seltzer says Besler's decision will be announced by Monday (what he calls a "hard deadline"), Twitter account @MLSTransfers says Besler's decision has already been made and we will "know more" by tomorrow.
There is always the option that Besler remains in Kansas City, as signing a new contract has always been hovering in the shadows of these rumors. It has been mentioned previously that the idea of becoming a career Sporting KC player does intrigue the defender.
For what it's worth, yours truly photographed Besler meeting Fulham and Jacksonville Jaguars owner Shad Khan (on your left) during the final World Cup warmup game against Nigeria in Jacksonville. It was very clearly the first time they'd met.
That doesn't necessarily mean anything, considering Khan owns the team that plays at EverBank Field and naturally he's going to want to talk to the US players that are playing there.
But clearly if Fulham already made an offer, Khan was obviously been impressed with the 27-year-old.
And it would seem he's not the only one.