Clint Dempsey's occupied a place atop the U.S. soccer world since his return from England, but the scope of that stature may have truly hit home on Saturday, when "Deuce" was given what's become a celebrated honor. What the cover of a Wheaties box was to the last generation, the front of EA Sports' FIFA video game is to ours, with Dempsey selected to join Barcelona star Lionel Messi in receiving this year's honor in the North American market.
Announcing the choice Saturday in Seattle, EA also unveiled two slightly different covers: One that features the U.S. captain in his international kit (for Sony's PS4, above); the other highlighting XBox's sponsorship of the Seattle Sounders (below).
"Clint Dempsey is a world class athlete that embodies the heart and soul of the sport," said Stuart Lang, Electronic Arts's vice president of North American marketing said in a statement. "He is the perfect ambassador for FIFA 15, a game that's all about bringing the emotion and intensity of the sport to life."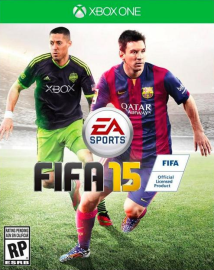 Speaking about the honor, Dempsey alluded to the franchise's part in cultivating soccer's fan base in North America.
"It's an amazing opportunity in my career to be on the cover for FIFA 15, a game that has played a big role in growing the popularity of the sport in America," said Dempsey. "To join the class of other elite athletes who have appeared on previous covers is very humbling and I am extremely grateful for this honor."
On one level, Dempsey seems like a no brainer for the spot. He's the national team captain in a World Cup year. His move to Seattle was major national news. His hot start to the season completely overshadowed his struggles with Fulham. Things have worked out pretty well for Deuce since coming home.
There were, however, other options. Tim Howard would have been a logical choice, considering his popularity during the World Cup. Michael Bradley is slowly becoming the face of the U.S. national team, while EA has made strainer choices than putting a young star like DeAndre Yedlin on the cover.
After seeing the cover, though, Dempsey looks at home. As the U.S.'s most-prominent player, one who plays for MLS's highest profile team, "Deuce" was a natural for the cover.