Civilization is the type of world-building, global domination game you'd play more often if you didn't make the mistake of growing up. Given it's been around for 22 years, most people are at least vaguely familiar with it, but for those who don't partake in modern society: The game centers around starting a settlement, building your civilization, then using your leveraging your growth and knowledge to take over the world. It's fun.
Thanks to the wonders of the information age, the game has now been modified to capture all the glorious horror that is the 2022 World Cup. Via the online gaming platform Steam, artist Steph Caskenette has developed a "mod" that allows your society to import a slew of exploited, migrant workers who'll help you prepare for the world's biggest sporting event.
From Polygon:
In "FIFA World Cup Host Resolution," a response to the controversy in Qatar, players strive provide the highest production for the project and to then build the infrastructure they've promised. Enter the migrant worker: half the price of a regular worker and one that can only be purchased. Migrant workers can pull long hours without food or water. As you hold their passports and their salaries, they'll never make it very far if they try to leave.
See! Told you something good could happen if Qatar got the World Cup.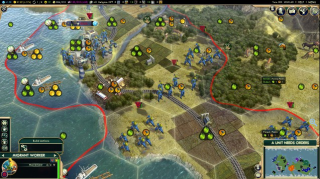 Seriously, though: Slow clap for you, Steph Caskenette. I haven't played this (I will), but for the idea alone: Slow. Clap. For. You.
From the mod's description:
"There have been dozens of FIFA branded video games," the description reads. "Dozens. Yet every one of these titles ignore the all-powerful FIFA in their gameplay. They don't showcase the scandal, the copious wealth, the controversial remarks. They're just about soccer. And that's not enough. That's not FIFA."
Given the cynicism behind picking Qatar in the first place, I'm surprised FIFA didn't think of this themselves. Then again, a nice cease and desist might be on its way to Caskenette's mailbox. If so, we'll still get to enjoy "FIFer Global Cup Host Resolution."