The North American Soccer League is staking its claim to big time soccer, as second- and third-tier soccer clubs continue to reap large attendance awards in 2014.
And if they keep it up, MLS will have to put its future plans out there earlier than expected.
The Ottawa Fury saw nearly 15,000 fans debut its new stadium on Sunday night, beating San Antonio's two-year-old single-game record. The big turnout gave the NASL its best week of attendance in its brief history.
With USL Pro's Sacramento Republic boasting nearly 15,000 of its own fans on a regular basis, and even fourth-tier Detroit City FC of the NPSL constantly topping 3,000 fans, the issue begs the question of how soccer in the United States will respond once minor league teams are regularly bringing attendance numbers that rival Major League Soccer (on a relative scale).
Don't laugh.
The NASL's Indy Eleven averaged 10,000-plus in the Spring season and there are many teams drawing between 4-6000 fans per game despite functioning at the lower levels of United States soccer.
MLS is going to run into scheduling problems when it reaches its goal of 24 teams. As soccer continues to explode in the States, what will the biggest league in the country do when demand goes boom?
Theoretically, if markets like Sacramento and Indianapolis continue to draw crowds, they will have the money to invest in better players (compete even). And if these markets can pull a Rhinos and make a run through the U.S. Open Cup? Where will their glory take them? What will it net them?
Phrased differently, the United States does not currently have promotion and relegation. It's difficult to imagine Don Garber convincing Arthur Blank and David Beckham that having an 'off' season could doom their investments to a second-tier, but imagine the challenges faced by ownership and marketers in Indianapolis and Sacramento if they have to keep promoting their brand with no hope of a higher move?
Hopefully attendance numbers would stick, but that's utopic at best. Could it be that MLS1 and MLS2 will have to come around, where free-spending teams like Miami, New York City, Red Bulls, Toronto and Los Angeles are constantly in the first tier of 16 and others are busting their humps to get promotion? Would a super league with Liga MX fit the bill?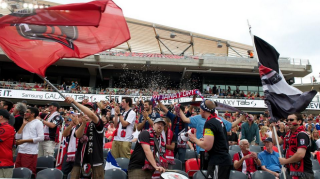 This is all way oversimplified, but there is going to come a time in the next 10 years where MLS will be at another crossroads. Garber has mentioned many markets in his speeches on expansion and has been careful to hedge every argument with "at the right place and at the right time".
It's clear that it's been discussed in the board rooms, but we have very few answers on what it will mean if Ottawa, Indy, Sacramento and Detroit continue to make good on their promise.
MLS has 22 teams committed to 20 markets. Soccer's the most popular sport in the world and continues to grow in the U.S. (well beyond traditional markets, as well). It's a tremendous 'problem' for MLS to have, and the league is arguably pretty responsible for the popularity growth of the sport nationwide.
But something will have to give soon enough. What will it be?