After Steven Gerrard announced his international retirement on Monday, the English national team are now looking for a new captain.
Gerrard, 34, has skippered the side since 2012 when Roy Hodgson took charge of the Three Lions but after 114 appearances for England he is finally calling it quits.
[RELATED: Gerrard retires from England duty]
Growing up, every Englishman dreams of captaining their national team but only a handful get to make that dream a reality.
Who will follow in Gerrard's footsteps? Here are five fellows that I believe could be worthy of the sacred armband.
Wayne Rooney
Despite his spotty form for club and country of late, 28-year-old Rooney is the prime candidate to replace Gerrard as skipper. Sure, he's had some tantrums and got silly red cards which have let down the national team in the past, but in recent years he has matured and is on course to become not only England's leading appearance holder (currently has 95 caps) but also the leading goalscorer in the nations' history. Roy Hodgson believes Rooney is a key cog in England's machine and it is highly likely the Manchester United forward will wear the armband for the Euro 2016 qualifying campaign and beyond.
Joe Hart
Hart is 27 and already has 43 England caps to his name. If England are looking for continuity from their leader then the Man City 'keeper is the way to go. With no real pressure being put on him as England's number one, Hart could easily break the all-time caps record and play for the Three Lions for another decade. At least. He is a leader, has plenty of big game experience and with the likes of Gianluigi Buffon, Hugo Lloris and Iker Casillas handed the captaincy for other national teams, don't rule this out.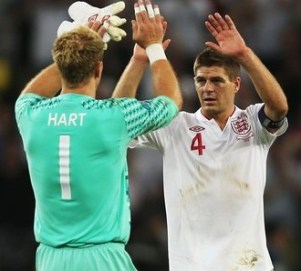 Gary Cahill
One of the few players to come out of England's World Cup campaign with his head held high, Cahill is a 'proper' English center half. Throwing his body on the line time and time again to block shots, make tackles and get attacks going, the Chelsea man inspires others with his actions. At the age of 28 he is just coming into his prime and would be a great captain of the national team. If he can get a decent partner in central defense for England, Cahill will lead England's resurgence from the back.
Jack Wilshere
Bit of a controversial choice here, but Wilshere has all the tools to be a future England captain. Just 22, this is a bit of wildcard selection but I love the way Wilshere puts his heart and soul into every game. As we've seen in recent months he still needs to clean up his act off the field… but the Arsenal youngster is so good on the ball in midfield and has the ability to both pass and tackle his way out of trouble. He could be seen as the perfect character to get England to roll their sleeves up and turn the nations fortunes around. Controversial but worth a punt.
Theo Walcott
Yeah, throwing this one out there as Walcott will be one of the most experienced players left on the squad (how crazy is that!?) when the September qualifiers arrive. Theo has now missed out on the 2010 and 2014 World Cups through injury but when he is fit you'd expect him to be an integral part of England's squad. Just 25, think how many more caps the Arsenal winger would have had he stayed injury free. Walcott has scored only five times in 36 games but on his day he's a match-winner. Plus, he's yet to reach his prime. Level-headed off the field and a perfect rode model, could the likes of Luke Shaw, Raheem Sterling and John Stones flourish from the example he sets?