The most expensive teenager in the world. Check.
The youngest player to play at the 2014 World Cup. Check.
It has been quite a summer for England international Luke Shaw. Now, the 19-year-old has just begun life as a Manchester United player following his $55 million move from Southampton in June.
[RELATED: Why Shaw is worth $55 million]
Shaw is currently in Los Angeles as United prepare for the 2014-15 Premier League season with new manager Louis van Gaal at the helm for their U.S. tour. A busy man, Shaw took some time out to chat with ProSoccerTalk about how his record-breaking switch to Old Trafford played out, being the youngest player at the World Cup, his new gaffer van Gaal and much more.
This was Shaw's first chat with the media since sealing his monster transfer to one of the biggest team in the world.
After playing 60 times for Southampton in the PL and making his England debut at the ripe age of 18, Shaw had plenty of suitors chasing his signature this summer. But when he found out United were in for him, the youngster made sure his move to the Red Devils happened.
"It's great. When I found out they were interested in me I didn't think twice," Shaw said. "Manchester United are the biggest club in the world. When I found out they wanted to buy me, I spoke to my agent, he got in touch with Southampton and it got done. I am really excited and happy to be here."
[RELATED: Shaw becomes most expensive teenager in history]
After flying out to LA with United for their tour — that kicks off on Wednesday night against the LA Galaxy before glamour games against AS Roma in Denver, Inter Milan in Washington D.C. and Real Madrid in Michigan — Shaw has only been in training for a few days. Already settling in well, the young left back revealed that the chance to work with van Gaal was a big plus in signing for United, as he was impressed with his track record of developing top class youngsters at Ajax, Barcelona and Bayern Munich in the past.
[RELATED: Full details of United's U.S. tour]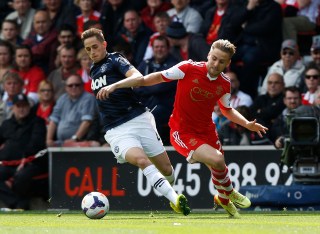 "I've only been here two days, we've had two training sessions and the manager has been working on what formation he wants to put in. It has been quite tough but I expected that when I first came back to preseason," Shaw said. "He seems like a great manager, he is straightforward and wants to get the best out of the players. That is something that is good for me so hopefully I will improve under him. One of the important things for me was that I heard he was good at producing younger players. He likes playing younger players and he has faith in them. That was another big thing for me, that he will give youngsters a chance."
Giving youngsters a chance is all well and good, but United are coming off the back of their worst season in PL history. A seventh place finish last term means no UEFA Champions League soccer to look forward to, plenty of players being let go and most importantly: no trophies.
That's something Shaw is determined to put right.
Should United, the team who have won 20 English top-flight titles, be aiming for more trophies this season?
"Of course," Shaw said. "You look at the season we had last season and everyone here wants to improve on that, to try and win trophies. That is what we are going to be aiming for. First thing for us is to have a good preseason, get everyone fit and raring to go for the season. This season, we want to come back as the Man United everyone once knew. Hopefully we can do that, push on and win some trophies."
Just 12 months ago, Shaw was in Southampton's first-team squad preparing for his first full season in the professional game after coming out of their famed academy. Now he's in L.A. with Manchester United and looking forward to playing against some of the biggest teams in the world. This is "Roy of the Rovers" stuff. It really is.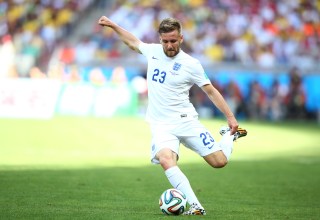 "We are playing massive teams like Real Madrid," Shaw said. "Last season, no disrespect to Southampton, but we would have been playing Championship and League One teams and now to come to the U.S. and play against teams like that is something I dreamed of when I was younger. I just can't wait to get going."
Sometimes when teenagers who are purchased for huge sums of money at such a young age, the pricetag becomes a burden and gets in the way. However the dollar signs are far from Shaw's eyes as he brushed off the fact that he's the most expensive teenager in soccer history. He is four times more expensive than Gareth Bale was at his age, and almost three times more expensive than the fee United paid for Cristiano Ronaldo back in 2003.
Shaw isn't bothered about that… but he is impressed with the hype and attention United have gotten so far on their U.S. tour.
"About the transfer record, I don't pay too much attention to that. I just focus on my football," Shaw said. "As soon as you come to America you can see how big the fanbase is… I've heard it's even crazier in Asia! In America it's big and it means a lot to me to be a Manchester United player."
As we mentioned, Shaw was the youngest player to play at the World Cup as he started and played the full 90 minutes in England's 0-0 draw with Costa Rica in their final group game. Sadly, for Shaw and the Three Lions, England had already been knocked out by then. He admits the entire team was shocked by their early exit but that the experience will hold him in good stead for the future.
"It was an unbelievable experience, but such a shame that we got knocked out so early," Shaw said. "Nobody really expected that. It came as a shock. Although I was happy to play in the last game. It was great to play in the World Cup, the biggest stage in football. That's something I want more of and hopefully now that I am at Man United, if I keep playing well then I will get more chances like that."
There's no doubting that. With United's legendary left back Patrice Evra sold to Juventus on Monday and his back up Alexander Buttner already leaving United this summer, Shaw is set to start at left back for one of the biggest teams in the world when the Premier League season kicks off on August 16th. He is not fazed, but he is still trying to get his head around the fact that he now gets to call the likes of Wayne Rooney, Robin van Persie and Juan Mata his teammates. Remember, he's only 19.
"There is a lot of quality in the dressing room. It is crazy," Shaw said. "Two years ago I was watching them on telly and now I am going to be playing in the same team as them. It is crazy. For me to still be 19 it is something I am really looking forward to. For me to be able to train with them everyday, it will keep improving me as a player and a person. I am really looking forward to the start of the season."