The Los Angeles Galaxy were absolutely trounced by Manchester United in California on Wednesday.
Clobbered, battered, dismantled: Pick your verbal poison when it comes to describing the 7-0 loss handed to the Galaxy by the Red Devils, or choose the word most said by Galaxy players.
"It's embarrassing because we're the LA Galaxy, and the scoreline doesn't reflect how good of a team we are," said Robbie Keane. "It certainly doesn't."
"I feel embarrassed," Marcelo Sarvas said. "I can't talk about the others, but I feel like that. Doesn't matter who you're playing, I think this is too much — seven — and here in Los Angeles."
[ RELATED: Liverpool 0-1 AS Roma — Late Boriello winner keys Fenway win ]
The Galaxy were beaten early, and then often in the first match for Manchester United manager Louis van Gaal (as well as several players). Three Red Devils scored braces in van Gaal's 3-5-2.
"It is fantastic how they have performed today," van Gaal said. "When you see us train, you can expect something but not 7-0. It was a surprise, but they were beautiful goals and beautiful attacks.

"The result always matters. With such a result you get confidence. We introduced a new system and played twice on the training pitch, 11 v 11. It is not very much, but the boys are willing to pick up the information. Last week, 10 players who played tonight were not even at our training complex.

"When I see my team playing a new system, it is better to win 7-0 than to lose because the players will then doubt the system. But now I don't have that problem."
Danny Welbeck started the scoring in the 13th minute, and the Red Devils piled on with a pair from each of Wayne Rooney, Reece James and Ashley Young.
Mistakes plagued the Galaxy. Welbeck hit a superb low strike but it came off an awful L.A. pass. Rooney scored a penalty kick off an AJ DeLaGarza handball. A butchered clearance of a low cross gave Rooney his second goal.
It was, no doubt, embarrassing for Los Angeles. And for the English crowd watching, it was neither indicative of the Galaxy nor Major League Soccer.
Bruce Arena was non-plussed.
"I think [it's] a real lesson for a lot of players," Arena said after suffering the worst defeat during his tenure in LA. "You talk a lot [during training and team meetings] about some of the things that happened tonight, but they rarely see it, and tonight, being on the field and getting punished for mistakes and really getting a lesson on speed of play. It was all out there for them.

"I think we can actually use this as a positive. Obviously, there's a lot I wasn't pleased with, but I think it's a good lesson."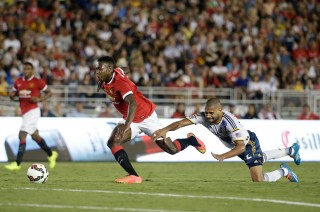 The Galaxy can point to the late goals coming against L.A. Galaxy II players, but the fact remains that this was United's first match in a long time. L.A. was supposed to be in midseason form, regardless of who they trotted out there.
And now Arena is forced with the task of taking what should've been a marquee event for the whole season, and turning it into something his players somehow ignore. But how to do you get over a seven-goal pounding by a 'new' elite squad in front of 86,000-plus?