In his first game as a Manchester United player Ander Herrera was awarded the man of the match award as the Red Devils crushed the LA Galaxy 7-0 at the Pasadena Rose Bowl on Wednesday night.
Herrera didn't score, but that's not what he's in the team to do. His slick passing, ability to create space for himself and impressive workrate in the engine room proved he's a top player.
[RELATED: Shaw on United switch]
[RELATED: United hammer LA 7-0]
Speaking to PST before United's preseason tour of the U.S. began, 24-year-old Herrera was focused on bringing one thing to Old Trafford: success.
The Spanish midfielder finally joined United earlier this summer after being close to a move from Athletic Bilbao last August and again in January. After a stunning opening performance of preseason you can see why the Red Devils were so keen to get him locked down. Sitting in front of the back four, always demanding the ball and stroking it around comfortably, Herrera looked the real deal against LA.
What can we expect from him at United this season and beyond?
"I think that one of my best qualities is that I always want the ball," Herrera told PST. "I always keep the ball. I never hide. I think I have come to Manchester United because the coach and the club want us to be an offensive team that is always trying to win the game."
Herrera is eager to succeed at Old Trafford and bring trophies back to the 20-time English champions who suffered their worst season in Premier League history last year. The young Spaniard is aiming to bring silverware back as soon as possible but insisted the Red Devils' new-look side must work harder than ever before to prosper.
"Manchester United must win trophies," Herrera said defiantly. "United is the biggest club in England and the club has won a lot of trophies. If we are a humble team and we work hard, we will achieve our objectives and we will win trophies. First, we have to work hard. We have to defend together. We have to be a compact team. If we do that, in the future we will be able to win trophies. First, we have to run and work hard as a team."
With new manager Louis Van Gaal preferring a 3-5-2 formation in his first game in charge of United against the Galaxy on Wednesday, the Red Devils and particularly Herrera looked comfortable in possession and kept the ball well. Of course, no disrespect to LA, but United will be coming up against better teams in the PL than the Galaxy. However the style of play van Gaal is promising will be in line with United's ethos of attacking with panache and pace. Herrera, who combined superbly with countryman Juan Mata in midfield, will be at the hub of that and he loves it.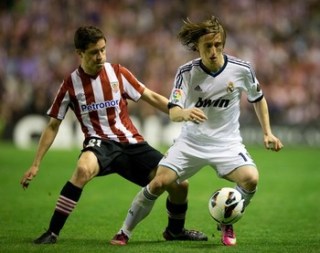 "He [van Gaal] wants the team to attack, always," Hererra said. "He wants us to keep the ball and keep possession and to be an offensive team. We are Manchester United and we must play offensive. Our fans always want us to win games in that way."
Herrera already has seven seasons of playing experience under his belt with Bilbao and Real Zaragoza and the Spanish youngster is keen to try and force his way into the full Spanish national team after representing La Roja at every level of the youth setup. The Manchester United man knows his club team comes first, but his dreams of playing for Spain is a close second.
"I wish one day to play for the Spanish national team," Herrera said. "But I think first I have to do things well at United. After that I hope that Vicente del Bosque will call me up. First I have to do things well at United, because my club is Man United, but it is of course a dream to play for the Spanish national team as well."
Out of the same mold as the likes of Andres Iniesta and Xavi Hernandez, Herrera certainly seems to have a bright future in the red shirt of both Manchester United and Spain. His future is bright, but the man from Bilbao is keen to look to United's great players from the past to draw inspiration. During their U.S. tour, former United great David Beckham popped in to meet the players and Herrera had his picture taken with Becks. He believes past players like Bekcham is what makes the club great, as well as spurring on the current crop of youngsters to succeed and replicate the success of the past.
"This is one of the biggest clubs in the world that a legend like Beckham comes to visit us," Herrera said. "It is important for us that Man United's history and the legends who shaped it act as a mirror for us. We want to mirror their success. Players like Beckham were top professionals and they are heroes for us younger professionals."
If Herrera carries on the way he has started his United career, he could soon become a hero in his own right.