On Thursday Frank Lampard became a Major League Soccer player.
The Chelsea and English national team legend signed for New York City FC at the iconic setting of Pier 5 in Brooklyn, as the 36-year-old signed a two-year deal for NYC FC and will join the club ahead of their inaugural MLS season in 2015.
[RELATED: Lampard seals NYC FC deal]
[RELATED: Lampard biggest signing in MLS history?]
Lampard leaves behind a glittering career in the Premier League, as he won every trophy possible domestically and in Europe with Chelsea over the past 13 years. The Londoner also became the Blues all-time leading goalscorer, from midfield, to cement his legendary status at Stamford Bridge.
Asked by reporters why he chose to leave London for New York, Lampard revealed the challenge is exciting him.
"Why not choose New York City?," Lampard said. "You talk about it ticking all the boxes, personally for me it does that. It is a very exciting challenge for me, in life terms too. I had a fantastic 13 years at Chelsea. I can look  back on that with immense pride. However it was certainly a good time for myself, and for Chelsea that I moved on. I want to test myself, carry on challenging myself, I want to be that leader and that person on and off the pitch that can make things happen for this club."
With Claudio Reyna as the director of soccer and head coach Jason Kreis sat alongside Lampard at the unveiling, NYC FC is starting to come together as the England international became their fourth player signing after David Villa, Jeb Brovsky and Josh Saunders. Starting a club from scratch isn't but Lampard believes in the vision.
"Having meet with everyone from the club, I've seen the vision," Lampard said. "I'm not talking about starting a new franchise and just throwing things at it and hoping it comes off. There is a real long-term plan from the club and I wanted to be part of that."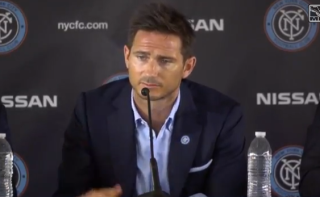 As questions continued to pour in for Lampard, it was also confirmed they are not sure if he will join their sister team in Melbourne between now and next March, inevitably he was asked about David Beckham's time in MLS and if he spoke to the former LA Galaxy star about making the switch Stateside.
"No I didn't," Lampard said. "I know David well, but I'm not on everyday speaking terms with him. I had spoken to him about his experiences here in the past in the MLS and he says nothing about great things about the league. I already knew it. The decision was all mine. I had to weigh up where I wanted to play. When the opportunity to New York came up, it is a difference experience to what he had but I am coming to a great city and I hope to show people I am a good player, a big personality in the dressing room and outside of that to help this thing move on."
Lampard also discusses his national team future, which at the age of 36 many believe could be over but he confirmed he has yet to make a decision about international retirement.
He then moved on to praise the U.S. national teams performance at the World Cup, then Lampard finally gave the league a glowing reference and claimed the rest of the soccer world has grown to respect North America's top-flight.
"Back home in England we saw David Beckham come here and the league take big strides not just because of him, because of a lot of stable work made by people at MLS, Lampard said. "The quality has gone up and up. I've been watching MLS games back home in England for a long time now, big players are coming out here. David Villa signing here, Jermain Defoe, Robbie Keane and the homegrown U.S. players. In general the respect for MLS around the world has grown and that is the same for me. That is what makes it such a great opportunity and challenge for me."