[youtube https://www.youtube.com/watch?v=ZHnV8nueLNg]
One game, 100 words (or less): An impressive first half from the home team saw the Reds reach intermission with a one-goal, Jackson having opened the scoring in the 16th minute. Though Graham Zusi equalized just after halftime, the speed of Dominic Oduro (who set up the opening goal) constantly threatened to tilt the game in TFC's favor.
That threat left Seth Sinovic injured, Igor Julião on a yellow, and Matt Besler dismissed after two infractions, but Sporting responded to its captain's dismissal with a goal in the 80th minute, with Jacob Peterson giving the East's leaders an unlikely 2-1 win in Toronto.
Goals
Toronto: Jackson 16′
Sporting KC: Zusi 48′, Peterson 80′
Three moments that mattered:
48′ – Zusi gets time to equalize – Toronto was the better team in the first half, with its quality also evident through most of the second. Just after intermission, however, that quality abandoned them as chaos in front of a poorly positioned Joe Bendik created an opening for Zusi. Just inside the penalty box, the U.S. international was given time to move the ball onto his right foot before finishing into an abandoned goal, nullifying all the good Toronto did before halftime.
75′ – Foul or no foul on Matt Besler? – I vote foul, but check out the highlights, above, and judge for yourself. Also, know that Sporting Kansas City had become desperate in their attempts to stop Dominic Oduro. Julião, with outstretched arm, had already desperately pulled him down, while Besler had earned a yellow for taking him down while trying to cover on the left.
So when I see Besler turn his shoulder toward Oduro and try to take him out, I don't have much sympathy. Oduro's theatrics while avoiding contract don't change the bottom line: Besler still obstructed him, preventing him from following through on his chance. Given the cynical nature of the technique, I have no problem with the card.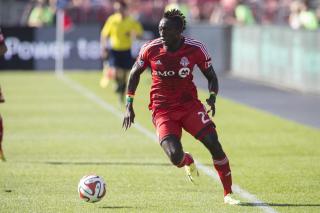 80′ – Deflection, Dwyer help Peterson doom Toronto – Sometimes the breaks conspire against you, but when you're playing 11-on-10, you can't let breaks decide a game. Just because a cross into the penalty area deflects to Peterson, and some nice footwork from Dom Dwyer's required to create a chance, you can't have pity on Toronto. Up a man, and generally the better side throughout the night, the Reds shouldn't have let Peterson's right-footed finish doom them to defeat.
Lineups
Toronto: Joe Bednik; Nick Hagglund, Bradley Orr (Dwayne De Rosario 82′), Doniel Henry, Justin Morrow; Dominic Oduro, Collen Warner (Jonathan Osorio 80′), Michael Bradley, Jackson; Luke Moore, Gilberto
Sporting KC: Andy Gruenebaum; Igor Julião, Matt Besler, Aurèlien Collin, Seth Sinovic (Kevin Ellis 55′); Laurence Olu, Benny Feilhaber, Mikey Lopez (Jacob Peterson 77′); Graham Zusi, C.J. Sapong (Soony Saad 71′), Dom Dwyer
Three Four lessons going forward:
1. Wherefore art thou, Michael Bradley – Stop me if this sound familiar: It's not that Bradley was bad, it's just that he wasn't Michael Bradley. Yeah, it's the World Cup refrain, I know, but it was still true. As good as Toronto was in the first half, it was because of strong work from Oduro and Jackson, good movement from Gilberto and Luke Moore, and the efforts Collen Warner did in the middle. As dominant as Bradley was in March, he's been pretty average this summer.
2. And about Warner (or, more specifically, Toronto's kicks) – Imported from Montréal, Warner is playing as well as he did in Salt Lake, but it is really worth it to give him this time when it could be used to develop Osorio or Kyle Bekker? Both players have done well this year, and while Ryan Nelsen surely knows more about those options than we do, it's strange to see a defense that features Doneil Henry, Bradley Orr, and Nick Hagglund unwilling to give kids the benefit of the doubt in the middle.
3. Sporting wins a possible conference final – Not offense, D.C. United, but if you faced Toronto in the playoffs, I'm picking the Reds (potentially foolish, given the result of the teams' most-recent meeting). So if Saturday was a preview of the Eastern Conference final, you have to give credit to Sporting, who overcame a strong Toronto performance and a red card to get a result.
In the short-term, the win increases their buffer in the East. In the long view, the result gives Sporting something to fall back on should they visit BMO in November.
4. Dominic Oduro was (and could be) huge for Toronto – Had Toronto won the game, you'd say Oduro defined the match (he was fouled 8 times, set up four shots, drew three cards and got the opponent's best player dismissed). That he didn't only underscores Sporting's resilience.
Still, for a team that prefers a more conservative approach, Toronto may have found the perfect fit. Just kick Oduro the ball, let him beat his man, and don't worry about having to commit players forward. Out wide, isolated on full backs, he's an attack onto himself.
Where this leaves them:
Toronto remains third in the East, albeit 12 points back of Sporting KC.
With D.C. entertaining Fulham, Sporting's four clear in the East. And thanks to a big edge in the games played column, they're even with Seattle in the Supporter's Shield.