Pittsburgh, PA — Manchester City beat AC Milan 5-1 at a stormy Heinz Field on Sunday as Manuel Pellegrini's side won their first Guinness International Champions Cup match in style.
[VIDEO: Balotelli takes selfie with pitch invaders]
City were rampant going forward and could have hit double figures in a dominant performance. As for AC Milan, you could tell they were way behind the Citizens in their preseason preparations.
Here are four quick thoughts live from the Steel City as City cranked their preseason preparations up a notch.
1. Jovetic, Navas, Sinclair stake claims
Stevan Jovetic scored twice, Jesus Navas and Scott Sinclair both bagged a goal each and all three staked their claims to become regulars for Manchester City this season. Jovetic endured an injury hit campaign following his move from Fiorentina last year. Sinclair was also on the sidelines last year but the former Swansea City winger looked fit and sharp out wide. Navas' speed and vision set up Jovetic, then the tiny Spaniard scored one himself. If those three continue their impressive preseason form past August then Manuel Pellegrini's squad will look even stronger this season.
2. Slick and sharp City
The Citizens have hit the ground running this preseason. In a big way. On a conference call on Saturday with reporters Pellegrini stated that City intend to win the ICC tournament this summer and that his side are on course to win back-to-back Premier League titles. After the impressive interplay of their forwards, the three aforementioned attackers in particular, City are in a good spot. While Chelsea, Arsenal, Liverpool and Manchester United continue to sign players galore, City have continuity plus top class attackers Edin Dzeko, Sergio Aguero and Alvaro Negredo still to return. There were a few dodgy moments at the back for City but they were far from full strength in defense. Overall, hugely encouraging.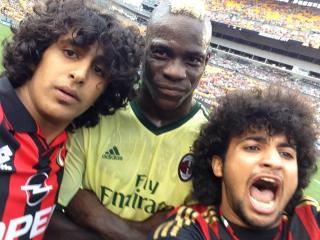 3. Balotelli. Seflie. Sublime.
Playing against his old side for the first time since he left in 2013, Balotelli arrived at half time and made an instant impact. When his name was announced on the public address system as an incoming sub one of the biggest cheers of the day arrived from the Heinz Field crowd. Balotelli stropped around the pitch, got clattered by his old teammates a few times, had a goal disallowed and was generally the pest we know and love. His star power is alive and well in the Steel City. Towards the end of the game two fans ran up to him and took a selfie with the Italian superstar. Naturally, Balotelli posed before the fans were carted away by police. Majestic.
4. Rain, rain go away
The setting was sublime. Downtown Pittsburgh in the background, two of Europe's best teams slugging it out and then the storm started. Lightning, thunder, heavy rain and tornado warnings… Heinz Field had it all. It was a reminder that scheduling a preseason friendly towards the American Midwest in the summer is a tricky affair. After an hour-long half time break, the players returned to the pitch and the second half played out in beautiful conditions. Lovely stuff. Well, for City's fans anyway.