[youtube https://www.youtube.com/watch?v=r9N8eDSm-sk]
Last week's thin slate of MLS games should have made it easier to identify the league's best player, but without gaudy stat lines or standout displays of defensive dominance, the field remained wide open. Pedro Morales's barrage on FC Dallas (12 shots, five shots on target, six chances created) may have the best statistical case, Drew Moor's goal while leading Colorado's defense also merits come consideration, while Dominic Oduro's dissection of Sporting's left side made him one of the week's most influential performers. Even Darlington Nagbe, whose destruction of Montréal was Oduro-esque, had a claim to this award.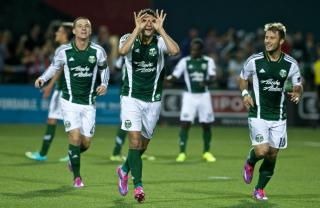 The honor, however, goes to one of Nagbe's teammates, whose case included the dramatics of a late game-winning goal. But late dramatics are starting to become common for Diego Valeri, whose 77th minute winner last Friday delivered a 2-1 victory over Colorado. On Sunday, the Argentine's 82nd minute winner from just beyond the penalty area secured a 3-2 win at Montréal, moving the Timbers within one point of a playoff spot.
Had that been his only contribution, Valeri wouldn't have a place in this discussion, but as is always the case with Portland, he was the team's most important player. He led the Timbers in shots, shots on target, touches, passes, and chances created. The three tackles he won were the most of any Timber beyond the back line. Clicking along side Nagbe, Valeri reminded viewers why Portland's attack remains one of the best in the league.
Still, it was the goal that set Valeri apart. While other players had standout performances, only one also featured a late game-winner – a star stepping up to earn two vital points on the road. While goals aren't the only part of the game, they are the most important, and with his 82nd minute goal, Valeri had the weekend's most important moment.
It's a thin tiebreaker, but it's enough to give Portland's playmaker our weekly honor.