After a weekend of spreading out the fun, MLS is back to its normal routine: an appetizer, a huge main course, and a little Sunday chaser. And is if to apologize for the neglect, the league's schedule makers have managed to spread out the Saturday kickoffs.
With three matches across NBC's networks, here's a look at the upcoming weekend in Major League Soccer.
NBCSN'S FRIDAY NIGHT GAME
Sporting Kansas City vs. Philadelphia Union, Friday, 8:00 p.m. Eastern, NBCSN
When it happened, it was the most unexpected result of the season, a stumbling Union without Maurice Edu ending its nine-match winless run in Kansas. In hindsight, May's 2-1 win is only slightly less perplexing. Thanks to a surge over the last two months, a previously dormant Union is in a playoff race. Ce la vie in the East, but after going into Sporting as one of the weakest teams in the East, Philadelphia's managed to salvage its season.
Sporting, however, are back on top of the conference, defying the team's absences and injuries to edge ahead of D.C. United in the East. But thanks to Matt Besler's red card suspension, Friday's game may force Peter Vermes to go back to improvising in defense.
Despite that intrigue, the battle at the other end of the field may prove more interesting. Philadelphia is using Maurice Edu and Ethan White in central defense, two players who haven't logged much time in the middle this season, let alone with each other. Against a player with Dom Dwyer's work rate, the duo will get a number of chances to make mistakes. In the last seven games, Philadelphia's given up 11 goals.
EARLY KICKOFF … ON NBC
LA Galaxy vs. Portland Timbers, Saturday, 2:30 p.m. Eastern, NBC
Portland may be on the up, its two-game winning streak bringing them back into the West's playoff picture, but Monday's result put LA on a different level. With the Galaxy's 3-0 win in Seattle, Bruce Arena's team has shown its first sign of competing for another title. We knew the talent was there, but now, the results are there, too.
With Robbie Keane (right) matched up against a Portland defense that conceded twice to Montréal, those results seems set to continue on Saturday, but under Caleb Porter, the Timbers have done a good job of restraining LA's stars. In five games against Bruce Arena, Porter's Portland teams have only conceded four goals.
That may leave the game close enough for Diego Valeri to steal. Two weeks ago, a late Valeri goal from beyond the penalty area delivered a one-goal win over Colorado, and last week, another late tally from distance sunk Montréal. If LA doesn't put Portland away early, the Timbers' All-Star may extend his team's winning run.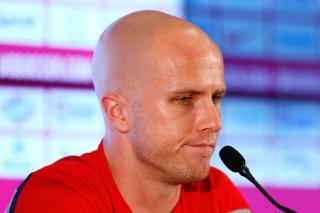 CANADIAN COMPLAINTS
Montréal Impact vs. Toronto FC, Saturday, 5:00 p.m. Eastern
The dismissal of Nick de Santis sends Montréal into a state of flux, a circumstance that casts the rest of 2014 as a rebuild. On both the administrative and technical sides, the Impact is reworking its front office, meaning any change that will happen between now and season's end will be up to head coach Frank Klopas. As the Timbers showed last weekend, nobody should be scared about going into Montréal.
If you listened to this week's news out of Toronto, however, you'd think the Reds were the team in free fall. Despite finishing up a man on Saturday against visiting Kansas City, both Michael Bradley (right) and head coach Ryan Nelsen chose to take the officials to task, sounding bitter, incredulous notes in the process. Had they not given up a late goal to a 10-man Sporting,  the officials may not have been seen as such a problem.
Thanks to the loss, Toronto's 12 back of first, with a three-way tie for third in the East bringing more urgency to merely making the playoffs. With New York closing in, three points in Quebec's a near-must.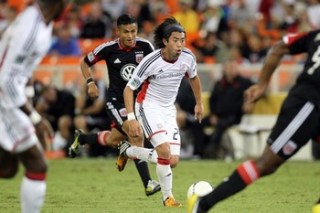 LEE VS. THIERRY
New York Red Bulls vs. New England Revolution, Saturday, 7:00 p.m. Eastern
Strong mid-week performances from each team make this one of the weekend's more compelling, evenly matched games, but it's still tempting to reduce this to a one-on-one battle, a showdown between two attacking stars who are among the league's most important players to their teams.
That importance was evident on Wednesday in Foxborough, where Lee Nguyen (right) played a part in all three Revolution goals. And on the same night in Salt Lake, the casual elegance of Thierry Henry allowed New York to earn a point despite putting only one shot on target.
Those stars make each team's defensive midfield all the more important, with New York seemingly having an advantage thanks to Dax McCarty, but if Kelyn Rowe can recapture his 2013 form, his ability to operate in front of defensive could draw some of McCarty's attention. It could also pull Tim Cahill away from where he's best: operating in the opposition's penalty area.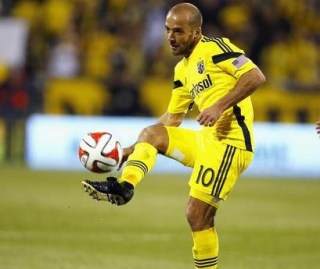 LIFE ON THE PLAYOFF FRINGE
Chicago Fire vs. Columbus Crew, Saturday, 8:30 p.m. Eastern
After nearly two months without a win, Columbus has won two in a row, a streak that nearly matches Chicago's win total for the entire season. Yet thanks to an increasingly frustrating collection of ties, the Fire are still within reach of the playoffs. Again, ce la vie in the East.
The problem, in terms of aesthetics, comes when you try to answer one question: Is Chicago any good? Their inability to win games says no, but their unwillingness to lose games leaves the door open. At some point (perhaps when Jermaine Jones arrives), they may figure it out and make the small, late push they'll need to claim a playoff spot.
For now, however, Columbus looks like the slightly better team, particularly with players like Bernardo Anor, Ethan Finlay, and Justin Meram helping Federico Higuaín (right) over the last two weeks. But given Chicago's only lost five times this season, it would be foolish to suggest they can't get something out of this one. Particularly at home.
ROCKY MOUNTAIN REBOUND
Colorado Rapids vs. Real Salt Lake, Saturday, 9:00 p.m. Eastern
Colorado's coming off a disappointing loss, but given the stars that didn't start in New England, it's unlikely the 3-0 result is the start of something big. Come Saturday, Dillon Powers (right) will be back, as will Vicente Sánchez. Though it's unclear when Deshorn Brown will return, signs of life from Gabriel Torres help make up for the loss. Jeff Cassar won't have Jay Heaps' luck.
All of which may be secondary if Real Salt Lake play their game. On Wednesday against New York, last year's Western Conference champions were back to their former selves, showing the type of persistent control that characterized the team under Jason Kreis. Thanks to Thierry Henry, the result wasn't there, but they held a Red Bull side giving a decent performance to one shot on goal.
If RSL plays like that, the danger Brown can muster will be missed, but if Wednesday can't be replicated, Colorado should put Foxborough behind them.
TENSION AT THE TOP
San Jose Earthquakes vs. Seattle Sounders, Saturday, 10:30 p.m. Eastern, NBCSN
Over the last week, we've mentioned San Jose's need to change its approach, but with Steven Lenhart struggling to return from a knee injury, the transformation has already begun. When Yannick Djaló partners Chris Wondowlowski (right) up top, Mark Watson's team can't rely on 2012's approach, something that will give Seattle (and what's expected to be a huge crowd at Levi's Stadium) a different look. Cross and crash may be fading out.
But this game's intrigue is all about Seattle. After falling apart in Monday's first half against Los Angeles, the Sounders look like the same team that's suffered scarring defeats at the end of the last three seasons. At this point, it's not a question of whether collapses will come. It's a matter of whether Seattle can overcome them.
While a win won't quell all doubts, it will at least address the possibility that a collapse like last year's will define another season.
UNSTOPPABLE FORCE, MOVABLE OBJECT
Houston Dynamo vs. D.C. United, Sunday, 8:00 p.m. Eastern, Univision Deportes
Quietly, and in the face of a lot of incredulity, D.C. United has put up the East's best goal-per-game rate despite the fact nobody on the team has scored more than seven goals. That player, Fabián Espindola, is still working his way back from injury, but with Eddie Johnson (right) starting to look like his normal self (scoring in three straight games), it's possible United's attack has another gear.
Contrast that with the Dynamo, whose most glaring weakness is in defense. The team's giving up a league-high 40 goals, an inexplicable rate for a Dom Kinnear side. The central defense has been a problem, and some issues with Tally Hall have started to surface, but it's still not quite unclear why a defense that was above average in 2013 has completely fallen apart this season.
DaMarcus Beasley, expected to debut on Sunday, should help, as will Luis Garrido, though playing in Houston may have Sunday's biggest effect on D.C.'s surprisingly potent attack.
TOROS STARTING TO BURN
Chivas USA vs. FC Dallas, Sunday, 10:00 p.m. Eastern
At one time July's darlings, Chivas USA has lost two in a row, a turn that wouldn't be so disturbing if the team wasn't also out-scored 6-1. Back at home, and presumably ready to put veterans like Mauro Rosales back in the lineup, Wilmer Cabrera's team should improve, but the halcyon days of July 2014 will be gone by Sunday's kickoff.
That should give Óscar Pareja's team room to continue its charge. Unbeaten in six, FCD has done remarkable job of overcoming injury (Mauro Díaz, right) and suspension (Fabían Castillo) to stay in the West's top five. Now that the team's starting to reassemble, Dallas may be ready to take aim at teams farther up the table. Real Salt Lake is only three points away, while Seattle's threatening to come back to the pack.
That's what makes games like these so important. A draw on the road in Carson, Calif., isn't a bad in absolute terms, but considering every other team in the West's top five has another visit to Chivas USA, Sunday's result takes on a relative importance. If Dallas doesn't get three points at StubHub, another team will.