Diego Valeri's 14th minute goal put Portland in position to pick up its first ever win away to Los Angeles, but Robbie Rogers and Gyasi Zardes teamed up to even the score just before halftime.
Portland had one chance to the many of Los Angeles, but the dominant Galaxy got a just reward late.
WATCH THE SECOND HALF LIVE VIA NBC SPORTS LIVE EXTRA
Think we're exaggerating the control of L.A.? Here: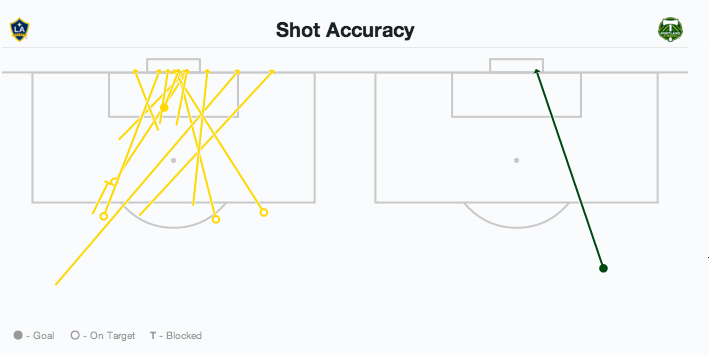 Valeri's free kick was partially-deflected by Stefan Ishizaki, and Jaime Penedo failed to deal with the consequences as the ball sailed into the top right corner of the goal.
It was Portland's first true chance of the match, as L.A. dominated the early goings, but some missed chances from Landon Donovan amongst others missed at every turn.
The clock had not his five when Donovan was set up for a point blank opportunity inside the 18 by Gyasi Zardes, but the former USMNT captain hit a soft, low shot into Donovan Ricketts.
A few minutes later, it was Robbie Keane who rescued an errant pass and sent a long cross that Marcelo Sarvas headed over the frame. Sarvas had another chance with seconds, but fired the ball into Ricketts.
The Valeri goal came, but barely interrupted the Galaxy's dominance. Unfortunately, it also failed to change their squandered shots. Zardes was the snake-bitten one in the 30th minute when his headed rocketed off the bottom of the crossbar.
Keane nearly found the equalizer in the 45th minute, but Donovan's solid cross caught him leaning backward. The header fired over the goal.
But Zardes provided the inevitable equalizer, as Robbie Rogers perfect cross was headed past a helpless Ricketts in the third minute of stoppage.
Lineups
LA Galaxy: Penedo; Gargan, Gonzalez, DLG, Rogers; Ishizaki, Sarvas, Juninho, Donovan; Keane, Zardes
Subs: Rowe, Dunivant, Husidic, Meyer, Leonardo, Hoffman, Jamieson IV
Portland Timbers: Ricketts, Jewsbury, O'Rourke, Ridgewell, Harrington, Johnson (c), Fernández (Alhassan, 24′), Chara, Valeri, Urruti, Wallace
Subs: Weber, Paparatto, Villafana, Zemanski, Nanchoff, Adi