Chelsea have wheeled and dealed over the summer as Jose Mourinho prepares for the second season of his second stint in charge at Stamford Bridge. Diego Costa, Cesc Fabregas, Filipe Luis and former legend Didier Drogba have arrived, while Romelu Lukaku and David Luiz were sold on for huge profits. All of a sudden the West Londoners look to have the strongest squad in the Premier League. The old guard have departed with Frank Lampard, Ashley Cole and Samuel Eto'o moving on. Mourinho's "kids" will be looking to wrestle the title away from Manchester City this season and go one step further to make the UEFA Champions League final. High hopes for the Blues.
[RELATED: Full PL season preview]
Transfers In: Diego Costa (Atletico Madrid, $55 million), Cesc Fabregas (Barcelona, $47 million), Filipe Luis (Atletico Madrid, $27 million) Didier Drogba (Galatasaray Free)
Transfers Out: David Luiz (Paris Saint-Germain, $85 million), Ashley Cole (Roma, Free), Frank Lampard (New York City FC, Free), Samuel Eto'o (Released), Demba Ba (Besiktas, $7.2 million), Romelu Lukaku (Everton, $47 million)
| Full PL schedule | Watch Chelsea live via Live Extra | BPL on NBC schedule |
Last season: It was very much a work in progress during Mourinho's first campaign back in charge of Chelsea last term. They finished third in the PL, but had title aspirations (even if Jose didn't admit it) right up until the end of the season. Sloppy defeats to the likes of Sunderland, Crystal Palace and Aston Villa saw them slip up unexpectedly as youngsters began to replace the old guard. Goals were an issue as Eto'o, Fernando Torres and Ba combined for 19 PL goals between them. The form of Eden Hazard was sublime throughout and the Blues came so close to reaching the Champions League final, but succumbed to Atletico Madrid in the semis. Here is a recap of their 2013-14 season.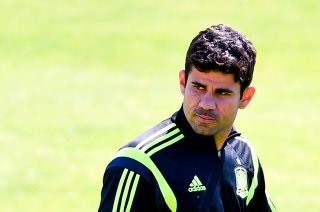 Star player: Diego Costa
This man is a beast. After scoring 36 goals for Atletico last season Costa was a man in demand but he always seemed likely to end up at Stamford Bridge. The Spanish international led Atletico to the La Liga title with his power and poise up top and bullied Chelsea's defense in the UCL semis. Chelsea are hoping Costa can truly become the predatory striker they've longed for. If he scores over 20 goals in his debut PL season, that could hand the Blues the title. The 25-year-old will be the main man for Mourinho and the fulcrum of Chelsea's attacks.
Coaches' Corner: Jose Mourinho
Speaking of the legendary Portuguese boss, you have to admire the deals he's been able to pull off this summer. Selling the likes of Luiz and Lukaku for big money, then bringing in Costa, Fabregas and Luis to still make a profit takes some doing. You get the sense that Mourinho's overhaul this summer could be the start of a dynasty at Chelsea. The 'Special One' didn't win any silverware last season and he's desperate to put that right. You either love him or hate him. Jose divides opinion, but he's one of the best managers the world has ever seen.
PST predicts: This Chelsea side has a much different feel to it than years gone by. Players like Hazard, Costa, Oscar, Willian and Fabregas are all in, or entering, their prime but you still have a few old heads like John Terry and Didier Drogba around. At times Mourinho seemed a little too relaxed last season but expect him to be fired up for success domestically and in Europe this term. He is sculpting something for the future with a young core ready to take charge. The Blues will be title contenders this season.