Was Landon Donovan always planning to retire at the end of the 2014 Major League Soccer season, or was his hand forced?
The real reasons behind his decision will likely come out in the coming days and weeks, but it has certainly been one heck of a summer for the all-time leading scorer in MLS and the U.S. national team.
[RELATED: Donovan to retire]
At the end of May, Donovan was shockingly left off the USA's final 23-man World Cup roster for the 2014 World Cup in Brazil as his chance to play in a fourth-straight World Cup for the Stars and Stripes was taken away from him.
Donovan's fall from grace with the national team could have been the straw that broke the camel's back.
After taking a self imposed sabbatical during the 2013 offseason, then coming back stronger than ever to lead the U.S. to Gold Cup success in 2013 and prove himself to Klinsmann once again, the damage done to Donovan's pride at being left off the World Cup roster this summer seems to have been lasting.
[RELATED: LD hails U.S. fans as "lifeblood"]
Just days after his omission was confirmed, Donovan, in true fashion, showed the USA what they would be missing as he scored twice vs. Philadelphia to become Major League Soccer's all-time leading scorer. Time and time again Donovan proved the doubters wrong and now he has achieved pretty much everything you can as a professional soccer player.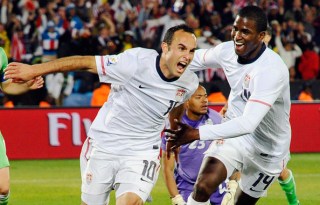 He has scored at two different World Cups for the USA. He has played in, scored more goals, and played in more MLS All-Star Game games than any other player. He has played in the Bundesliga and the Premier League for historic clubs. He is the all-time leading scorer for the USA with 57 goals in 156 games. He is the all-time leading scorer in MLS with 138 goals in 320 appearances.
Donovan has been the face of the league and soccer in North America for well over a decade and has stuck to his task or constantly promoting the game, rallying behind the U.S. Soccer Federation and MLS to do whatever he can to help raise soccer's profile. Then, as Klinsmann deemed his play to not be good enough for the USA's efforts in Brazil this summer, Donovan was cast aside and humiliated.
Donovan's swansong for the USA was taken away from him.
Justified or not. That must have accelerated his decision to retire at the age of 32. With the 2015 Gold Cup, 2016 Copa America and perhaps even the 2018 World Cup coming up for the USA and Donovan, had Klinsmann selected the LA forward this summer, maybe Donovan's career would have lasted for another three or four years. Players like David Beckham, Thierry Henry and many others have continued into their late 30's before calling it quits.
Instead for Donovan, it's almost over. His U.S. omission has a lot to do with it.
Yes, Donovan thrived and enjoyed being the face of MLS. However, his time leading the U.S. national team was seemingly over, and that may have been enough to make him reconsider his future as a pro. With no more U.S. duty for Donovan, playing solely in MLS week-in, week-out, for the next few years may not have been enough.
He has tasted success as the face of the USA's soccer hopes. Now, a man who has spent most of his time in the spotlight was reduced to league play. Nothing less, nothing more. That's okay for some players but not Donovan.
On the face of it, perhaps this was the right time for Donovan to step down. On Wednesday he jumped off the bench in Portland, arguably the center of soccer's uprising in North America, in front of a packed house and scored the game-winning goal against German giants Bayern Munich (a team he once played for, but got a rough deal with) in the All-Star Game. He then left the pitch to a standing ovation. Since he made his debut for the San Jose Earthquakes in 2001, the league has grown exponentially and the state of soccer in North America has never been healthier. Donovan is a big part of that. Ask any casual soccer fan, or just any sports fans, to name the first U.S. soccer player that comes in to their head. Now, and for the foreseeable future, I bet they say: Landon Donovan.
Now, we know when Donovan's fairytale career will come to a close. Whether he gets one last chance to suit up for the U.S. or finishes everything off in style by winning MLS Cup 2014 with the LA Galaxy remains to be seen.
The way Donovan's storybook career has played out over the years, you'd be a fool to bet against it. The king of soccer in the USA has almost left the building. The first truly great American soccer player will be sorely missed.
Was this the right time for Donovan to hang up his boots?