In the wake of the World Cup, Major League Soccer's season stops for now one, not even itself. Though the All-Star game was on Wednesday, the league is back in action on Friday, with retiree-to-be Landon Donovan and the LA Galaxy welcoming the San Jose Earthquakes to StubHub Center (on NBCSN).
With big matches in Columbus, Dallas, Salt Lake, and Vancouver, here's a preview of MLS's nine-match, weekend schedule:
LA Galaxy vs. San Jose Earthquakes, Friday, 10:30 p.m. Eastern, NBCSN
This could have happened, in a former life. Like earlier today, when I woke up, and momentarily misunderstood the day's biggest news:
Me: I don't even know what to write.
Friend: Good, but pretending for a moment that I actually care what you do, why do you say that? What happened?
Me: Other than Landon Donovan, nothing, I suppose, but tomorrow's NBCSN game is still going on, and I need to come up with something. My blurb is going to be surreal.
Friend: Somehow, I doubt it.
Me: It's not like we haven't seen LA play without him. It's that they're never going to play with him again. Insane …
Friend: Richard.
Me: … I mean, they have Ishizaki, and they can bring Husidic back into the lineup. And I guess if Dunivant is alright, Rogers can move back into the midfield …
Friend: Richard?
Me: But I don't even remember what the Galaxy were like before Donovan. In-freakin'-sane. Now they really need Zardes …
Friend: RICHARD!
Me: Screw it. I'm just going to embed Kyle Martino's entire timeline.
Friend: Will you just stop? Landon Donovan did not retire today, okay? He's playing until the end of the season.
Me: Wait. What? When did this happen?
Friend: It happened below the headline. Did you even read that part?
Me: No. Never. (Long pause.) So LA's just gonna win, then.
Friend: Yes, LA's just gonna win then. Now log off, you moron.
Well, they aren't just going to win, but everything points in that direction. At the moment, LA's the best team in the league, and while San Jose is coming off two strong wins in a row (5-1 over Chicago; 1-0 over Seattle), visiting the in-form Galaxy could prove one of their most difficult games of the season.
If LA's for real, it wins this game. Regardless, we'll get to see how the StubHub crowd reacts to Thursday's shocking news.
[ RELATED, Donovan: Twitter reacts | Garber, too | Need to move on | LA w/o LD, Becks ]
Philadelphia Union vs. Montréal Impact, Saturday, 7:00 p.m. Eastern
Speaking of games teams should win, say hi to Philadelphia. For most of the year, they've been okay, but now they're on the verge of being good, with a surge up the East's table since their coaching change leaving Jim Curtain's team on the edge of the playoffs. With Montréal in town, the Union have a chance to turn up the heat on Columbus and New England – teams straddling the postseason line in the Eastern Conference.
Given how Montréal played last week, there's no reason to think the Impact will offer much resistance. One day, however, a team with a decent amount of talent will shake their funk. Coming off a mid-week win in Champions League, Saturday may be that day.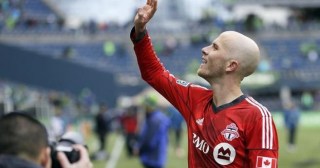 Columbus Crew vs. Toronto FC, Saturday, 7:30 p.m. Eastern
Federico Higuaín and Mix Diserkud in the same midfield? Yeah, and I think we'd all be okay with that. Even if Columbus continues to desperately, perhaps hopelessly needs a striker, a three-man middle of Higuaín, Diskerud, and Will Trapp? Woof.
Unfortunately …
[tweet https://twitter.com/APrecourt/status/497210550741651456]
Think that will make it a little more bitter when Michael Bradley (right) comes to town? Toronto has their nice, shiny U.S. international, whereas Mix Diskerud's dad kept the Crew's at Rosenborg?
Subplots aside, these are two of the teams fighting at the edge of the East's playoff picture – the tenuous place between the Supporters' Shield contenders (Sporting, D.C. United) and the teams in pursuit (New England, Philadelphia).  In fifth place, the Crew needs this result more, but the last time the Reds came to Columbus, they left with full points.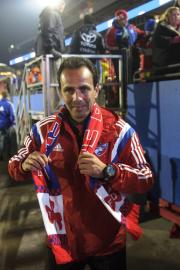 FC Dallas vs. Colorado Rapids, Saturday, 9:00 p.m. Eastern
Successful beyond expectations, FC Dallas is this year's Colorado, the 2013 team that make an unpredicted push into the West's playoffs. Doubted all season, the Rapids never faded from the top half of the conference, with Óscar Pareja (right) earning Coach of the Year consideration after his team reached the postseason.
In 2014, recent history's repeating itself, only instead of merely making the playoffs, Dallas is gearing up to have an impact in November. Fabián Castillo has returned from suspension. Mauro Díaz is slowly returning to match fitness, while injuries at the back have revealed some new options, like Zach Loyd in the middle.
Dallas has already beaten Colorado once this season, but with its key players returning to health, the team can start building for something bigger. If its pieces come together, FCD can transcend what Pareja's Rapids were able to do last season.
Real Salt Lake vs. D.C. United, Saturday, 10:00 p.m. Eastern
So … the last time D.C. visited RSL:
[youtube https://www.youtube.com/watch?v=pyxUybU6IH0]
Sorry about that, RSL fans, but unfortunately, D.C. United's even better this season. Surprises in spring, the black and red have started to assume a frontrunner's pose this summer, and while Real Salt Lake's veteran core surely hasn't forgotten one of last year's two heartbreakers, a taste for revenge is no guarantee they'll be able to derail Ben Olsen's squad.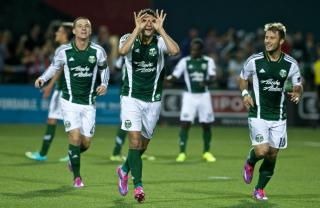 Portland vs. Chivas USA, Saturday, 10:30 p.m. Eastern
A terrible defensive record means the Timbers are one of only two Western Conference teams with a negative goal difference, though if things go well over the next three days, they could end the weekend tied for fifth. Get some help from Dallas and Sporting, take care of business at home against Chivas, and Portland will be even with Colorado. Not bad for a team that looked decidedly un-playoff-like on Saturday against the Galaxy.
Taking care of business, however, is the theme that will follow Chivas throughout the rest of the season. Every team they'll face between now and game 34 will be favored to take three points. Those that don't will lose ground in another hyper-competitive playoff race.
For a Timbers team that's struggled to get back in that race, dropping points will be a bitter pill. But if that happens, we'll get a better idea of which teams are ready for their playoff runs.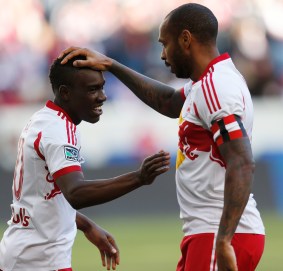 Chicago Fire vs. New York Red Bulls, Sunday, 8:00 p.m. Eastern, Univision Deportes
Over the last two games, New York has played well, even though last week's trip to RSL had a way of disguising that performance. Both on paper and form, the Red Bulls look like a better team than Chicago, but on the road, with three players called into action in Portland, a draw seems like an acceptable result.
But please, god of whatever has saved MLS over the last 10 years, please don't let Chicago tie any more. Let them be good, let them be bad – I don't care. I just don't want to sit though another Chicago Fire draw, mostly because the sense of inevitability behind every result. Even when they take an early league (like last week against Columbus), you thought "I don't how they're give back this one."
That's what's so frustrating. It's not the draws themselves. We're used to those. And it's not a team playing badly. Thanks to Montréal, we're used to that, too.  It's the stasis of it all; the empty nothingness.
It's good enough. It's bad enough. We just stay … in … this one … place, on pace for 21 draws.
Soccer god, help us.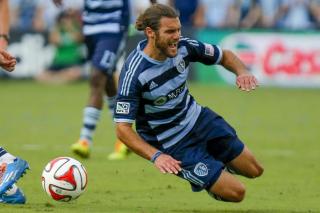 Vancouver Whitecaps vs. Sporting Kansas City, Sunday, 8:00 p.m. Eastern
For me, this is the weekend's best match, one that pits a Sporting side that gets Matt Besler back in the team against one of the deepest attacks in the league. On a unique home pitch Kansas City sees only once every two years, players like Pedro Morales and Matías Laba will have a significant edge, one that usually forces a big change to how opponents approach their game.
But for all that depth, Vancouver has become a team in flux. Darren Mattocks is being worked back into the lineup, with Erik Hurtado's move wide pushing Kekuta Manneh out of Carl Robinson's choice XI. Jay DeMerit's sudden retirement has left the team thingat the back, while the rotation that the Whitecaps have used throughout the season has left the team with short on certainties as the final third approaches.
As we saw when Kansas City visited Toronto, the defending champions know how to exploit the thinnest of margins. If Sunday's margin is the `Caps latent uncertainty – the unsteadiness that's kept one of the league's most talented teams from realizing its potential – Peter Vermes may be able to take a point out of Vancouver.
Seattle Sounders vs. Houston Dynamo, Sunday, 10:30 p.m. Eastern, ESPN2
We've been mentioning (read: dwelling on) it for since they lost to the Galaxy, but in the wake of the team's performance in San Jose, the word is finally starting to come up: Collapse. It happened at the end of last season, and to a smaller extent, it's happened in previous postseasons, too. Dealing with their first two-game losing streak of the season, the worries of last year are starting to emmerge.
In that way, Sunday's visit is the perfect test. Houston has added DaMarcus Beasley and Luis Garrido, but there's nothing about its team or results that suggests they should beat Seattle. If they do — if, for some reason, the Sounders drop points against Houston — it will be time to start worrying about 2013.