Arsenal will be looking for its first Community Shield since 2004 when it faces Manchester City in Sunday's match at Wembley, as England will award its first domestic honor of the new season.
The match, which pits the winners of the FA Cup and Premier League, has been a Manchester-heavy affair in recent years, with either City or United winning the title since 2010.
But Arsenal will look to win its 13th shield, compared to a City club looking for its fifth, and Gunners manager Arsene Wenger knows he needs better defense against City if he wants to get the season started with that winning feeling.
[ MORE: Rodwell issues Man City warning to young, English players ]
"I was concerned [by Arsenal's record against the top four]," Wenger told Arsenal.com. "I was concerned and shocked by the number of goals that we conceded. Of course we were Dr Jekyll and Mr Hyde defensively. We had 18 clean sheets but when we did not keep a clean sheet. We let them score."
It will be the first time in nearly 300 club appearances that Bacary Sagna will be wearing something other than an Arsenal shirt after signing with City in the offseason. Wenger inferred that City cheated a bit to land the Frenchman, who is not expected to be fit to play on Sunday:
"I made him a proposal to stay and he chose Man City. Did he choose that a long time ago? Maybe. It looks like to me it was agreed a long time ago. There is always an element of disappointment because he came here as an unknown and he became a French international."
Wenger praised Sagna for his professionalism on the pitch, saying he was 'ready to die' on the field during games.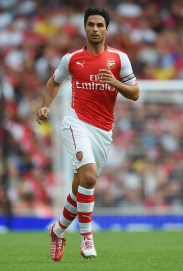 What they're saying
Arsenal's Mikel Arteta (right) on more Wembley happiness after lifting the FA Cup three months ago: "It does [feel like a long time ago] but it was a really nice feeling and a big relief. All the Arsenal fans deserved that day because they have been waiting for such a long time and the support they have been giving to the team and the club has been tremendous."
City's Yaya Youre on playing for the Shield: "It's a really interesting way to start the season – the Community Shield against a top team like Arsenal at Wembley and, even though we have only just started to train together as a full squad, we will be ready. All of the lads have been coming back at different times because of the World Cup, so it is going to be very tough for us to hit our top form straight away but we are professional and I believe that we will – starting on Sunday."
Verdict
Early season soccer is usually sloppy, but there should be plenty of energy between two teams who can play free-flowing football. Arsenal will have a load of new boys looking to impress, but even if Sagna doesn't go the other ex-Arsenal players (Gael Clichy and Samir Nasri) will be looking to be thorns in the side of their former club.
Man City will have a bit of unfamiliarity to contend with as well, as Vincent Kompany, Pablo Zabaleta and Martin Demichelis join Sagna as backs who are unlikely to feature on Sunday. Look for goals from both sides, and here's a very shaky prediction of a 3-2 win for City.