Optimism is building at the Emirates Stadium as we hurtle towards the start of the 2014-15 Premier League season.
Can the Gunners really challenge for the title?
After Arsenal brushed aside a slightly under strength Manchester City 3-0 to win the Community Shield at Wembley on Sunday, fans of the North London club are starting to get quite excited about the season ahead. Why not?
[RELATED: PL season previews]
Arsene Wenger has finally been allowed to splash the cash and has spent over $95 million this summer on four players who will strengthen his squad considerably. Plus, if his star players can stay healthy for the entire season then a charge to win their first PL title since 2004 may not be out of reach.
[RELATED: Agger to Arsenal?]
Last season the Gunners led for vast swathes of the campaign and up until January they looked like the real deal. However with UEFA Champions League games taking their toll, the likes of Alex Oxlade-Chamberlain, Aaron Ramsey, Theo Walcott and Jack Wilshere missing several months out through injury, plus other teams improving as the season wore on, Arsenal had to settle for their customary fourth-place finish. However they did win the FA Cup last season, their first trophy in nine years, so the pressure is off as they have finally delivered some silverware to the Emirates Stadium. Bringing the PL title back is the next step, albeit it a huge one.
If they can start well this term, maybe, just maybe, North London will be hosting a PL title parade next May. Let's break it down and look at reasons on both sides of the coin as to how likely a title triumph is for Wenger's men this season.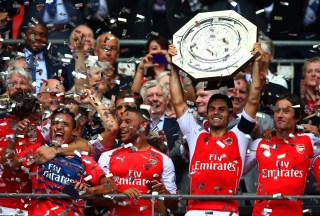 Here's three reasons why Arsenal can win the Premier League…
1. Alexis Sanchez – Signing from Barcelona for $50 million, the Chilean attacker could be the missing piece in the jigsaw for Wenger. With Walcott, Chamberlain and Ozil alongside him and Olivier Giroud up top, Sanchez will prove to be a menace for opposition defenses. If he can score 20 goals plus, the Gunners may just win it all. He has the pace, skill and, most importantly, the strength to succeed in the PL. A big claim: Sanchez could be the game-changer Arsenal have missed since Thierry Henry departed in 2007.
2. Players coming of age – I'm looking at you, Jack Wilshere. Okay, not just the English midfielder but Kieran Gibbs, Ramsey and Walcott are all expected to step up and continue to develop. Wilshere has looked in good shape this preseason and if he can stay fit, Arsenal's engine room has a true leader. Ramsey is a magician who shone last season, while the likes of Gibbs and Walcott are capable of kicking their play up to the next level.
3. New found depth across the board – If you look through the spine of their side, Arsenal now have plentiful options everywhere. In goal David Ospina will challenge Wojciech Szczesny, Per Mertesacker and Laurent Koscielny will get cover from Calum Chambers, Sanchez compliments Ozil and Walcott superbly, while Yaya Sanogo will battle it out with Olivier Giroud up top. Strength in depth indeed. That will help not only in the PL, but also in the Champions League.
…and here are three reasons why they won't
1. Lack of defensive cover – With Thomas Vermaelen allowed to leave for Barcelona, Wenger now has a couple of options at center back but not many. As we said Chambers can step in to play with Koscielny or Mertesacker but he has been earmarked as a holding midfielder by Wenger. Rumors of a move for Daniel Agger seems to be a good fit for the Gunners. If either Mertesacker or Koscielny get injured, they are struggling for CBs.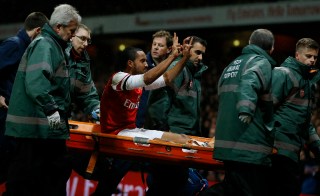 2. Injuries will probably play a part, again – It always seems to hit the Gunners hard every single season. If it's not Wilshere, it's Ramsey. If it's not Walcott, it's Oxlade-Chamberlain. Just when Wenger looks to have assembled a ruthlessly efficient yet moderatley stylish side they start to drop like flies. Maybe there needs to be more protein in the meals dished out at their London Colney training ground… who knows. Arsenal fans will be praying their squad can stay fit and healthy.
3. Wenger's insistence to not 'shut up shop' away from the Emirates – Last season the Gunners were smacked 5-1 by Liverpool, 6-3 by Manchester City and 6-0 by Chelsea away from home. In all three games Wenger's side were undone early by sloppy mistakes in midfield and the back as they tried to play their way out of trouble. Wenger is one of the greatest influences the English game has ever seen, don't get me wrong. But at times he has to set his side up to grind out boring 1-0 wins on the road. When they can master that, Arsenal are ready to life the PL title. We all love their expansive, flowing style of soccer but substance counts for so much. Much more than Wenger gives it credit for, especially away from home on a wet and windy Tuesday night.