Manchester United's 'bouncebackability' will be tested to the max this season as Louis van Gaal arrives and tries to turn the Red Devils back into the imperious force they once were.
This will not be easy. Not at all. But if anyone can do it, van Gaal can.
[RELATED: PL season previews]
Last season, their first Premier League campaign without legendary boss Sir Alex Ferguson in charge, United finished in seventh under new manager David Moyes who didn't finish out the campaign before being fired. That was their lowest ever finish in the PL era and something had to change.
[RELATED: How will United line up?]
Dutch national team boss van Gaal (who led his country to an unexpected semifinal berth at the 2014 World Cup this summer) is the man tasked with a monumental overhaul. So far, things have gone rather smoothly for LVG during preseason but we all know that counts for nowt as the new season is almost upon us. Winning the International Champions Cup after beating the likes of Real Madrid, Roma and Liverpool is all well and good during a U.S. tour but the 38 PL season is what matters most. With no European soccer to distract them this season, United's sole focus will be on returning to the top four. At least.
How will van Gaal make that happen? Here are five steps the Dutchman will likely take to usher in a new era at Old Trafford.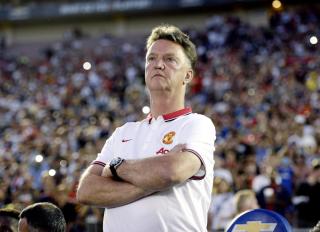 3-5-2 formation
Van Gaal loves the flexibility this formation gives him and he championed it with Holland at the World Cup this summer. There are plenty of square pegs in round holes at United right now, but in the long term it seems like the formation of the future. Just as Tiki-Taka too over in the last decade, expect a fluid 3-5-2 formation to become the most fashionable in soccer. With three ball-playing center backs, LVG stays true to his Dutch beliefs. The midfield three are interchangeable and are encouraged to drop deep and pick up the ball. Summer signing Ander Herrera has already shown he's a star of the future in the holding role. While Juan Mata is given the role of chief creator in the hole behind two central strikers of Wayne Rooney and Robin van Persie. It is adaptable when United will be under pressure as the wing-backs will drop in to create a five-man defense. It also allows you to dictate the tempo but the players must be extremely fit to make it work.
Hunger, fight, hard work
That segue's us nicely onto this next point. The passion, desire and determination to roll up the sleeves and grind out wins seemed to disappear from United last season. LVG is working hard to instill that back into his players. With Darren Fletcher back fit and leading the charge from central midfield, United have a figurehead as the wily Scot is a warrior in the engine room. Just like van Gaal had with Nigel de Jong with the Dutch team, he needs players who aren't the most gifted but will graft and sacrifice themselves for the team. Look at the way he singled out the most expensive teenager in the world, Luke Shaw, and made him train on his own to up his fitness levels. That sent out as message to United's players: they must be willing to give all they have to succeed.
Experience counts for everything
In order to succeed, experience is key. Now, after the fact, we can point to Moyes appointment last season as the wrong choice as he had no experience managing a side who are expected to win the league title and other trophies. Van Gaal has that, in abundance. LVG has won trophies wherever he has gone. He has claimed silverware at European giants Ajax, Barcelona and Bayern Munich. He is no stranger to success and knows exactly what to do to achieve it. However he has never managed in the PL, so this may be his biggest challenge yet. Especially with Sir Alex Ferguson's success hanging over him ominously from the get-go.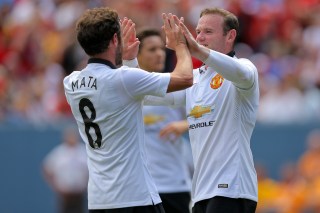 'Us against them' mentality returns
Fergie was famous for this. A wall has already been erected by LVG between his side, the press and the outside world. His no-nonsense approach has already won him plenty of fans with the Red Devils faithful as the similarities between his mentality and Sir Alex's is striking. LVG has screamed and bellowed at his players in practice sessions this summer and has put them through their paces with a grueling routine. However, publicly he has been supportive of them (even Shaw) and it is clear that he wants to foster a family environment at Old Trafford.
Clean slate signifies new attitude, philosophy
The old United 'family' have gone. Rio Ferdinand, Nemanja Vidic and Patrice Evra have left this summer, while Nani, Anderson, Javier Hernandez, Marouane Fellaini and Rafael have apparently been told they are free to leave United should a suitable offer arrive. The 'clearing of the deadwood' so to speak, needed to happen last season and we all saw why. Veterans like Ferdinand, Evra and Vidic have been great servants for the club but it was one season too many. Now van Gaal can finally cast aside a group of players who were so loyal to Sir Alex that perhaps they weren't willing to change their style under a new boss at United. Van Gaal has been ruthless and he has needed to be to provide a clean slate to every single Manchester United player. No matter how much you cost or what your name is, you are all the same to van Gaal. That is huge for United heading into the new season as a new attitude and philosophy arrives at old Trafford. Lets see how successful it is but one thing is certain, van Gaal has impressed at every hurdle so far. Now the biggest one is on the horizon: returning United to glory.