When we last left our 'best goalkeepers in the Premier League' discussion, it was in a heap of controversy. After all, the best keeps in the league hadn't all had their best seasons, and we were ranking the best seasons. Commenters were bitter. This author was fine, but wished everyone wasn't so bitter. Life: It's something.
Plenty has changed as we get sorted out for this season. Teams were relegated and promoted, players were transferred and a World Cup was played, all serving to mix up the pot for this one additional problem: Our esteemed PST editor dropped the list to five.
[ MORE: Can Arsenal challenge for the 2014/15 Premier League title? ]
Pick only five goalkeepers?!? Surely the Internet would crash!!
Alas, we've put together our list of the Top Five goalkeepers heading into the 2014/15 Premier League season. Here's a bit of foreshadowing, our No. 1 could change with the stroke of a pen.
Gone:
David Marshall, Cardiff City
John Ruddy, Norwich City
David Stockdale, Fulham
Arrived:
David Ospina, Arsenal
Tom Heaton, Burnley
Thibaut Courtois, Chelsea
Kasper Schmeichel, Leicester City
Willy Caballero, Manchester City
Robert Green, QPR
Fraser Forster, Southampton
As you can see, there's been an influx of big names, experience and talent into the Premier League. Forster is one of the better keepers in England and was a force at Celtic. Courtois is considered by many to be the best young goalkeeper in the world. It's a possibility he may not start full-time at Chelsea despite the fact that he's first choice over Liverpool's Simon Mignolet when they both hit international duty at Belgium.
With the PL arrivals of Ospina, Courtois and Caballero, three of our Top 10 from last season will deal with stiffer competition. How will this affect our Top 5? It doesn't. We're just going off what we know.
Here's how it all falls out: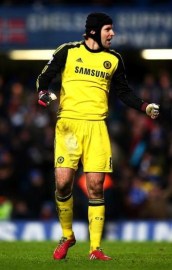 5. Hugo Lloris, Tottenham — Our No. 9 performer from all of last season gets a boost into the Top Five overall after a very good World Cup campaign for France. With Spurs additions at the back, he should receive the help he needs to get a well-deserved boost in recognition
4. Asmir Begovic, Stoke City — Begovic drops two spots from an outstanding season where he may have punched out of his class a bit, and he did not experience the best World Cup. Still, Mark Hughes has made moves to strengthen the Potters defense, and this should keep Begovic in the discussion all season long.
3. Wojciech Szczesny, Arsenal — At just 24, the man may need to learn a bit about sideburns but he has little left to prove between the sticks. Szczesny may be pushed by Ospina this year, but that's something the youngster can handle. He was fantastic in 2013/14 and should roll that into the future (as evidenced by some great stops against City in Sunday's Community Shield).
2. Tim Howard, Everton — If Timmy was only English, he'd be celebrated by the naysayers abroad a whole lot more. The fact remains that the man kept plenty of clean sheets and backed up his club performance by being one of the outstanding keeps of the World Cup (and perhaps providing the tournament's best performance, with apologies to Keylor Navas and Guilermo Ochoa).
1. Petr Cech, Chelsea — Our No. 1 keeper in the PL could change with a transfer move any day. At 32, the Czech Republic keeper remains strong even if his position at Stamford Bridge is a bit shaky. Courtois, 22, could be Chelsea's keeper of the next 15 years, and his age and potential will be what forces Jose Mourinho's hand, not anything Cech himself has done. Sorry, Thibaut… you've still got some proving to do inside the Premier League.
First five out: Courtois, Chelsea, Tim Krul (Newcastle), David De Gea (Manchester United), Simon Mignolet (Liverpool), Forster (Southampton)