Over the weekend two massive milestones were reached in Major League Soccer.
Take a bow Mr. Schmid and Mr. Rimando.
Both men were record breakers as Sigi Schmid celebrated his 200th win as an MLS coach on Sunday, while Nick Rimando kept his 113th clean sheet in MLS play, as RSL beat D.C. United 3-0, to break Kevin Hartman's record on Saturday.
[RELATED: MLS snapshots]
So, Schmid becomes the first MLS coach to break the 200 win barrier and he is a coach who has thrived and succeeded wherever he has gone. With the LA Galaxy, Columbus Crew and Seattle Sounders, Schmid has won silverware and many deemed this season as his biggest test yet. Overhauling Seattle's roster, no problem. Schmid has used his vast knowledge of the league to bring in experienced MLS players who are getting the job done with the Sounders sitting pretty atop the Western Conference past the midway point.
The 61-year-old legendary coach began his journey in MLS in 1998 has never looked back after creating UCLA into a College Soccer powerhouse and being involved in the U.S. national team setup at youth level before turning to the pros. The German born coach has set the bar so high for others to follow and there's no end in sight.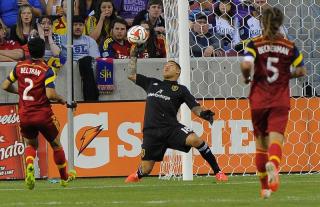 After racking up a record-breaking 113 shutouts in 361 games, Rimando has been one of the best 'keepers in MLS, week in, week out, for 15 years. The U.S. national team goalkeeper provides highlight reel saves and the fact that he has never won the MLS Goalkeeper of the Year award is somewhat of a travesty. His MLS career began with the Miami Fusion back in 2000 and after a four-year stint with D.C. United, it is with current club Real Salt Lake were he has shone. Despite his small size for a 'keeper, just 5 foot 9 tall, Rimando is a menace between the posts and he kept Bayern Munich at bay with several fine stops in the 2014 MLS All-Star Game.
A hidden gem of MLS has his name in the history books and many more accolades will be heading his way in due course. The four-time MLS All-Star and 2009 MLS Cup MVP is only 35 and has at least another four to five seasons left in him.
Congrats to Sigi and Nick on their remarkable achievements in MLS from everyone at ProSoccerTalk.