Before the start of the 2014-15 Premier League season, wouldn't it be nice to know exactly where the game you're watching is being played?
Do you ever sit there watching the action on TV and wonder, 'where about's in England is this?'
[RELATED: PL season previews]
With games from across the pond being beamed into your living room, here's an idea of which cities teams are located in, how far you have to travel to find their closest PL rival and precisely where the stadiums are.
Below you will find all of that info and thanks to the folks over at Google Maps (thanks, guys) you can see a map of exactly where in England and Wales (don't forget about Swansea) all 20 PL teams will be playing this season. Click on the images to enlarge.
Right, here's your geography lesson. Compasses at the ready…
LOCATION, LOCATION, LOCATION: ALL 20 PREMIER LEAGUE TEAMS
Arsenal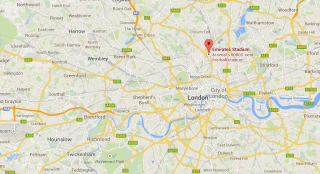 City: London (North)
Stadium: Emirates Stadium
Closest PL club, by distance: Tottenham Hotspur, 4.4 miles
Aston Villa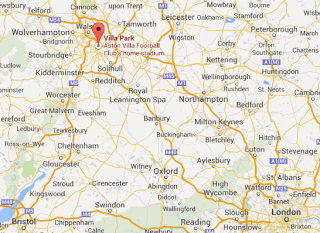 City: Birmingham
Stadium: Villa Park
Closest PL club, by distance: West Bromwich Albion, 3.8 miles
Burnley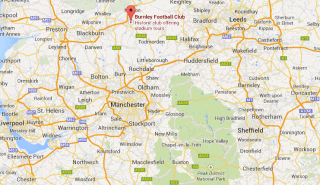 City: Burnley
Stadium: Turf Moor
Closest PL club, by distance: Manchester City 29.2 miles
Chelsea
City: London (West)
Stadium: Stamford Bridge
Closest PL club, by distance: Queens Park Rangers, 4 miles
Crystal Palace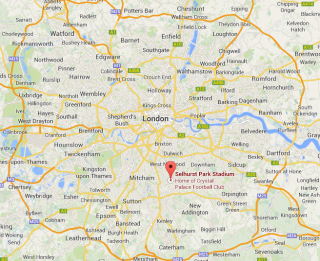 City: London (South)
Stadium: Selhurst Park
Closest PL club, by distance: Chelsea, 8.3 miles
Everton
City: Liverpool
Stadium: Goodison Park
Closest PL club, by distance: Liverpool, 0.9 miles
Hull City
City: Kingston-upon-Hull
Stadium: KC Stadium
Closest PL club, by distance: Manchester City, 89.5 miles
Leicester City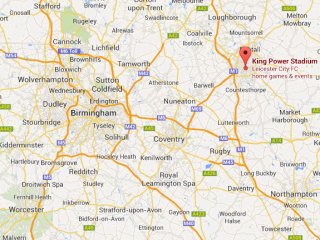 City: Leicester
Stadium: King Power Stadium
Closest PL club, by distance: Aston Villa, 37 miles
Liverpool
City: Liverpool
Stadium: Anfield
Closest PL club, by distance: Everton, 0.9 miles
Manchester City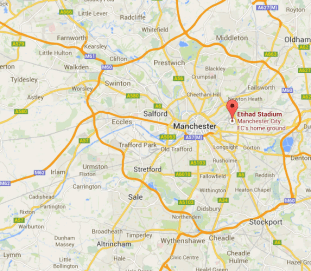 City: Manchester
Stadium: Etihad Stadium
Closest PL club, by distance: Manchester United, 5 miles
Manchester United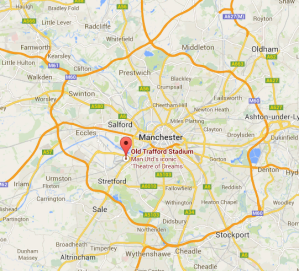 City: Manchester
Stadium: Old Trafford
Closest PL club, by distance: Manchester City, 5 miles
Newcastle United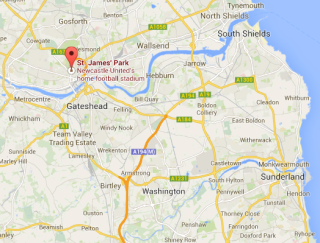 City: Newcastle-upon-Tyne
Stadium: St. James' Park
Closest PL club, by distance: Sunderland, 11.8 miles
Queens Park Rangers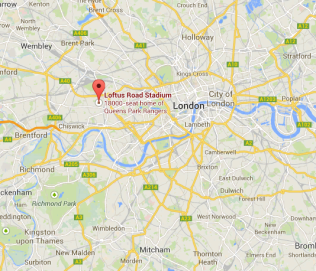 City: London (West)
Stadium: Loftus Road
Closest PL club, by distance: Chelsea, 4 miles
Southampton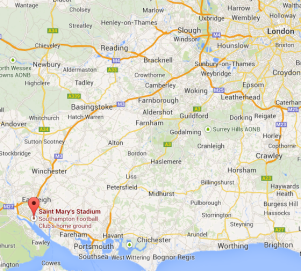 City: Southampton
Stadium: St. Mary's Stadium
Closest PL club, by distance: Queens Park Rangers, 72.9 miles
Stoke City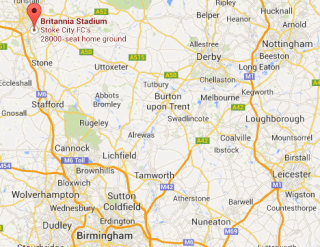 City: Stoke-on-Trent
Stadium: Britannia Stadium
Closest PL club, by distance: Manchester United, 37.5 miles
Sunderland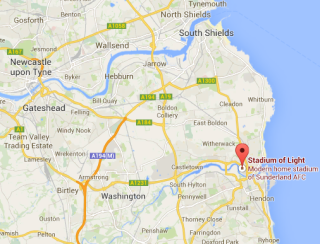 City: Sunderland
Stadium: Stadium of Light
Closest PL club, by distance: Newcastle, 11.8 miles
Swansea City
City: Swansea
Stadium: Liberty Stadium
Closest PL club, by distance: West Bromwich Albion, 115 miles
Tottenham Hotspur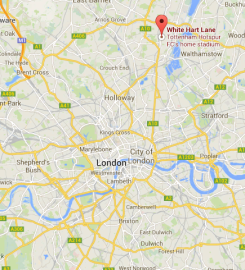 City: London (North)
Stadium: White Hart Lane
Closest PL club, by distance: Arsenal, 4.4 miles
West Bromwich Albion
City: West Bromwich
Stadium: The Hawthorns
Closest PL club, by distance: Aston Villa, 3.8 miles
West Ham United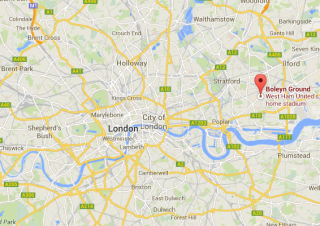 City: London (East)
Stadium: Upton Park
Closest PL club, by distance: Tottenham Hotspur, 8.3 miles