Tim Howard is the most-capped goalkeeper in U.S. national team history, something that defaults him into a conversation with Brad Friedel and Kasey Keller as the best this country has ever produced. Even if he had fewer caps, the New Jersey-born keeper would still merit a place in that discussion. There just aren't many Americans who've carved out indispensable places at a prominent English clubs.
The importance of that place was reaffirmed last season, when Everton extended Howard's contract through the 2017-18 season. Not only is the U.S. international valuable in the present, but given his current level, physical state, and work ethic, Roberto Martínez was willing to bet on the then 34-year-old's future. When Russia 2018 arrives, Howard may still be between the sticks at Goodison Park.
That is the only place we'll find the U.S. veteran this year, with U.S. Soccer announcing Thursday that the former MetroStars and Manchester United goalkeeper is taking a 13-month break from the national team. Between now and a potential Sept. 2015 return, Howard will miss up to eight friendlies as well as next summer's confederation championship: the CONCACAF Gold Cup.
[ RELATED: Howard taking break from international duty ]
[ RELATED: Howard, Donovan comparisons too thin. ]
For those hoping Howard would survive as U.S. number one through the next cycle, the news is reason for concern. Though he's going to stay active with Everton, his time away from the team abdicates his starting job. When, at 36, he returns next year, he'll have to unseat whomever claims his spot.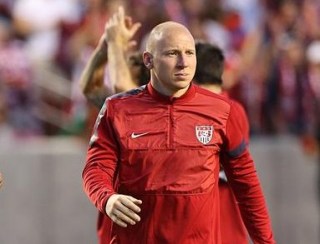 That person will almost certainly be Brad Guzan (right)  – the long-time number two who filled in ably when called on in World Cup qualifying. An established starter for Aston Villa, Guzan's elite reflexes have earned a contingent of support that feels he should get a shot, regardless. While that view doesn't appear to be shared by Klinsmann (nor was it by his predecessors), Guzan has inspired confidence.
He'll be the presumed starter for the U.S.'s upcoming friendlies. Come next summer, he should be the number one when the U.S. tries to qualify for the Confederations Cup. With a steady run as the team's lead shot-stopper, Guzan will have every opportunity to cement the starting job. If Howard reclaims the role in September, the decision will quell any notion the Villa man deserves the job.
Farther down the depth chart, Howard's decision creates a potentially more interesting battle – one that features two contenders, rather than a contender and a star on leave. With Nick Rimando presumably moving into the backup's role, Chicago's Sean Johnson may have the lead on the third keeper's position, but given the strong season from long-time rival Bill Hamid, Johnson's ascension may not be guaranteed.
Each keeper, both viable beyond the 2018 cycle, have their strong points, the details of which become tedious when you break them down. Everybody seems to emphasize different qualities in their keepers, but in terms of U.S. national team hopes, what matters is Klinsmann's view. Though that view could change, Johnson (right) appears to be slightly in front of Hamid, albeit on very limited evidence.
But still, we are at the beginning of a new World Cup cycle – a new frontier. Perhaps the team's outlook will embrace that new, expansive future? Maybe there are other players, perhaps a Cody Cropper, that will have a say. Maybe, in light of this group of young keepers, it's time to move way from Rimando and give more time (in games, in camps) to players who will step in once Guzan versus Howard is done?
Or maybe we should let the chips fall where they may. One thing that May taught us (and taught us good): Predicting Jurgen Klinsmann's mindset is a fool's errand. Guzan looks set to start, while one of Hamid or Johnson may see more time with the squad, but given what we saw this summer, we shouldn't get used to our assumptions.