To call Bayern Munich's path to the 2013/14 Bundesliga title a cake walk is, on a relative scale, pretty accurate. The Bavarians thumped the competition en route to a 19-point advantage over No. 2 Borussia Dortmund that still doesn't show how big of a gap Bayern opened up.
With the season tipping off Friday afternoon — Bayern plays Wolfsburg at 2:30pm ET — is there any chance Dortmund or another rival mounts a legit challenge to the champs? Sure there is, but it's going to take a combination of injuries and World Cup fatigue, plus Pep Guardiola being mentally-outdueled by another manager.
[ RELATED: Julian Green named in 18 for Bayern's Bundesliga opener ]
So… yeah. It's a tough haul.
Relegation battlers: Well, the two new clubs for sure. FC Koln and SC Paderborn 07 will join the fray that is one of the stiffest challenges in club soccer: surviving the Bundesliga. Hamburger needed the relegation playoffs to survive, so they'll certainly be considered a drop candidate as well, while Freiberg, Augsburg and even John Anthony Brooks' Hertha Berlin could face a fight to hold onto their places in the top flight.
The title fight: Unlike La Liga, there seems to be a true mix of teams that could compete for the league's No. 2 slot. Most would consider Bayern Munich the favorites despite the losses of Toni Kroos and Mario Mandzukic — they did add Robert Lewandowski, the best player from their top rival — but it gets a little nutty after that (and really, it should be a little tighter between No.1 and No.2 this season).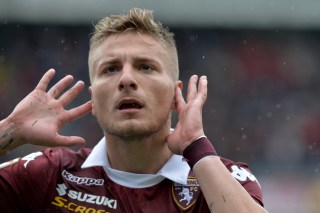 Dortmund replaced Lewandowski with Torino scoring machine Ciro Immobile, Augsburg's Ji Dong-won and Hertha's Adrian Ramos. More importantly, perhaps, they picked up Matthias Ginter from Freiberg to aid in their hopes of not surrendering as many scoring chances as they did last season.
But Schalke was active, too, adding Sidney Sam from Bayer Leverkusen and Tranquillo Barnetta back from loan. Eric Maxim Choupo-Moting slides into the forward ranks as well for a club that didn't lose much. Bayer Leverkusen added Josep Drmic and Kyriakos Papadopolous, while Monchengladbach snared Thorgan Hazard on loan from Chelsea and USMNT defender Fabian Johnson.
So, yes, it's going to take a ton to unseat Bayern Munich… but the battle afterwards is anyone's game.
Predicted order of finish (2013/14 finish)
1. Bayern Munich
2. Borussia Dortmund
3. Schalke
4. Borussia Monchengladbach
5. Bayer Leverkusen
6. Wolfsburg
7. Hoffenheim
8. Augsburg
9. Mainz
10. Eintracht Frankfurt
11. Hannover
12. Stuttgart
13. Hamburger SV
14. Werder Bremen
15. Hertha Berlin
16. FC Koln
17. Freiberg
18. Paderborn