Saturday's schedule contains another disappointing MLS cluster — four games kicking off within 30 minutes of each other* — but considering how the weekend's biggest games are spaced out, the next three days couldn't have worked out much better for those who don't overdose on Major League Soccer. If you're a league looking to highlight the playoff push, you couldn't ask for more than the West's best (right now) on Friday, the East's on Saturday, and the league's premier rivalry to end the show.
* – Other leagues around the world do this. Maybe they should think about changing things up, too.
The first of those games kicks off tonight on NBCSN (and NBC Sports Live Extra), where John Strong, Russ Thaler, and Stu Holden are on hand to ring in the MLS Weekend. Here's your preview:
(All rankings reflect the team's current place in PST's Major League Soccer PRs.)
GAME OF THE WEEK #1: THE START OF THE FRANCHISE
#3 FC Dallas vs. #1 Real Salt Lake, Friday, 9:00 p.m. Eastern, NBCSN (NBC Sports Live Extra)
The hottest team the league versus the best? The latter title is debatable. The former is not.
FC Dallas, undefeated since May 31, has changed the conversation. Instead of people asking whether they can make the playoffs, they're debating how far Dallas can rise. Perhaps the Toros don't have the same slew of proven talents they'll face Friday night, but they have Fabián Castillo (right), arguably the most dangerous player in the league, right now. They have Mauro Díaz, one of the most dangerous players in the league this spring. And perhaps most importantly, they have confidence, coming off a 5-0 dubbing of San Jose.
Looking at Real Salt Lake's defense, there's no clear answer. Nat Borchers and Chris Schuler are the league's best central tandem, but heaven help them if they're in the open field against Castillo. Tony Beltran's good, but seeing him get turned by Kenny Cooper last week doesn't inspire confidence one-on-one. Without traditional wide midfielders to help, RSL's fullbacks seem destined to be isolated against Castillo.
Jeff Cassar will have to come up with something, or perhaps this is a time where the team's characteristic, sometimes stifling control can take over. For much of Saturday's match against Seattle, RSL held over 60 percent of the ball (the number settled at 58). Tomorrow in Dallas, possession may be the visitors' best defense.
TEED UP FOR SUCCESS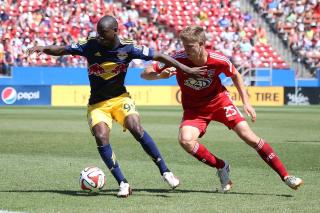 #11 New York Red Bulls vs. #18 Montréal Impact, Saturday, 7:00 p.m. Eastern
Some much needed rest for Thierry Henry, Tim Cahill, and Bradley Wright-Phillips (right) ends with a visit from one of the league's weakest teams – a match that should serve as a transition back into the weekly routine. With Columbus, Philadelphia, and Houston looking more spry in the East's playoff race, a postseason return is destined to be hard fought. New York needs to make the most of this easy spell.
Montréal is coming off a slump-busting win, but the performance wasn't a convincing one. They did the bare minimum needed to beat one of the worst teams in MLS, earning a 1-0 home win that felt more like an obligation than an accomplishment.
This is a game New York has to win. Not because the math says so, and not because there's any finality to the result. But if you can't beat Montréal at home, there's no reason to think you can do anything else.
THE KANSAS CITY CURE
#8 Toronto FC vs. #19 Chicago Fire, Saturday, 7:00 p.m. Eastern
Much like New York, Toronto gets a great transition game on Saturday, only instead of moving on from a week off, they're trying to put last Saturday's result behind them. The 4-1 scoreline at Kansas City may have exaggerated the divide between the teams, but it was still a three-goal loss.
Jermain Defoe should be back. Michael Bradley (right) has shaken off his World Cup phase. Steve Caldwell and Mark Bloom are returning to a defense that gave its kids valuable minutes in their absence. Even in the wake of last week's set back, Toronto is primed to solidify its hold on third.
As for Chicago's part, some version of this might work:
This is a game New York Toronto has to win. Not because the math says so, and not because there's any finality to the result. But if you can't beat Montréal Chicago at home, there's no reason to think you can do anything else.
Granted, a Toronto loss will feel more like a slip than an indictment of the team's chances (that's New York's world). Regardless, there's no reason to lose a home game to Chicago.
SOCRATIC METHOD
#9 Columbus Crew vs. #14 Houston Dynamo, Saturday, 7:30 p.m. Eastern
There's a way of looking at each game that boils the matchup down to series of questions: How will Real stop Castillo? Can Toronto shake off last week's loss? How quickly will New York click after its time off?
The questions for Columbus and Houston are clear. For the Crew, it's a matter of harnessing whatever they did against Los Angeles and bringing it back to the field.  Twelve shots on target (a season high), and four goals past Jaime Penedo (the most LA's conceded this year). Is that the real Columbus Crew?
For Houston, it's a matter of showing constant improvement – building on the progress they showed last Friday against Philadelphia, and taking the show on the road. With a stiffer challenge against a fully rested squad, is Houston a viable playoff contender? If so, they'll at least keep it close.
EAST COAST BIAS
#16 New England Revolution vs. #15 Chivas USA, Saturday, 7:30 p.m. Eastern
Despite its slump, New England has four points from its last two home games, both against Western Conference foes. In gallup the Goats, another transcontinental guest, to give the Revolution hope. With a win (one they really should get), the Revs could finish the weekend in the East's top five. Remarkable.
For Chivas USA, the concern is Mauro Rosales; or, rather, what his departure means for the team. One of the team's two best players — one whose experience and work commands respect — has been shipped to a playoff contender for a spare part. Even if the locker room knew this was coming, it's not exactly a move that inspires confidence.
GAME OF THE WEEK #2: CEMENTING THE FRANCHISE
#2 Sporting Kansas City vs. #6 D.C. United, Saturday, 8:30 p.m. Eastern
Between Friday's game in Dallas and Sunday's Cascadia Derby, this battle at the top of the East is in danger of being overlooked, though the real reason may have more to due with United than what's happening around this match.
Out of respect for what they've done, nobody's talking about it, but it's clear very few people think D.C. United's a real Cup contender. The team's record, goals for, and goals allowed all say this team's for real, but the names on the team sheet leave room for doubt. There are no game-breaking stars, while the team's secondary numbers (like being out-shot on the season) suggest there's room for regression. Ultimately, people look at D.C. United and see a team playing over its head.
Saturday presents and opportunity to prove those people wrong. Whatever's happened to this point in the season will see a whole new life if Ben Olsen's team can win at Sporting Park.
Do so, and United jumps to first in the East, their game-in-hand providing the team an extra edge during their surprising resurgence. Fall, and Kansas City crafts the gap most critics expect to develop.
THE TOUGHER HALF OF STUBHUB
#4 LA Galaxy vs. #7 Vancouver Whitecaps, Saturday, 10:30 p.m. Eastern
For the second time in eight days, Vancouver visits StubHub Center, only instead of facing a forgiving Chivas USA, Saturday's opponent is a Galaxy team looking to recapture its groove.
Going into last weekend's game in Columbus, LA was the best team in the league. Then came a 4-1 loss, after which they fell behind 3-1 at Colorado on Wednesday. The team roared back in the second half, leaving Commerce City with a  4-3 result, but a new air of vulnerability accompanies the team back to Carson.
Vancouver received their own wake up call of sorts last weekend. At least, let's hope the Whitecaps' 0-0 creates a sense of urgency. Carl Robinson's team is too talented to be dropping needed points at Chivas USA, and while the Goats again showed they can be troublesome, it's the type of troublesome a young, growing, improving team should be able to navigate at this point of the season. That Vancouver couldn't makes you wonder if they're destined to be passed by Portland.
GAME OF THE WEEK #3: THE BIG BUDGET BLOCKBUSTER
#10 Portland Timbers vs. #5 Seattle Sounders, Sunday, 5:00 p.m. Eastern, ESPN2
Speaking of Portland, people are already camping out at the gates of Providence Park for what could be a turning point in the Timbers' season. After a slow start, Caleb Porter's team has clawed itself to the edge of the West's top five, but the signature win that would proclaim the team true playoff threats has been elusive.
Three points on Sunday would give them that win, one that would simultaneously send Seattle into a tailspin. Over five games (or, seven, depending on how you see it), the Sounders have done their best to rekindle 2013's woe. Looking decidedly second best against Los Angeles and Real Salt Lake, Seattle's on the verge of a minor identity crisis, one that would see the one-time MLS Cup favorites transform into consumed by its doubts.
Given how Seattle's season ended last season (eliminated by its rivals), a win by the Timbers would deal some major damage. At a minimum, it would become the latest, most relevant reminder the 2013 is not so far in the distance.
A loss at Portland, and things get real.
PLEASE, SOMEBODY SHOOT
#12 Philadelphia Union vs. #13 San Jose Earthquakes, Sunday, 8:00 p.m. Eastern, Univision Deportes
Last week's battle of counterattacking sides was blown open by Fabián Castillo's first half goal, one that gave FC Dallas room to complete their Santa Clara romp. Unfortunately, this week's battle of the possession adverse doesn't feature a Castillo, or anything close to a player with that kind of explosive talent. On Sunday in Chester, two teams who are fine playing without the ball may try to wait each other out.
Just like last week's game in the South Bay, the key all be an early goal. If that happens, we'll get a watchable game, one where one club will look to exploit the opportunities provided by an pursuing opponent.
Without that early goal, a good over-under for shots on target would be 3.5. Particularly if Philadelphia reverts to their possession-ready, goal-deprived ways, this could be … a subtle one.