True to form opening weekend of the Premier League provided all the drama the competition is known for as Swansea City upset Manchester United, Leicester City announced themselves with a late leveler against Everton, Arsenal and Liverpool squeaked by lesser opponents at home and Manchester City bombed back to the forefront of our footballing consciousness with a delightful display against Newcastle.
But it was Chelsea who stole the show in Matchweek 1 with a scintillating performance at the homely Turf Moor, coming back from one-nil down to beat Burnley 3-1. Any doubt fans had of Diego Costa's potential was immediately erased with a beasting performance that included a classy opener while the x-ray vision and soft touch of Cesc Fabregas brought palm to head for Arsenal fans.
Matchweek 2 brings a few killer games including Everton v. Arsenal on Saturday and Manchester City v. Liverpool on Monday, as well as a few sneaky good ones in Tottenham v. QPR, Sunderland v. Manchester United and Swansea City v. Burnley.
Here's how I see it taking shape:
TAKE IT TO THE BANK 
Chelsea v. Leicester City (Saturday 10:00am ET on NBCSN)
With Diego Costa swallowing up defenders like a goliath grouper on a binge and Fabregas' perfectly-weighted pass to Andre Schurrle looping in our minds like a gif gone mad, the masses are convinced Chelsea are the side to beat in the Premier League. Normally this boon would be followed by a poor result crashing the Blues back to earth. But they're at home and face Leicester City. Expect this one to go according to plan.
Chelsea 3 Leicester 1
Southampton v. West Bromwich Albion (Saturday 10:00am ET on Live Extra)
What a difference a week makes. Going into the season Southampton had the sharps talking relegation but since the Liverpool match, the Saints are back to being hailed as one of the best footballing sides in the Premier League. Must be something in the water down there.
Southampton 1 West Brom 0
Sunderland v. Manchester United (Sunday 11:00am ET on NBCSN)
RVP returns, Marcus Rojo joins up and Louis van Gaal avoids a complete kniption.
Sunderland 1 Manchester United 2
THE PLOT MAY BE LOST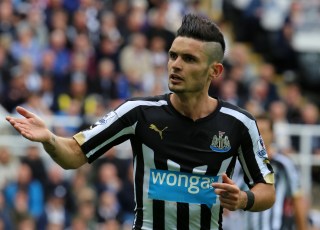 Aston Villa v. Newcastle (Saturday 7:45am ET on NBCSN)
When given the opportunity he's a crafty man, that Alan Pardew. This summer the opportunity came in the form of cash from owner Mike Ashley and Pardew wisely looked to Newcastle's powerful chief scout, Graham Carr, for suggestions. Carr, the 69-year-old father of comedian Alan Carr, is the guru of all things French football and was responsible for such coups as Cheick Tiote, Hatem Ben Arfa and Yohan Cabaye, the latter being his most notable pull and, subsequently, biggest loss after departing for PSG last January. Cabaye's replacement this season, Remy Cabella, an audacious attacking midfielder whose mohawk and waxed eyebrows have him looking like he arrived on Tyneside straight out of a Northern New Jersey men's league. Whispy, skillful and fearless, Cabella is the key creative piece in Pardew's placard. Shower this man with your love and thou shall not regret.
Aston Villa 0 Newcastle 1
Hull City v. Stoke City (Sunday 8:30am ET on Live Extra)
If Live Extra crashes this weekend, blame this match. Sweet mercy, what a fixture!
Hull City 1 Stoke City 0
Manchester City v. Liverpool (Monday 3:00pm ET on NBCSN)
By Monday, Liverpool's deal for Mario Balotelli should be all but complete and we can expect the enigmatic striker to be on hand for this one. Will it be enough to compel Brendan Rodgers' men to victory? Doubtful.
Manchester City 2 Liverpool 1
HIGHLY SUSPICIOUS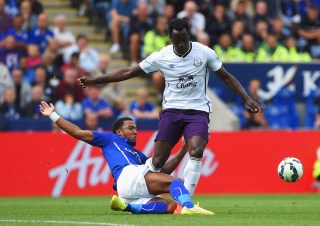 Everton v. Arsenal (Saturday 12:30pm ET on NBC)
When Boss Rarkley went down so too did the souls of Evertonians across the globe, crushed by the loss of their playmaking man-child. So who will step up for the Toffees? The onus falls squarely on Romelu Lukaku, who manager Roberto Martinez will likely deploy as a right winger in an attempt to steamroll Nacho Monreal just as he did last spring's 3-0 drubbing of the Gunners at Goodison Park. Further problems head Arsenal's way considering they're depleted defense, the long mid-week trip to Turkey and needing to secure a victory over Besiktas on Wednesday to remain in the Champions League. Everton may be Boss-less but Arsenal are ripe for the picking.
Everton 2 Arsenal 1
Crystal Palace v. West Ham United (Saturday 10:00am ET on Live Extra)
So, Tony Pulis leaves 48 hours before the start of the season and Crystal Palace nearly replace him with Malkay Mackay before an investigation reveals the Scot engaged in a series of sexist/homophobic/racists texts with Iain Moody during their time at Cardiff City, which then prompts Moody to resign from his current post as sporting director of Selhurst Park.
This actually happened. Not fiction, not lightly scripted reality television. Just straight up real-life Premier League drama at it's very finest (worst?). And for that, Palace fans deserve some love.
Crystal Palace 2 West Ham United 1
Swansea City v. Burnley (Saturday 10:00am ET on Live Extra)
If there was ever a classic let-down match, this is it. Swansea were fantastic last weekend against United, earning all the plaudits. But what about Burnley? They actually managed to keep a fantastic Chelsea side within somewhat of check last week. Put your trust in Sean Dyche, the Ginger Mourinho.
Swansea 1 Burnley 1
Tottenham v. QPR (Sunday 8:30am ET on CNBC)
Kick around good ole 'arry for his wheeling and dealing in the transfer market but locking down Maurcio Isla and Leroy Fer this week was some really impressive business. Add these guys to the list of additions to last year's team – including Eduardo Vargas, Steven Caulker, Jordan Mutch, Rio Ferdinand and Loic Remy – and the R's might just make this a London derby to remember.
Tottenham 1 QPR 1