Norberto Paparatto's slow start to has MLS career waned in recent weeks, with the Argentine reclaiming his starting spot in Portland's defense. On Sunday, however, Paparatto fell in with his teammates with a disappointing performance, contributing to problems that led to a 4-2 loss.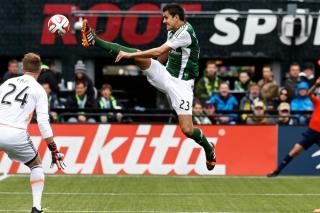 In the wake of his first half foul on Chad Marshall, Paparatto will have an extra week to consider that performance. Though he was shown a yellow card during the game, MLS's Disciplinary Committee felt his arm to the head was egregious enough to justify a one-game suspension, a punishment that will leave him sidelined for Saturday's game in Vancouver.
In Sunday's first half, Paparatto was late arriving to the restart from Portland's right. Going up for a challenge with Marshall, the Timbers defender led with this left arm, dealing Marshall a blow that would leave the Sounder shaken up for the next couple of minutes.
It's the type of foul which, when officials were cracking down on elbows to the head, would have led to a red card. When you consider the potential damage to Marshall, you understand why. While Marshall was able to continue, the incident could have resulted in a serious head injury.
Ultimately, MLS's Disciplinary Committee felt that risk was enough to justify action. Paparatto will miss his team's game at BC Place.