Young talents like Rubio Rubin, Emerson Hyndman, and Jordan Morris gave the latest U.S. Men's National Team roster a quality we're usually denied. Instead of a collection of established talents battling within the margins of their established skills, players who've yet to define themselves will tickle our imaginations in Prague. Along with MLS talents like DeAndre Yedlin and Luis Gil, they're part of the coming generation of U.S. talent, one that's yet to show us the limits of their potential.
But the celebration of youth that commenced when Jurgen Klinsmann named today's team warrants a few notes of caution: Eric Lichaj; Gale Agbossoumonde; Tim Ream; Juan Agudelo; Teal Bunbury. Those were some of the names that represented the United States Nov.17, 2010 in South Africa – at a 1-0 win in at the Nelson Mandela Cup. While it wasn't the States' first game that summer's World Cup, the promise shown by those young guns teased hopes for the coming cycle.
Agudelo, only 17, became the youngest goal scorer in national team history. Agbossoumonde was only 18. Among Bunbury, Ream, and Lichaj, the then-Aston Villa defender (Lichaj) was the oldest, celebrating his 22nd birthday. Not only did none of them make this summer's roster World Cup, but those hopefuls failed to play major parts while the U.S. qualified for Brazil.
Real Salt Lake defender Nat Borchers was on that team, too. So were Jonathan Bornstein, Logan Pause, and Robbie Rodgers. While Alejandro Bedoya and Mix Diskerud were part of the younger crew, MLS veteran Brian Carroll was there as well. Back in 2010, 2014 was still a long way off.
In hindsight, 2010 provides a cautionary tale. As exciting as the prospect of an Agudelo-Bunbury tandem was at the time, there were three-plus years separating that moment from kickoff in Brazil. Agudelo (right) changed teams (and continents) in that time. Bunbury was traded from Kansas City. Ream ended up in the second division in England, while Lichaj never fully took hold at Aston Villa. When the U.S. changed head coaches in 2011, the significance of South Africa flew out the window.
The youngest players in this summer's World Cup squad: Julian Green (19), Yedlin (20), John Brooks (21)? They weren't even in the picture in 2013. It wasn't until the very end of the cycle that their youth was served.
Particularly with MLS players largely excluded from the squad (save RSL keeper Nick Rimando), today's team is as a product of circumstance as much as youth. With multiple U.S. veterans moving to MLS before the World Cup, the stock of established Americans on European soil is particularly thin. That not only means opportunities for talents like Rubin and Hyndman but also new chances for Brek Shea, Michael Orozco, and Ream.
And, as Jurgen Klinsmann implied today, opportunity is really the theme of this camp. It's a chance for a series of young players to take advantage of the time which, had this call up happened last cycle, would have gone to a Fulham-based Clint Dempsey. Or a Michael Bradley, still in Italy. Perhaps Maurice Edu and Jermaine Jones could have commanded the midfield. Clarence Goodson and Michael Parkhurst would already be making plans for Prague.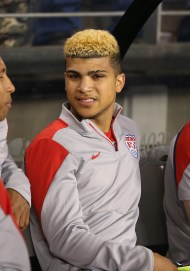 2014 is a whole new, almost incomparable world; not that the situation doesn't serve Klinsmann's broader goals. Under his watch, expanding the player pool as been a steady goal. More talent, more options, more competition – it's part of the reason why the U.S. boss has been difficult to read during his tenure. More than ever, the States seem to maintain a wide net when considering call ups. As 2011 illustrated, Bradley did the same, but Klinsmann's willingness to use that net to call on Alan Gordon in qualifying or Yedlin (right) at the World Cup makes his net all the more meaningful. Once you're in its grasp, you can be called on at any time.
That, as much as the players' actual ages, may be the lasting impact of today's squad. Through Sept. 3's game in Prague, a series of new talents will have a chance to embed themselves in that grasp. Young or not, players like Rubin, Hyndman, Morris and Joe Gyau have a chance to lodge themselves in coaches' memories, becoming the guy they call in when they need a player to do X, Y or Z. Between Gold Cups, Copa America, World Cup Qualifying, and (if all goes well) Olympics and Confederations Cups, the U.S.'s roster will be stretched at points this coming cycle. Even for relatively established players like Alfredo Morales, this is a chance to make a good early impression.
For some, it might as well be a first impression. Though the likes of Morales and Bobby Wood have been capped, the end of this summer's World Cup may have wiped slates clean. A new cycle brings a series of new stresses, and goals. How each player can help address those will be on display next week in Prague.