The first post-World Cup camp for the U.S. will be an exploration of young talent, with an almost entirely Europe-based squad allowing opportunities to a number of players looking to breakthrough in the 2018 cycle. Here's a quick look at a few of the names that hope to become more familiar over the next four years:
Cody Cropper – The Southampton keeper isn't new to U.S. rosters, but at 21 years old, Cropper's is a name that could become more prominent in Klinsmann's selections between now and Russia. With a long jam of goalkeepers under Ronald Koeman's watch, time in practice with Klinsmann and goalkeeping coach Chris Wood is particularly crucial. Cropper won't get the same minutes Bill Hamid and Sean Johnson see back in MLS.
Age: 21
Caps: 0
Club: Has yet to make a league appearance for Southampton or his previous club, Ipswich Town.
Greg Garza – The Texas-born wide-man is known to national team hardcores, but yet to be capped at the senior level, the former U-20 contributor is still an unknown to the broader fan base. A 23-year-old with a development history that touches Brazil (São Paulo FC), Texas (Dallas Texas), and Portugal (Sporting Club), Garza has become a starter for Tijuana in Liga MX. Capable of playing both fullback and wing, the 5'8″ Xolo offers the versatility that's become characteristic of Klinsmann's wide options.
Age: 23
Caps: 0
Club: 34 appearances and 21 starts over the last three seasons for Tijuana in Liga MX.
Joe Gyau – Like Julian Green, Gyau is a Tampa-born player poised to make an impact in Germany, only instead of being nurtured by Bayern Munich, the left winger (who can also play through the middle) has had to navigate his way through the Bundesliga. Originally starting with Hoffenheim's second team as an 18-year-old, Gyau moved to St. Pauli and back to Hoffenheim before landing with Borussia Dortmund this season. Like BVB and Bayern, Gyau could develop a productive rivalry with Green going forward.
Age: 21
Caps: 0
Club: Has made six appearances in the 2.Bundesliga this season for Borussia Dortmund II, scoring twice in 497 minutes.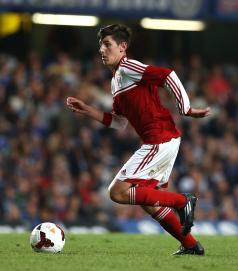 Emerson Hyndman (right) – The 18-year-old midfielder's connection with Schellas Hyndman has made him a fixture on this site for some time, but after taking the leap to England in 2011, the grandson of the former FC Dallas coach has found his own reason to make headlines. The former FC Dallas academy member has made two starts for Fulham this season, and while it's uncertain the central midfielder has cemented a role under Felix Magath, playing at such a young age portends to a bright future for the U.S.'s U-17 contributor.
Age: 18
Caps: 0
Club: Has played 180 minutes across two starts for Fulham, making the 18 one other time through four games this season.
Alfredo Morales – One of five callups not playing with a first division team, Morales hasn't seen a top-flight match since his time with Hertha in 2011-12. That hasn't kept the Berlin-born midfielder/defender off the U.S. radar, though a cap against the Czech Republic would be the 24-year-old's first in 19 months. Having received his first callup in Nov. 2011, Morales has long been on the fringe of the senior national team, a status he'll hope to improve during his time in Prague.
Age: 24
Caps: 1
Club: Morales has started all three games for Inglostadt this season, scoring the team's opening goal of the campaign on Aug. 2 at St. Pauli.
Rubio Rubin (pictured, top) – Perhaps the most exciting of the new callups, Rubin has made an immediate impact since arriving at FC Utrecht this summer, winning a spot in Robby Alflen's plans when it was originally assumed the 18-year-old attacker would have to work his way through the reserves. A former Timbers and IMG Academy product, Rubin has been a standout at U.S. U-levels, winning U.S. Soccer's Young Male Athlete of the Year honor in 2012 (Wil Trapp won it last year). Though he's Mexico-eligible, Rubin's on track to compete for a spot in 2018, having said his future lies with the U.S. national team.
Age: 18
Caps: 0
Club: Rubin came back from a preseason concussion to log 90 minutes in his Eredivisie debut Aug. 17 versus Willem II.
Bobby Wood – Like Morales, 1860 Munich's Wood is a fringe national teamer whose trying to develop in Germany's second division. Beyond position (Wood's a forward), the other main difference between him and Morales is age. Whereas the Inglostadt midfielder is entering his prime, Wood is only 21. After serving as a substitute for most of last year, the versatile Californian has now assumed a starting role, playing wide left in Ricardo Moniz's 4-2-3-1.
Age: 21
Caps: 1
Club: Wood failed to score last year in 605 minutes (21 appearances) for the Sixty'ers and has yet to register a goal this season.