For a side that found themselves beat 9-0 across both fixtures last year against Liverpool, Tottenham failed to rectify last season's tragedies by again slumping to a listless 3-0 defeat.
Mauricio Pochettino was powerless to stop the Reds attack as Raheem Sterling opened the account inside 10 minutes, while Steven Gerrard and Alberto Moreno finished things off.
Debutant Mario Balotelli nearly got off to a roaring start in just the third minute, as Daniel Sturridge sent in a cross to the far post and Balotelli got a free header on it, but he stuck it right at Hugo Lloris who saved well.
Both teams started well offensively in a very open game early, but it was Liverpool indeed to took advantage.
[VIDEO: Premier League highlights, here]
Sturridge beat a pair of Spurs defenders down the right flank, and he picked out Jordan Henderson who had advanced to an attacking position. Henderson cut the ball across the ball to the far post where Raheem Sterling was lurking, and the 19-year-old winger struck home for the opener inside 10 minutes.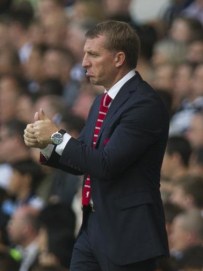 Again the Reds were dangerous minutes later, as Sturridge continued to give Spurs defenders fits. He sliced through the middle of the pitch and lashed at goal, with the shot stinging just wide of the post.
There was a laughable bit of play where ugly mistakes were made by all side, including the referee.
Reds defender Mamadou Sakho made a mistake of his own, passing the ball right to a Spurs player in his own half, and the home side broke but the chance was snuffed out as Dejan Lovern covered with a pinpoint tackle.
Then, off a Spurs corner, Naleb Bentaleb tried to recycle the chance following Liverpool's clear. Instead, he awkwardly sent the ball careening into his own half and Raheem Sterling collected on the break, but the youngster couldn't pick out Alberto Moreno streaking down the center as the Spurs defense scrambled to cover.
Then English sensation Eric Dier crunched Balotelli on the touchline, a clear foul and probably a booking, but referee Phil Dowd inexplicably let it go. The tackle – from behind – should have at least produced a yellow and maybe even more.
Balotelli made a bit of a bungle as well after the half-hour mark, twisting a long-range shot well wide after Hugo Lloris had come all the way out of net to cover a Sterling break, leaving the goal wide open. Brendan Rodgers found it pretty funny though, so no harm done.
An open chance fell to Erik Lamela just before halftime, but Simon Mignolet saved before having a furious word or two with his defense.
Just two minutes after halftime, things got much worse for Spurs as Liverpool doubled their lead. Phil Dowd awarded a penalty to Liverpool after Dier lightly tugged Joe Allen, and the Red went to ground. Steven Gerrard made no mistake from the penalty spot, slotting into the bottom corner past Lloris who guessed correctly.
[RELATED: Premier League stats]
Alberto Moreno struck for Liverpool's third in the 60th minute, as he streaked down the left flank and ripped a vicious strike past Lloris.  The move prompted changes for Brendan Rodgers, who took off Balotelli and Allen for more holding substitutes.
The Reds wanted even more when Sterling found himself all alone against Lloris, but he waited and waited and waited to shoot before producing a very weak effort right at the feet of the goalkeeper.
With the win, Liverpool jump to six points on the year, finding themselves level with Spurs and Manchester City in the second tier of the table behind undefeated Chelsea and Swansea City on a perfect nine.
LINEUPS:
Tottenham: Lloris; Dier, Kaboul, Vertonghen, Rose (Davies 62′); Bentaleb (Dembele 59′), Capoue; Chadli, Eriksen (Townsend 59′), Lamela; Adebayor.
Liverpool: Mignolet; Manquillo, Moreno, Lovren, Sakho; Gerrard, Allen (Can 61′), Henderson, Sterling (Enrique 87′); Sturridge, Balotelli (Markovic 62′).
Goals: Sterling 8′, Gerrard (pen) 48′, Moreno 60′